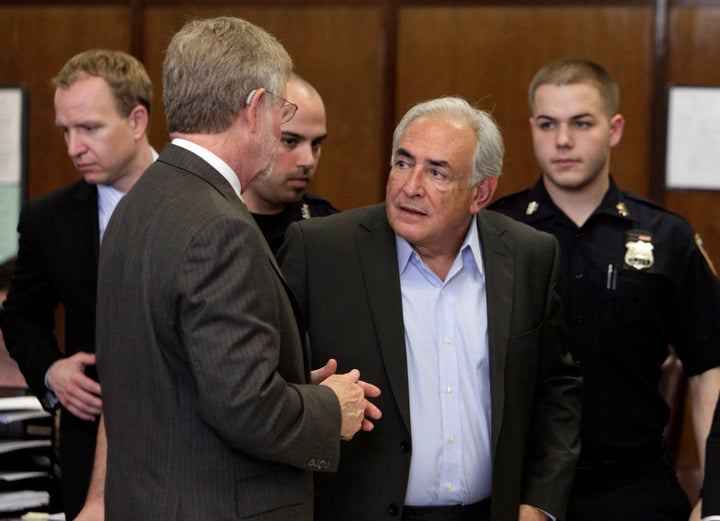 Former IMF Chief Dominique Strauss-Kahn was granted bail Thursday, but before he can taste the crisp clean air of potentially fleeting freedom, his lawyers and family must find a place for him to stay.
A source familiar with the case says defense attorneys are now seeking to place the French politician in a corporate apartment used by the private security firm that will be guarding him when he is released.

NBC New York first reported that Anne Sinclair had rented an apartment at the luxurious Bristol Plaza on East 65th Street. But that has fallen through for use as a place for her husband to stay, a source said.
The New York Times spoke to some residents of the building, who expressed their distaste about possibly housing the accused former head of the IMF.
"I think it's an inconvenience for all of us," said one resident, Michele Smith, who spoke outside the Bristol. "I don't want that kind of publicity in my building."
Perhaps the ex-IMF bigwig would prefer something that more closely resembles his jail cell at Rikers Island. In which case, he might want to look into buying the narrowest house in New York City, which is now on the market for only $4.3 million.
Or maybe Strauss-Kahn is looking for something more refined, with European sensibilities. This Mediterranean mansion in the Bronx could do the trick.
Wherever Strauss-Kahn ends up laying his hat, he'd better make sure it's not an illegal hotel. The guy is in enough trouble with the law as it is.
The disgraced IMF head faces charges of a criminal sexual act, attempted rape, sexual abuse, unlawful imprisonment and forcible touching stemming from accusations made by a hotel maid. Strauss-Kahn denies all charges.