Fans of actor Donald Glover blitzed a forum on Reddit that was previously dedicated to discussing President Donald Trump with memes of their actor idol.
Thedonald subreddit is no longer, as its description once reportedly read, a "place where we discuss in an unbiased manner Donald Trumps great contributions to modern society." Instead, it is now a virtual space where people are sharing photographs and praise of the celebrity that one user called "the one true Donald," meaning Glover.
Pro-Glover redditors began flooding the thread, which has almost 20,000 subscribers, with their content on Monday, according to multiple media outlets.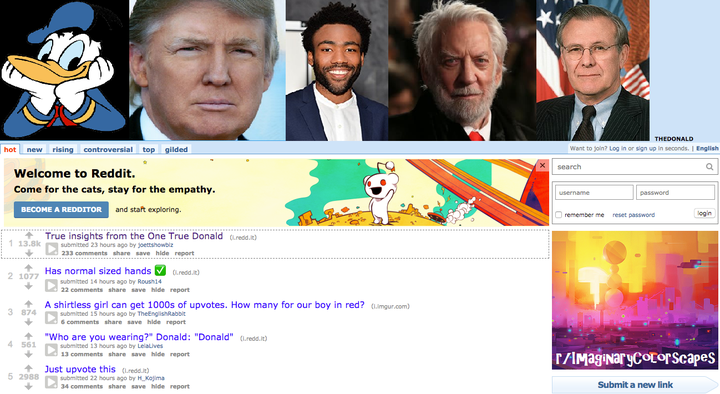 On Wednesday, the top posts were almost solely dedicated to the 34-year-old performer — who stars in the upcoming "Solo: A Star Wars Story" film and earlier this month released the powerful music video for his new song "This Is America" under his Childish Gambino moniker.
Thedonald subreddit is not as large as its the_donald counterpart, which boasts 610,000 subscribers and describes itself as "a never-ending rally dedicated" to Trump. In 2017, Vox dubbed the bigger community "Reddit's hate-mongering shadow."  
According to one Reddit user, the Glover takeover of thedonald was allowed to happen after the forum's moderator "basically abandoned" the thread.
Another redditor indicated it developed organically, rather than as a result of a premeditated discussion. "I feel excited," the user told Mic.com. "There is much joy found in changing the culture of a space even on a rather small scale such as a subreddit."
User MetalsDeadAndSoAmI hailed the forum for embracing "its true purpose" and "celebrating the best Donald there is."
BEFORE YOU GO