WASHINGTON ― Donald Trump loved to rail against the Federal Reserve board's chair, Janet Yellen, during the final months of his presidential campaign.
He claimed that Yellen, who was appointed by former President Barack Obama, was refusing to raise the Fed's benchmark interest rate to bolster Obama politically with an artificially inflated economy. By extension, Trump implied, the Fed was working on behalf of his Democratic opponent Hillary Clinton, who would presumably benefit as a member of the incumbent party.
"We have a Fed that's doing political things. This Janet Yellen of the Fed. The Fed is doing political ― by keeping the interest rates at this level," Trump said during the first presidential debate in September.
"And believe me: The day Obama goes off, and he leaves and goes out to the golf course for the rest of his life to play golf, when they raise interest rates, you're going to see some very bad things happen, because the Fed is not doing their job," he said.
Lo and behold, the Fed raised its influential federal funds rate by a quarter percentage point in December, and did it again on Wednesday by the same amount.
Only instead of calling out the Fed for putting the brakes on job growth just as he takes office, Trump has stayed silent. Trump did not mention the Fed during a speech on Wednesday promoting jobs in Ypsilanti, Michigan. The central bank did not even merit a measly tweet from Trump's Twitter account.
"As has been practice for the White House in the past, we're not going to comment on the Fed's decisions," White House spokeswoman Natalie Strom said in response to an e-mail inquiry.
Of course, if Trump's silence is an apparent contradiction of his campaign-trail invective against Yellen, it is entirely consistent with his approach to disparaging independent government actors and institutions: He does it when it suits him politically. 
Prior to Trump's inauguration, he routinely doubted the veracity of the Bureau of Labor Statistics' monthly jobs reports, claiming the employment situation was much worse than the official data suggested. But last Friday, after the first report on job growth that occurred solely under his presidency came out, Trump touted the numbers and clarified that he now accepts their accuracy.
Conversely, prior to taking office, Trump loved to cite the findings of the nonpartisan Congressional Budget Office. Once CBO panned House Republicans' Obamacare replacement bill, however, senior members of the Trump administration were quick to question the institution's analysis.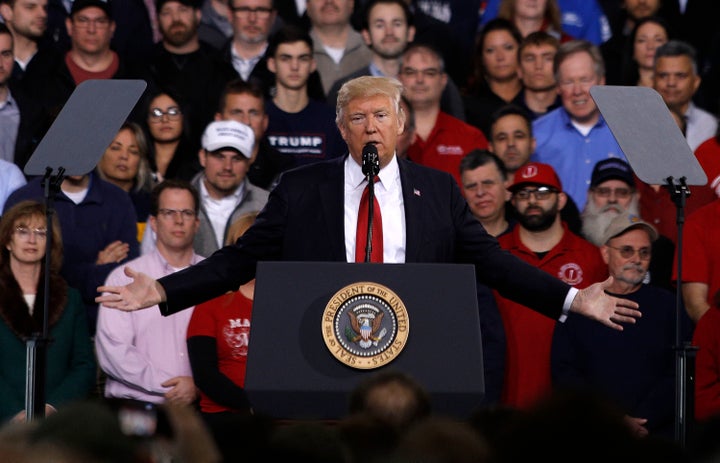 So too with the Federal Reserve.
Trump never offered any evidence to support the allegations against Yellen. That's because the evidence is virtually nonexistent. Even Yellen's critics consider her a highly qualified, independent central banker.  
But that wasn't the point. When Trump was running against Clinton, it made sense to disparage Yellen. It fed into the web of conspiracy theories he was promoting among his supporters, many of whom were eager to believe they were fighting a system stacked against them.
Like Trump's claims that the voting system itself was rigged, his bloviating against Yellen was also designed to undermine the legitimacy of the election results if he lost.
Now that Trump has won, it's not a fight worth picking.
If anything, the fact that the post-election stock market boom continued uninterrupted after the rate hike means the Fed's decision could be framed as a political boon to him.
"Maybe if markets reacted more negatively he would have had something to say about the Fed's rate hike," suggested Stephanie Kelton, an economist at the University of Missouri, Kansas City. 
Trump's views on the Federal Reserve, like many topics, underwent many iterations over the course of his campaign. In May, he told CNBC that he agreed with Yellen's decision to keep rates low, observing that higher rates could increase the value of the dollar and hurt manufacturing exports.
On other occasions, Trump voiced support for restoring the gold standard, which would likely dramatically curtail the Fed's ability to respond to business cycles. In fact, he has surrounded himself with gold bugs and other proponents of hard-money policies, according to a lengthy new report in Politico Magazine.
All of those factors raise questions about just how Trump will choose to shape the Federal Reserve, which is also charged with regulating major financial institutions. The resignation of Daniel Tarrullo, the Fed's enforcement chief, means that Trump will have the opportunity to fill three board governor positions this year alone. 
"If he calls me up, I'll tell him he should appoint people prepared to let the economy get to full employment and risk a little bit of inflation," said Dean Baker, co-director of the liberal Center for Economic and Policy Research.
Baker even argues that it would be perfectly appropriate for Trump to weigh in on the overall direction of the Fed without trying to dictate its every move. 
The challenge is getting Trump to adopt a coherent vision of monetary policy ― let alone one that is progressive, according to Baker.
"At this point, I won't place bets on that. I guess we'll find out soon enough."
BEFORE YOU GO
PHOTO GALLERY
Trump's First 100 Days