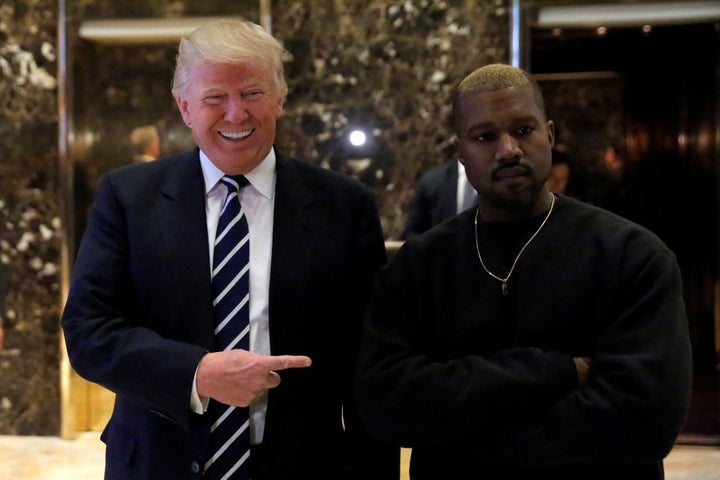 NEW YORK ― Bill Clinton waited nine days before holding a press conference after winning the 1992 presidential race.
George W. Bush fielded questions just three days after the Supreme Court settled the disputed 2000 election.
Barack Obama, similarly, met the press three days after his 2008 triumph. 
For instance, Trump could violate the emoluments clause of the Constitution on the first day of his presidency if receiving payments from foreign governments. And though Trump tweeted Monday that his two sons would run the company, he has yet to adequately explain in detail how the company will be structured in a way that avoids conflicts. He didn't go into specifics in his series of three tweets, writing "Busy times!" 
Nine hours later, the president-elect met with Kanye West. Trump told reporters during a Tuesday morning photo-op that the two reality TV stars had "discussed life." He then headed back upstairs at Trump Tower. 
The president-elect next travels Tuesday night to another scrutiny-free zone. He'll visit West Allis, Wisconsin, for the first of four more "thank you" rallies being held over five days. Trump, who only sporadically reads presidential intelligence briefings, has been holding post-election rallies featuring similar riffs and grievances uttered during 2016 election events. 
But as the president-elect gets public adoration from fans, the American people remain in the dark about his global business ties and how ― even if ― they'll be unraveled before he takes office. 
Trump has not held a press conference since July: At that event he expressed hope that Russia's intelligence services had hacked Hillary Clinton's emails and would release them. 
The president-elect's current unwillingness now to face scrutiny follows a familiar pattern in which Trump promises to reveal details about his business dealings only to keep dodging.  
When previously considering a presidential run, Trump suggested in 2011 he'd release his tax returns when Obama released his birth certificate. But even after the president did so, Trump still refused.
Trump vowed in February 2015 to release his tax returns if he ran for president, before running through a series of excuses after getting in the race. Trump eventually claimed he wouldn't release them because he was being audited, though there's no law preventing him from doing so. In the end, he ran out the clock on the election and set a new precedent for secrecy among major party nominees. 
He also promised more transparency when it came to his family, only to renege. In August, Trump said his Slovenian-born wife, Melania, would participate in a press conference to answer questions about her immigration status. It never happened. 
Trump has done a few interviews since being elected president, including this past week on Fox News Sunday. He sat down last month with editors, reporters and columnists at the New York Times and called into the "Today" show last week after being named Time's "Person of the Year."
But Trump hasn't held a press conference for four-and-a-half months, a remarkable stretch considering he, his campaign team and the Republican National Committee blasted former challenge Hillary Clinton for failing to do the same.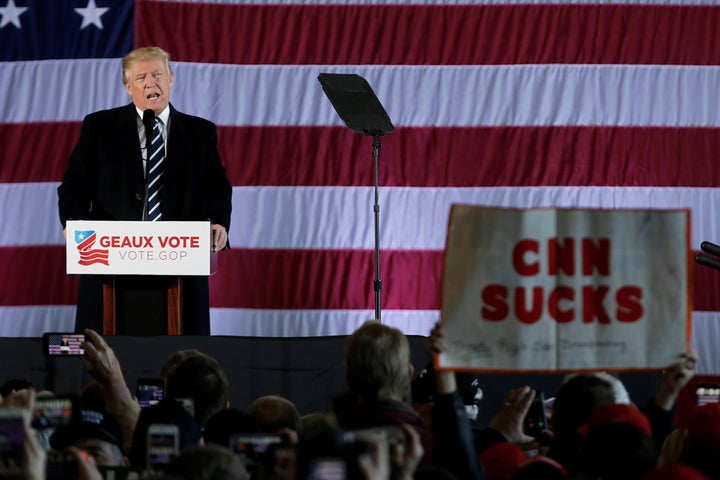 Since winning the presidency, news organizations have stepped up investigating Trump's often opaque business dealings and raised serious questions ahead of the Dec. 19 Electoral College vote. 
Trump indicated he would answer such questions before then. On Nov. 30, he announced on Twitter that he would be "holding a major news conference in New York City with my children on December 15 to discuss the fact that I will be leaving my great business in total in order to fully focus on running the country in order to MAKE AMERICA GREAT AGAIN!"
The president-elect may have less of an incentive to meet the press given that the news media breathlessly, and too often uncritically, amplifies his claims on Twitter ― even when they have no basis in fact. Trump's tweeted claim about severing business ties in "in total" quickly garnered headlines, even as he then punted on questions for two weeks ― and now, until the "near future."  
He's also managed to distract the press by bringing stars through the Trump Tower lobby, holding meetings which on their face have nothing to do with how he'll govern. Trump met with former Vice President Al Gore and actor Leo DiCaprio, two notable advocates for the environment, yet tapped climate change denier Scott Pruitt to lead the Environmental Protection Agency. 
Trump now faces questions over picking Rex Tillerson, the chief of executive of Exxon Mobil who has close ties to Russian President Vladimir Putin, as Secretary of State. The decision comes days after The Washington Post reported that the CIA concluded Russia intervened in the U.S. election through hacking in an attempt to help Trump win.
And while the country's future top diplomat's ties deserve media scrutiny, West provides a strategic distraction.
He is a major cultural figure and meeting with the president-elect is worth reporting, though not at the expense of more consequential stories. On Tuesday morning, Fox News, CNN and MSNBC showed footage of the pair, with one anchor clearly exasperated by covering the spectacle. 
"No time for press conferences. No time to talk about what's happening in Syria. But time for a photo-op and a hug-it-out with Yeezy," said MSNBC's Stephanie Ruhle. "We're not even going to comment on this. We have to move on because that is crazy town."
BEFORE YOU GO