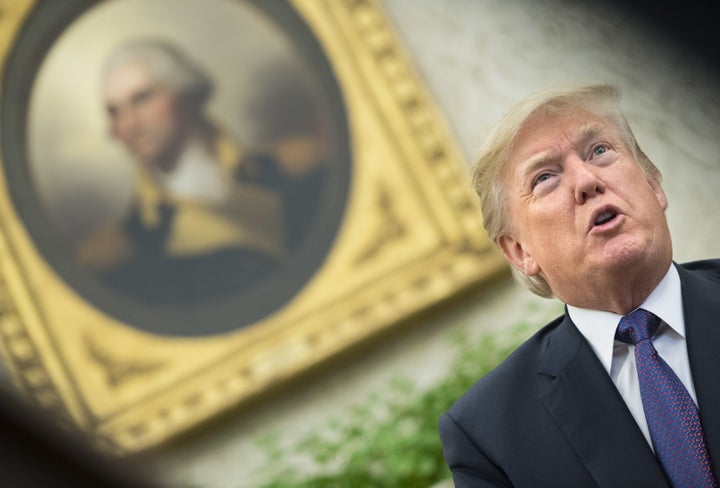 President Donald Trump may be using his public spats with Congress as a whip to get his agenda moving. 
During an interview with Fox Business Network's Maria Bartiromo, Trump defended his public feuds with Republican lawmakers, saying that the confrontations "help" his agenda. The two-part interview is scheduled to air on Sunday and Monday, but a transcript of the show was published Friday.
When asked whether his recent "bickering and feuding" with Sens. John McCain (R-Ariz.) and Bob Corker (R-Tenn.) hurt the White House's agenda, Trump replied: "Sometimes it helps, to be honest with you. So we'll see what happens in the end," according to a transcript of the interview.
"But I think actually sometimes it helps," Trump said of the feuding. "Sometimes it gets people to do what they're supposed to be doing. And, you know, that's the way it is."
Corker, chairman of the Senate Foreign Affairs Committee, has since ramped up his criticisms against the president after announcing he would not seek reelection next year. 
During his interview with Bartiromo, Trump also defended his use of social media, saying that platforms like Twitter allow him to respond to criticism quickly and directly.
"When somebody says something about me, I am able to go bing, bing, bing, and I take care of it," the president said. "The other way, I would never be getting the word out."
Asked about his tweets that have nothing to do with his agenda, Trump suggested he does it to keep people engaged.
"You know, you have to keep people interested. But, social media, without social media, I am not sure that would be here talking," he said.
Trump's tweets have attacked a wide variety of people, entities and ideas. From his Twitter account, he's continuously bashing the news media, Democrats and the Republicans who criticize him.
BEFORE YOU GO
PHOTO GALLERY
Donald Trump Loves Signing Things