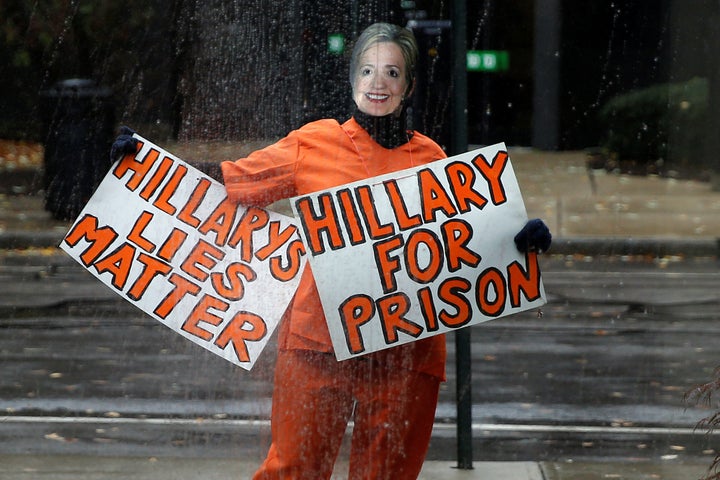 LISBON, Maine ― Attendees at Donald Trump's campaign rally here Friday reacted with a mix of optimism and cynicism to news that the FBI was reviewing a new batch of emails related to Hillary Clinton's use of a private server when she was secretary of state.
"Hopefully, they indict her before Election Day," said Trump supporter William Cozens. "I don't know if it's going to benefit Trump, but it's not going to bode well for Hillary."
The FBI news arrived just as Trump, his poll numbers dwindling as the election approaches, badly needed a jolt. And judging from the Lisbon crowd, he got one. Indeed, many Trump supporters at the rally said they thought the revelations could lead to criminal prosecution of Clinton that may tip the election in Trump's favor. 
Trump himself capitalized on the news, hailing it as "bigger than Watergate" during a speech earlier in Portsmouth, New Hampshire.
But Cozens, like others in the Maine crowd, wouldn't allow himself to get too enthusiastic. 
"I think the mainstream media is going to spin it," he said. "I think they're going to say, 'Oh, well, it was the Russians.' I think they're going to downplay it just like all her other crookedness."
Melissa Stinchcomb, an undecided leaning toward Trump, said the news made her feel less favorable about Clinton.
"It's all been negative with her," Stinchcomb said, adding that she was underwhelmed by both candidates. "You have to pick out the cleanest pair of dirty underwear from the pile," she said. Stinchcomb added she would like to see Trump "stop being him."  
Katie Fox, from nearby Poland, said the news reinforced much of what she believed about Clinton. "It just proves that she's lying," Fox said. "I wasn't going to vote for her anyway."
Many people said the FBI announcement surprised them ― in part because of their distrust of the government.
"It's about time that the FBI started doing something," said Wendy, who asked that her last name not be published.
"Everything she done has been illegal," added her husband, Michael, referring to Clinton. "It's amazing she hasn't been accounted for yet."
Harold Brooks, from Hebron, said he was hoping for the worst for Clinton. 
"They may indict her. They may do an emergency indictment," said Brooks. "I don't think the political system wants the cover-up on her to keep going. Hillary's been able to manipulate the political system, so the political system covers her every time she does something wrong."
Brooks said he anticipated the news would revive enthusiasm for the Trump campaign. "I think his energy level at this thing today will be through the roof," he said of the GOP nominee.
BEFORE YOU GO