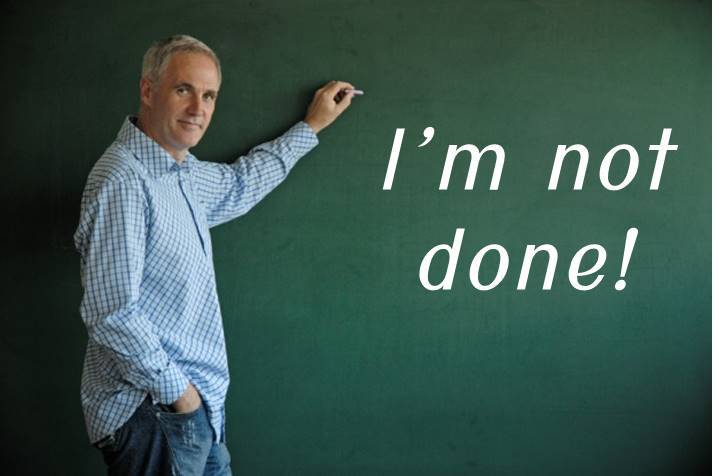 Forty-plus year old rock bands have something in common with forty-plus year old technology companies – it is easy to assume that their best days are behind them.
Don't let age, past success, or media's fascination with the latest shiny new object fool you. There is nothing that prevents classic rock bands or vintage tech companies from continuing to create. Cheap Trick and Intel are two examples.
Cheap Trick is on tour this summer. But what's new? Cheap Trick is always playing live somewhere.
Attend a Cheap Trick concert and you will hear "I Want You to Want Me," "Surrender," and "Dream Police." Unlike those other bands that rely on past success to fill the seats, Cheap Trick doesn't stick to what used to be a hit. They also sprinkle in songs from their highly acclaimed 2017 album "We're All Alright" and their 2016 release, "Bang, Zoom, Crazy…Hello."
It's the same for Intel. The company that rolled out the legendary "Intel Inside" campaign doesn't just produce chips for desktop computers. It is a leader in the technology that powers data mining, artificial intelligence, commercial drones, robotics, and more. Intel might not get the same attention as the app developers, but the company is doing some seriously cool work.
With intentional effort and a little luck, your business can defy the odds and become an "older" company that remains relevant. That won't happen, however, unless you learn to overcome complacency and consciously work to remain relevant. Here are three lessons from Cheap Trick and Intel to keep you from trying to survive solely on past accomplishments.
1. Don't underestimate the comfort created by a huge hit. The music and tech industries are littered with one-hit wonders. Celebrating success is a good thing. Living on it makes you complacent and irrelevant.
The perpetual stars in every field of endeavor are externally focused on what's next to meet their customers' needs, and they are internally driven to never be satisfied with their current efforts.
Rick Nielsen, Cheap Trick's legendary lead guitarist, puts it this way: "The cool thing is that I don't like everything we do. At the time you mean it to be the best, but I'm still critical of every record Cheap Trick has made, and I hope I continue that way. It's healthy. When someone says, 'Hey, man, you're great!' you can say, 'Oh, yeah? Wait 'til you hear this!"
That same commitment to continuous excellence was a primary factor in Alyson Griffin's decision to join Intel as the Vice President of Global Marketing at Intel. Alyson left a 16-year stint with progressively more responsible positions at another global technology firm. When I discussed her decision, the opportunity to make computer chips wasn't at – or even near – the top of her list. She was, however, thrilled to join a company with a future forward focus.
Progressively better chips will be needed to power desktop computers for the foreseeable future. That, however, is like Cheap Trick doing a new arrangement of "Dream Police." The opportunity to lead developments in artificial intelligence, robotics, and drone technology only happens when a company isn't resting on past success.
2. Surround yourself with new perspectives that challenge and excite you. For a technology company, hanging out with, supporting, and learning from consumers is the equivalent of a rock band getting to jam with a legend. The thrill is too good to miss.
New Lab, located in the Brooklyn Navy Yard, represents just such an opportunity. The 84,000 square foot center, sponsored by Intel in partnership with Lenovo and several other companies, brings a group of hardware centric designers, entrepreneurs, and designers under a single roof to push the boundaries of what is possible through technology.
Griffin described the opportunity this way: Young startups want to learn from the legacy technology businesses that can help them navigate turning an idea into a business, but it works both ways. We see and interact with these amazing companies who will potentially change the world. We love learning from the "cool kids" in Brooklyn.
3. Create based on inspiration not fear. To rephrase former Intel CEO Andy Grove, the paranoid may survive, but the inspired develop new ideas that help the world flourish. Creativity influenced by fear can be a useful tool for solving a specific problem. Great songs and transformational technology don't often enter the world that way, however.
So what about that notion that only the paranoid survive at Intel? Alyson Griffin told me that she doesn't see it. Obvious attention is given to understanding what is going on in the marketplace, but the engineers with whom she works focus on the opportunity to do great work that changes the world rather than operating out of a sense of fear. Projects such as development of "snot bots" with the Ocean Alliance influence real change that benefits everyone.
Paul McCartney, perhaps one of the greatest songwriters of all time, said that his writing begins with a thought to get started. Then, according to McCartney, "I just sit with it to work it out, like I'm writing an essay or doing a crossword puzzle." That doesn't' happen when you are operating from fear.
The average lifespan of a business is projected to be about 10 years. That doesn't have to be you, however. You can grow old without becoming irrelevant. All it takes is effort and attention focused on staying current.
Randy Pennington is an award-winning author, speaker, and leading authority on helping organizations achieve positive results in a world of accelerating change. To bring Randy to your organization or event, visit www.penningtongroup.com , email info@penningtongroup.com, or call 972.980.9857.
Randy Pennington has no financial interests or position in Intel or Cheap Trick at this time.
This post was published on the now-closed HuffPost Contributor platform. Contributors control their own work and posted freely to our site. If you need to flag this entry as abusive,
send us an email
.