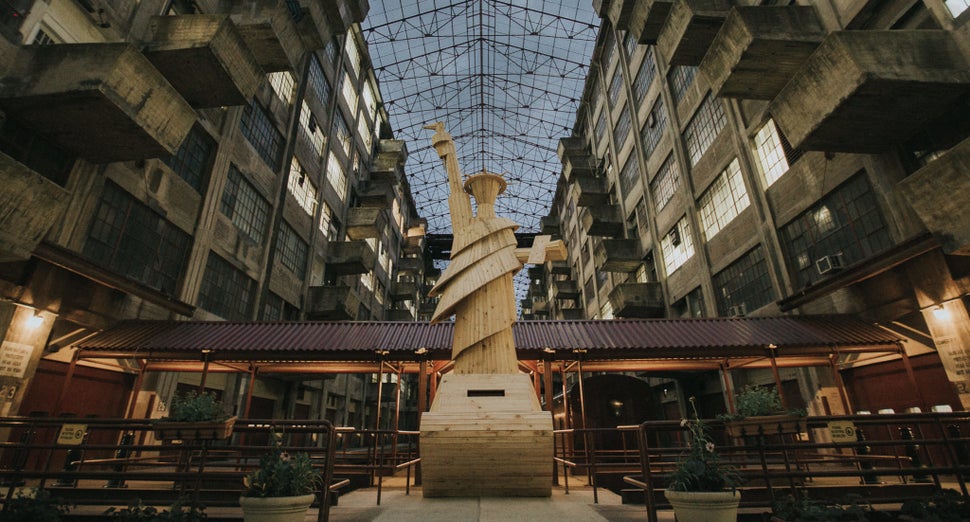 In "Doomocracy," an art happening ominously described as a political haunted house that aims to "aims to shock, amuse, provoke, even disturb," the most frightening part is inevitably the lead-up, the minutes spent counting down, heart racing, before the immersive performance begins. 
The suspense is doubly intense since the piece takes place in a setting as massive and sinister as Sunset Park's once-abandoned Brooklyn Army Terminal, a sprawling complex built to supply the American military in World War I that looks like something straight out of "Stranger Things."
An inoperative train sits amidst the labyrinthine space, its windows caked in blackness. A random door leads to a room inexplicably filled with old printers bound in Saran wrap. These uncanny visions are unrelated to "Doomocracy" itself, though they certainly help set the mood.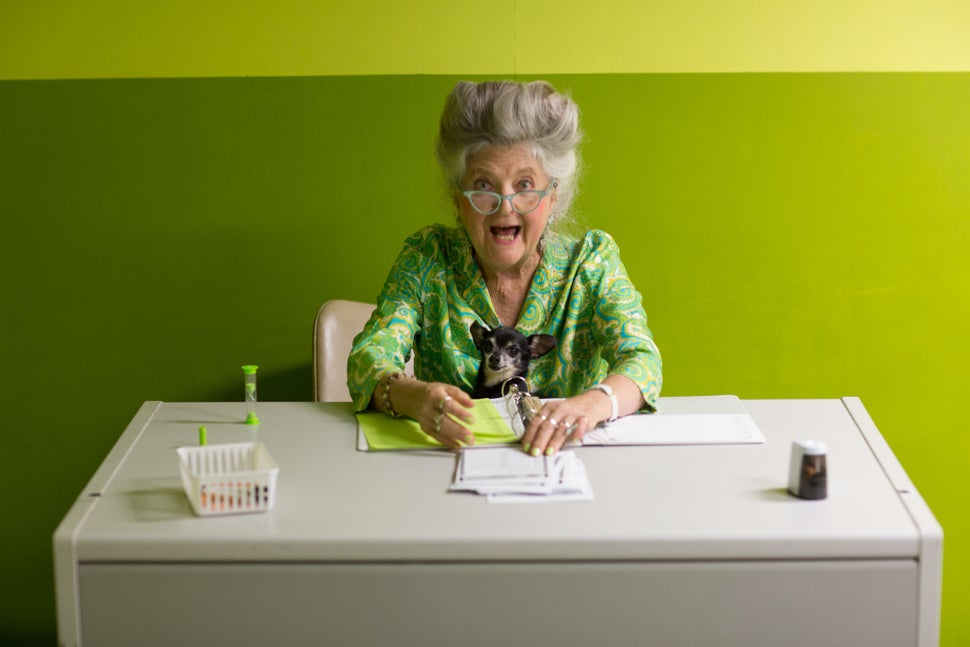 For his current piece, Reyes takes inspiration from the tradition of the haunted house, what he described to The New York Times as an under-acknowledged form of true folk art. "Haunted houses don't have a narrative or make sense," he said. "You're there to be terrified, to be a masochist. So those are the limits I decided to work within for this."
The wonderfully accessible and unpretentious performance plays out over about an hour, with 12 visitors at a time being led through a series of disconnected rooms at 10-minute intervals. Each room envisions a different, dystopian and slightly absurd embellishment of our political monsters ― banks, pharmaceuticals, pollution, and stuffy art galleries, to name a few.
Nearly 50 actors guide participants through the experience, using a script written by playwright Paul Hufker, which is performed approximately 40 times a night.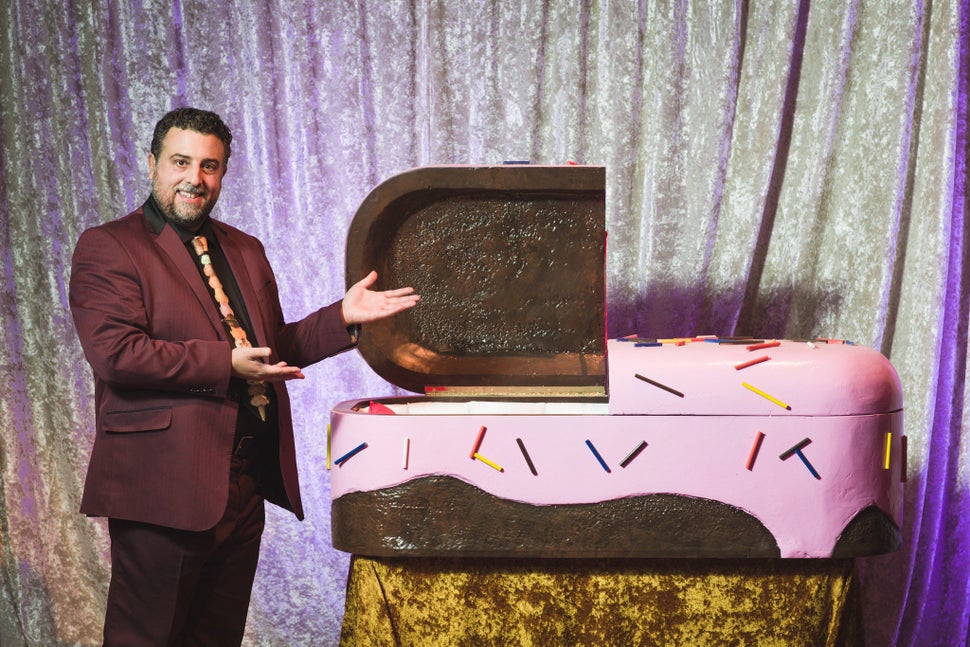 The anxiety that builds prior to the piece's start mellows out a bit once viewers actually enter the haunted house, which is really more of a participatory performance in the vein of New Mexico's Meow Wolf. It doesn't rely on loud noises or jarring images to scare viewers; rather, the fear stems from the same deep-belly place that flips over each morning we read the news. 
That being said, the piece could benefit from a few more heart-thumping moments, the tone instead vacillating between absurd satire and grim commentary. Of the two, the playful rooms were far more effective. One of my favorites involved a sweaty funeral home undertaker, played by Matthew Korahais, who pioneered the brilliant idea of burying children inside coffins made from their favorite processed foods. Twinkies, donuts, French fries, and milkshakes rank among the most popular.
"I'd like to think that in the afterlife, kids can taste their coffins and they're happy," he said, taking a break from playing his spooky organ to scarf up a spoonful of fuchsia frosting, which was, presumably, recently adjacent to a young corpse.
Another great moment took place in a high school theater rehearsal, in which Christian cheerleaders burned a witchy woman at the stake for attempting to abort her unborn child. They perform a musical number to the tune of Grease's "You're the One that I Want," praising the power of the "holy seed" and condemning the "whore" to her rightful death, as bloody baby limbs hang jauntily from the ceiling. It's disorienting, disturbing, and totally hilarious.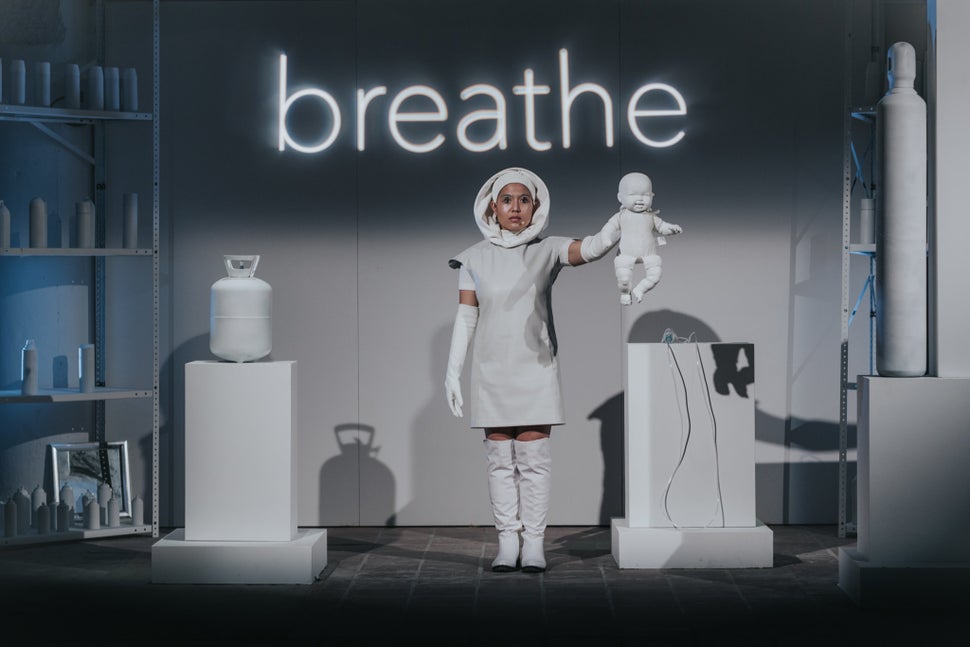 Less effective routines include a boardroom meeting filled with meaningless corporate jargon that invites viewers to either "help the workers" or opt for a "golden parachute," each option leading participants on a different route moving forward. Such moments were a bit overwrought, especially for an audience that, in all likelihood, already leans pretty liberal. The majority of the rooms, however, manage to pack their political commentary in enough hyperbole and dystopian drama to avoid simply patting viewers on the back for their leftist ways. 
"Doomocracy" succeeds in bewildering and entertaining those who dare to walk through its winding path, with sets that viscerally stimulate and actors who exceptionally engage the viewers ― shout-out to the Oxycodone-addled addict in the doctor's office who shed real tears in her monologue. The maze invites viewers, however temporarily, to embrace the terror that plagues their daily existence ― to encounter school shootings, climate change, and systemic racism with a sick and giddy thrill.
However, in certain moments, the mood feels almost depraved, with a majority of very privileged participants ― those New Yorkers who scored tickets in the two hours before they sold out ― giggling with nervous excitement while being patted down by hostile officers. The strange rush experienced by the art elite in reenacting the suffering of others was perhaps the most haunting element of the night. 
Pedro Reyes' "Doomocracy," curated by Nato Thompson and directed by Meghan Finn, is free and open to the public, although tickets are limited and must be reserved in advance. The performance, presented by Creative Time, runs until Halloween at Brooklyn Army Terminal.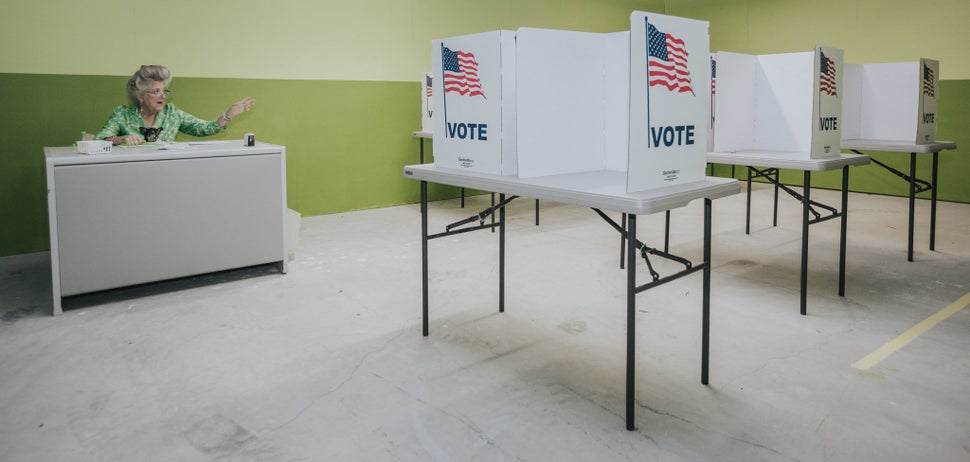 BEFORE YOU GO
PHOTO GALLERY
30 Artist Names You Are Probably Pronouncing Wrong