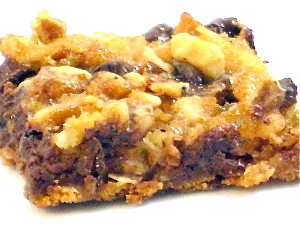 Only 6 ingredients layered right in the pan! Each yummy bar has 133 calories, 6 grams of fat and 4 Weight Watchers POINTS PLUS. Wait until your sink your teeth into one of these!
Prep Time: 10 minutes
Bake Time: 25-30 minutes
Ingredients
1/4 cup reduced-fat butter
1 1/4 cup graham cracker crumbs
1/2 cup flaked coconut (sweetened)
1 cup semi-sweet chocolate chips
1 (14oz) can fat-free sweetened condensed milk
1/2 cup chopped walnuts
Instructions
1. Preheat oven to 350 degrees.
2. In a 13×9 baking pan, generously coat all sides with cooking spray with flour, add the butter and place in the oven to melt. This will take no more than a minute.
3. Sprinkle the graham cracker crumbs evenly over the top of the butter and pat down a little. Do not mix.
4. Sprinkle the coconut evenly over the crumbs.
5. Sprinkle the chocolate chips evenly over the coconut.
6. Drizzle the sweetened condensed milk evenly over the chips. To make the milk easier to drizzle, place the can in a bowl of hot water for a few minutes.
7. Top with the nuts.
8. Bake for about 20-25 minutes until golden brown.
9. Cut into 24 squares while still somewhat hot. If you let them cool they become very difficult to cut!
Makes 24 bars
Food Fact
Sweetened condensed milk is what binds all of the ingredients together in these Magical Bars. It's normally made from a mixture of whole milk and sugar that has had about 60% of its water removed. Its consistency is thick and sticky like honey and is very sweet tasting. I'm using a fat-free version made with nonfat milk.
Shopping Tip
You'll find graham cracker crumbs in a box in the baking section of most supermarkets.
Weight Watchers (old points) 3
Weight Watchers POINTS PLUS 4

SKINNY FACTS: for 1 bar
133 cal, 5.7g fat, 3g protein, 19g carbs, 1g fiber, 61mg sodium, 16g sugar
Note:
1. The nutrition facts were calculated on Spark People.com.
2. The Weight Watchers POINTS were calculated on CalculatorCat.com.
For more Skinny Kitchen recipes, please join me at: http://www.skinnykitchen.com
Follow Nancy Fox on Facebook: https://www.facebook.com/SkinnyKitchen
Follow Nancy Fox on Twitter: www.twitter.com/skinnykitchen
Follow Nancy Fox on Pinterest: http://www.pinterest.com/skinnykitchen/