A Louisiana FedEx driver is lucky to be alive after harrowing surveillance video captured her nearly getting swept away by a powerful tornado.
Video taken outside of Sagona's True Value Hardware in Paincourtville Tuesday shows Kyra Johnson running up to the store's locked doors and frantically tugging on them.
Seconds after she disappears off screen, the building's roof and walls are seen flying into the parking lot like cardboard. The screen then goes black.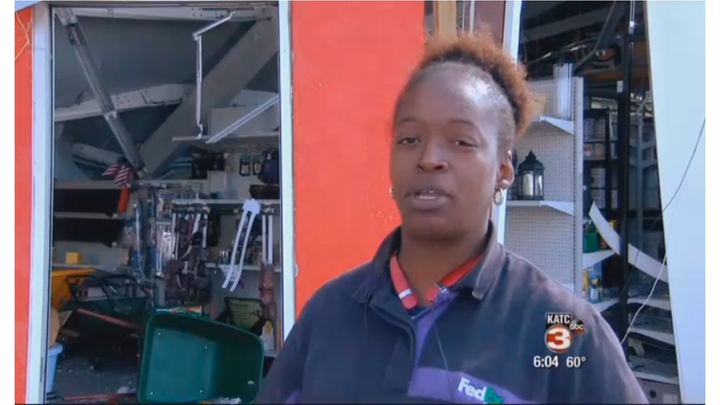 Johnson, speaking to KATC-TV, said she found shelter in the form of a nearby soda machine.
"I braced myself between the Coke machine and the wall and I just know it saved me. Jesus saved me. I just kept saying, 'God please don't let me go,' and he didn't," she told the TV station.
According to a damage report by the Assumption Parish Police Jury, the tornado completely destroyed 45 homes while 22 others were left suffering major damage.
The hardware store was one of the buildings that appeared completely ravaged by the storm.
"Kyra, you definitely had an angel looking over you," the store's owner, David Sagona, posted on Facebook while sharing several surveillance videos.
Requests for comment from Johnson and Sagona were not immediately returned.
BEFORE YOU GO