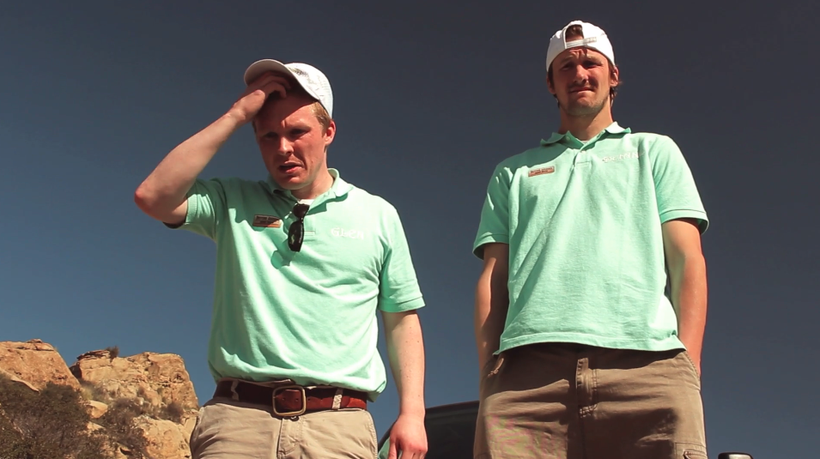 For any traveler, getting to their preferred destination is always a matter of time. For the people whose job it is to get those travelers to where they want to go, it's both a matter of time and money. For a pair of cousins whose efforts to keep their uncle's long-running shuttle bus fleet afloat are hampered by their outrageous ineptitude, the job of transporting time-crunched passengers to their flights is a matter of laughter in the new comedy DRIVING ARIZONA, whose first four episodes are available on its official web site and Stream Now TV (see embedded video, below and links at the end of this article).
Created by Dylan Tanous, series co-star Joe Ahern and Anthony Pucillo (the former two with ample experience working on sitcoms like THE MILLERS, RAISING HOPE and LAST MAN STANDING, more on that ahead), DRIVING ARIZONA takes viewers on a hilariously bumpy ride with two bumbling cousins - Glen (played by Ahern), and Duane (played by Nicholas Daly Clark).
Tasked with shuttling passengers back and forth in the sunny yet scorching climate of Phoenix, Arizona, Glen and Duane consistently manage to screw up their customers' flight schedules through their wacky detours. In the process, they consistently make life miserable for their boss/uncle Jerry (Louis Lombardi). Former SURVIVOR champ John Cochran, Ashley Spillers (HBO's VICE PRINCIPALS) and Dana DeLorenzo (Starz's ASH VS. EVIL DEAD) also guest star in DRIVING ARIZONA.
As testament to the series' top drawer production quality, plus its hilarious mix of funny situations and characters, DRIVING ARIZONA's pilot episode (filmed, believe it or not, in Los Angeles) was a finalist at the 2013 New York Television Festival's Comedy Central Short Pilot Competition.
Recognition aside, DRIVING ARIZONA's concept grew out of two memorable personal experiences that Ahern and Tanous shared; experiences that are humorously poked fun at through its characters and storylines. "After years of working shitty jobs, and before that, years of working for our dads, we wanted to share our experiences of what it's like to work in a dysfunctional family business," said Tanous.
A fateful encounter with one airport shuttle service was another experience that proved to be influential to the show's creation. "LAX (Los Angeles International Airport) is a million miles away from where we live in L.A., so instead of asking friends for a ride to the airport, we ended up in the awful purgatory that is a Super Shuttle ride," said Ahern. "Nothing against them. They're doing their best, but they're making a lot of people miserable. And to us, just putting a bunch of people in a van together seems like a perfect storm for comedy."
In another case of life imitating art, Ahern and Tanous also based much of DRIVING ARIZONA's personalities on some familiar sources. "…We were able to draw from people we had worked with in the past," responded Tanous. "In some cases, we were even too lazy to change those characters' names."
Comedies like DRIVING ARIZONA are produced to fulfill three important objectives: to make people laugh, to tell a good story, and to entertain viewers. Ahern described how they achieved those goals while keeping production costs manageable. "We just tried to come up with stories that made each other laugh, and stories that were low budget enough for us to shoot, which is why you haven't seen the 'Duane Hijacks a Plane' episode."
Unlike Duane and Glen's job performance in DRIVING ARIZONA, the filming of its pilot and three subsequent episodes was predicated on efficiency. "…We were running and gunning the whole time, and thanks to a great director (Dan Riddle) and cinematographer (Alex Simon), everything ended up looking pretty damn good, despite the poor planning and a budget that was smaller than some people's bar tabs," Tanous explained.
As filmmakers, Tanous and Ahern have seen up-close the differences between a low budget web series like DRIVING ARIZONA and the big time network sitcoms they've worked on as part of their production staffs. Ahern co-wrote an episode of the CBS series THE MILLERS, while Tanous has written 2 episodes of ABC's Tim Allen-fronted LAST MAN STANDING. Both have worked in a variety of roles on the Fox series RAISING HOPE.
While those differences are plainly visible to DRIVING ARIZONA's creative team, there's one that particularly sticks out. "When you're working for a network show, you get seven different types of shrimp on tape night," Ahern laughingly remarked. "On our set, you're lucky if you even have half of a soggy Jersey Mike's sub."
Despite that astonishing lack of food options, Tanous says that there is one obvious advantage to making a web series: "What we lose in dining luxuries, we gain in creative freedom. When you're illegally shooting on the side of the freeway, no one from the network is there to give you notes."
With all that serving as precedent, Tanous and Ahern have these words of caution for future web series creators: "Don't shoot exteriors in December because it gets dark at Noon. Surround yourself with a knowledgeable and talented cast and crew who you have fun working with and who believe in your material. Hopefully they also have a soft spot for soggy Jersey Mike's subs," DRIVING ARIZONA's co-creators reply. "And make sure your project is the best it can be before you release it into the wild. There's a lot of stuff out there right now."
Speaking of project releases, DRIVING ARIZONA is now part of Stream Now TV's growing content library. Ahern and Tanous credit the network's CEO Ron Valderrama for growing and enhancing every part of the show's viewer outreach. "Ron's been great throughout the whole process. We're very excited to have him involved in the project. He's been a big advocate for the show on social media, and we're under the impression that he's going to send us a case of beer each month."
DRIVING ARIZONA shows that, as in life, the journey can be just as fun as the destination - even if the ride to that destination is led by two guys who can't focus on getting their airport-bound passengers from point A to point B. While Ahern and Tanous hope that the road to further success for their series will be smoother than that of its characters, the reason why they created it is simple: "We just wanted to make a show about some idiots taking people to the airport."
NOTE: The series is not currently closed-captioned or subtitled.
This post was published on the now-closed HuffPost Contributor platform. Contributors control their own work and posted freely to our site. If you need to flag this entry as abusive,
send us an email
.