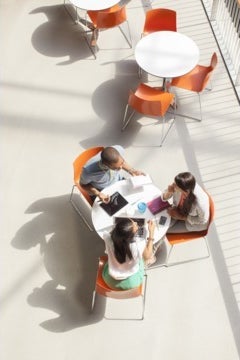 In the three-plus years since Voya Financial was created via a spin off from ING Group, we set out to create a new kind of company – with an authentic and passionate commitment to corporate responsibility embedded in its purpose, vision and culture. During that time, we have learned a great deal as we've established a new brand and defined our corporate character.
When I began my career four decades ago, what we now refer to as corporate responsibility largely consisted of charitable giving. Today, charitable giving, or philanthropy, is just one way that companies bring their brands to life as responsible corporate citizens.
Corporate responsibility is now interwoven with business strategy – and is invaluable to advancing relationships with all stakeholders. Philanthropy is complemented by engaged employees volunteering their time and energy. Environmental sustainability is critically important in all aspects of business. Diversity, inclusion and equality are enablers of business success. And ethics, integrity and transparency are, quite simply, non-negotiable expectations in the eyes of the public. As organizations, we measure value by holding ourselves to the highest standards in each of these areas – focusing beyond business results to how results are achieved. More than just a means of holding ourselves accountable, our efforts impact the triple bottom line of people, planet and profits. The values that we adhere to and the ways in which we conduct ourselves – economically, ethically, socially and environmentally – are what set us apart.
Businesses are built on integrity, so it stands to reason that empowering your people through a strong, performance- and purpose driven-culture will reap dividends. Embrace diversity, inclusion and equality. Reward results achieved through positive behaviors. And enable your people to use their unique talents, experiences, perspectives and innovation to best serve customers and deliver excellence. At Voya, our commitment to diversity, inclusion and equality starts at the top. Our board is one of the most gender diverse in the country, with 44 percent of independent director seats held by women.
We consider it our core responsibility to do the right thing – behave ethically, protect customer information with the highest integrity, be transparent in our practices, and share our expert financial knowledge in a way that provides the best value to our customers. Every day, employees are faced with countless decisions that require quick, but careful, judgment in the face of complexity. Companies with a true commitment to ethics invest in training and set the right incentives to help employees serve customers.
That's why we have adopted a continuous improvement mindset, putting the customer at the center of everything that we do. This concept has enabled our cultural transformation, drawing on the knowledge and experience of all employees – from the front-line to the C-suite – empowering them to take ownership of issues and quickly solve problems. Creating a culture that endures requires a cohesive, collaborative team whose members understand the needs of customers and the organization – and who are united by common values and a shared commitment to ethics and integrity.
Partner with the Community
We understand that the relationship between our business and our communities is collaborative and symbiotic. One cannot succeed without the other. We also understand our duty to strengthen the communities where we operate, which in turn shapes our workplace culture and strengthens our external reputation.
Our guiding principle is centered on advancing solutions to one of the most-daunting financial challenges facing Americans today – retirement readiness. The financial gap between what Americans need to retire and what they have saved ranges from $6.8 to $14 trillion, according to The National Institute of Retirement Security. As such, the Voya Foundation invests in education and financial literacy, which aligns with our values and goals, addresses a critical social issue, and brings to bear the many skills and talents of our people.
When employees serve as powerful leaders for change in the community, companies reap great benefits. Community engagement enhances employees' leadership skills, fosters teamwork and boosts morale. Moreover, the time that employees spend together working with the community supports the company culture and drives business success.
The long-term viability of society as well as the success of a company relies on a commitment to a sustainable environment and an eagerness to address environmental conservation. We've implemented company-wide sustainability initiatives that reduce our energy, water and paper consumption as well as travel mileage. Our grassroots conservation program was initiated by employee passion and has grown enterprise-wide, saving $22 million since its inception in 2007. Holding business partners accountable is just as important. To support a green supply chain, we are developing a supplier assessment as part of our environmental procurement policy to determine carbon risks as well as opportunities for our vendors to become more environmentally responsible.
At Voya, we gladly accept and embrace societal expectations that businesses provide more to the world than their products and services – we strive to improve the lives of our customers, colleagues and communities through everything we do.
This post was published on the now-closed HuffPost Contributor platform. Contributors control their own work and posted freely to our site. If you need to flag this entry as abusive,
send us an email
.