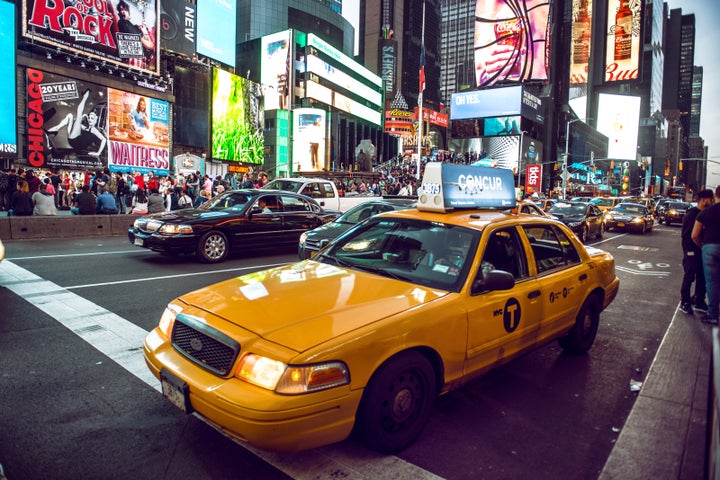 A drunk passenger allegedly punched a Sikh cab driver in New York City and stole his turban off his head in an attack the NYPD is investigating as a possible hate crime.
The Hate Crime Task Force investigation is ongoing and no arrests have been made, the NYPD told The Huffington Post on Tuesday.
Harkirat Singh, 25, told The New York Daily News that the assault followed an argument he got into with four unruly passengers he picked up early Sunday morning in midtown Manhattan.
The three men and one woman were reportedly so drunk that they began shouting conflicting directions at Singh and telling him "fuck you, Ali Baba." 
Singh, who immigrated to the U.S. from Punjab three years ago, eventually pulled over and demanded the group pay their fare before finding a new cab. When the group refused to hand over the money, Singh called 911 and the situation escalated.
This act of cruelty is sadly just the latest example of violence, bullying and abuse against Sikh Americans.

The National Sikh Campaign
The call prompted the woman to pay, but one of the men began lashing out, according to Singh. The belligerent passenger allegedly punched Singh in the arm, attempted to destroy the cab's meter, and ripped Singh's turban off his head.
Singh said he feared the attacker, who he reportedly described as a clean-shaven Hispanic man in his 20s, was going to kill him. He told NYDN that he pleaded with the man to calm down and suggested they talk it out, but the quartet fled the scene with his turban.
"It's an insult on my religion," Singh told NYDN. "An insult of my faith. It's horrible."
"This act of cruelty is sadly just the latest example of violence, bullying and abuse against Sikh Americans," the National Sikh Campaign, an advocacy group, said in a statement Tuesday.
"The fact that Harkirat Singh had his turban ripped off his head should be a peaceful call to action for our community and the many supporters of our campaign — Sikhs and non-Sikhs alike," they added.
Just last month, a 39-year-old Sikh man was shot in the arm while working on his car in the driveway of his home in Seattle. Deep Rai told police his white attacker yelled "Get out of our country!" before shooting him.
New York Mayor Bill de Blasio condemned the attack on Singh Monday, tweeting that he is "welcome here."
Singh appreciates the mayor's sentiment, he told the New York Post, but still wants justice to be served to his assailants.
"They did wrong — they insulted my faith, my community," Singh said. "They need to be punished."
America does not do a good job of tracking incidents of hate and bias. We need your help to create a database of such incidents across the country, so we all know what's going on. Tell us your story.
BEFORE YOU GO
PHOTO GALLERY
10 Books On The Sikh Faith