Shortly after my cofounder Ryan Williams and I left Wall Street to start Jopwell, I read a USA Today interview with a business mind I've long admired, Earvin "Magic" Johnson. He talked about how he could bring more underrepresented ethnic minority talent to Silicon Valley. I appreciated his directness and made a note to myself that I should reach out to him when the time was right.
Now, we're excited to share that Jopwell has raised an additional $3.25 million in seed funding from a committed group of investors, including Andreessen Horowitz, Kapor Capital, Omidyar Network, Valar Ventures, and .... Magic Johnson Enterprises, among others. This investment will go toward continuing to grow our platform and our team.
It's fantastic to have the support of a committed group of investors -- from traditional VCs to leaders in human resources and organizational diversity. All of them are serious about our approach of using software to create and foster a more diverse workforce. When we sat down with Earvin to talk about workforce diversity, it was a real affirmation of our alignment in what we are working towards (in addition to being a bit of a "pinch-me" moment).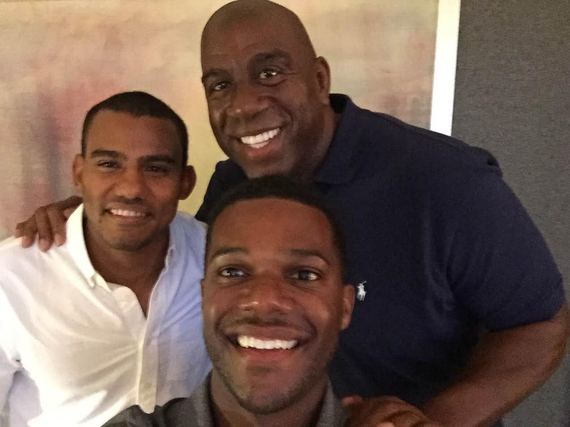 Here are a few recent words from him that really resonate:
On the importance of workforce diversity: "Diversity isn't just a demographic or social imperative within an organization. Smart CEOs recognize it for what it really is -- a business necessity that helps companies be more successful globally... At the end of the day, people make or break businesses. An authentic sense of diversity and inclusion in the workforce helps you attract, recruit, hire, and keep the best and brightest talent."
On the barriers: "Diversity is a commitment. It just doesn't happen in an organization overnight. And for larger businesses, it can be difficult to stay true to that commitment across divisions, teams, and departments if it isn't a corporate mentality, enforced from the top, with available tools to support [those] goals."
On the solutions: "Investing in Jopwell fits into my mission to support, empower, and strengthen underserved communities. Jopwell optimizes the search and hiring process. It gives people the tools they need to become successful. When you look at the portfolio, the investment was a no-brainer. We're excited to help Porter and Ryan take Jopwell to the next level."
As my team and I focus on what's next for Jopwell, I also look back and remember the importance of aggressively pursuing your passions. Growing up, I never in my wildest dreams imagined that Earvin Johnson and I would spend time discussing our shared passions, let alone working together on them.
Porter Braswell is CEO and cofounder of the diversity recruitment startup Jopwell, which connects Black, Latino/Hispanic, and Native American professionals and students to recruiters at leading companies. He writes about recruiting, workforce diversity, and the startup grind. Follow Jopwell on LinkedIn and Instagram.