Human trafficking stories typically center on young girls being sold for sex and domestic workers lured by false promises.
Across the globe, an estimated 21 million people are involved in some sort of modern slavery, according to the U.N. That means these victims are either recruited or harbored, often with the belief that they'll be compensated, or they're trapped against their will.
While concrete figures are difficult to come by due to the elusiveness of the crime, a new report published by Verite concluded that fishing and aquaculture are one of 11 sectors mostly likely to involve human trafficking.
It makes sense considering the vast rise in demand for fish, and the fact that overfishing has reduced the biomass of many fish species. 
But while domestic fishing is regulated in the U.S., it still imports a significant portion from illegal, unreported and unregulated (IUU) sources. According to the Verite report, an estimated 20 to 32 percent of imported wild-caught fish comes from IUU fishing.
"To think that one in three fish you eat in the U.S. could be illegal, that's a bit scary," Tony Pitcher, a professor at the fisheries center of the University of British Columbia in Vancouver, told National Geographic.  
In 2012, the U.S. imported more than $3.4 billion worth of shrimp, its largest seafood import, from such top-producing countries as Thailand, Indonesia and India. Tuna, the second most imported fish product, is sourced from Thailand, the Philippines and Indonesia, among other countries.
The fishing industry is simply an optimal environment for traffickers due to a lack of oversight.
While there are regulations in place, they're challenging to enforce because fishing takes place more than 200 miles from shore. What's more, fishing vessels can register their operations in countries to which they have no meaningful connection, and often choose those that have limited interest, or capability, in enforcing fishing regulation laws.
The nature of the undesirable work also fits right into the standard trafficking profile.
Trafficking is most likely to occur in trades that require low-skilled laborers to perform dirty and dangerous jobs, according to the U.S. Department of State. The risks are higher in industries that are seasonal and have an extremely short turnaround time for production.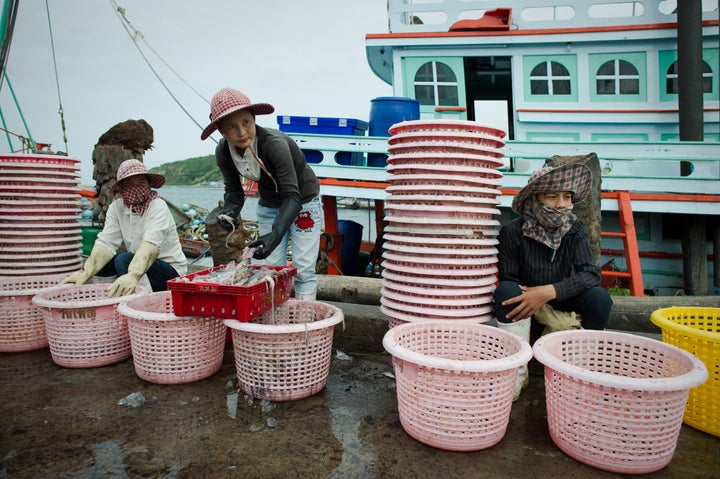 The fishing industry, in particular, relies on "casual" labor, instead of permanent employees, which means they can sidestep the standard benefits official employees receive. 
Victims become most vulnerable when they're recruited into illegal fishing rings, since their traffickers are likely to use hazardous fishing methods, engage in abuse, force workers to pay back enormous debt and get involved in the drug trade.
As a result of the illegal activities taking place, victims are often reluctant to report their traffickers. 
According to Verite, Thailand had the most illegal fishing, with 25 to 40 percent of Thai tuna being illegally caught.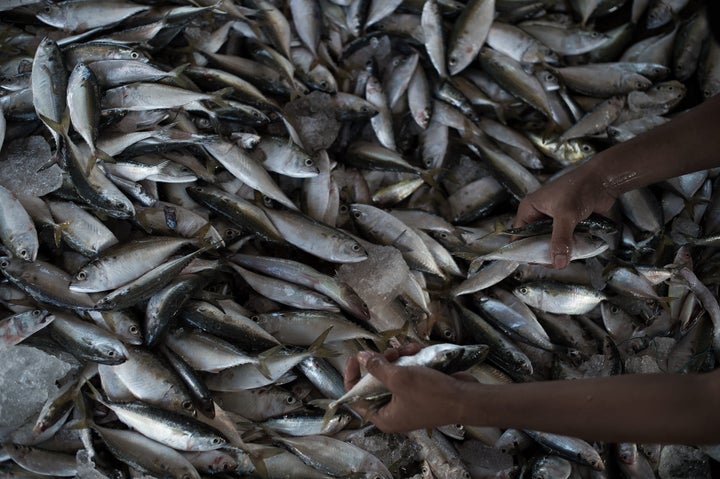 Some workers are forced to work as many as 18 to 20 hours a day for several years at a time. They are paid very little, or irregularly, and are threatened and physically abused, according to the Associated Press.
Workers often get coaxed into illegal chains by traffickers' savvy recruitment methods.
One victim named Datu, for example, met with his recruiter twice before moving to an island in the Philippines to work, according to the State Department. He was compensated at each meeting, which reassured him that he was about to embark upon a well-paying gig.
Instead, Datu -- and 25 other men -- were charged $1,360 for room and board, and weren't compensated at all. For two months, they were forced to fish illegally and were beaten if they didn't catch enough fish.
To avoid supporting such corrupt product chains, a number of U.S. retailers have implemented responsible measures.
Whole Foods, for example, only buys fish that's certified by the Marine Stewardship Council, which employs strict requirements that eschew illegal fishing, National Geographic reported, and it sends its buyers directly to docks to pick up fish.
It also uses a program to track seafood at every step of the supply chain.
Costco, Trader Joe's and Darden, which owns Olive Garden and other restaurants, have also adopted similar approaches to purchasing fish.
The government is also doing its part to keep illegal fish from entering the U.S.
That included tracing seafood from "bait to border," making IUU and seafood fraud a priority for investigators and federal prosecutors, and changing tariff codes so that products can be more easily identified at the border.
In April, the Senate ratified the international Port State Measures Agreement, which would enable port officials to keep out foreign vessels suspected of illegal fishing from receiving port services and access, according to National Geographic. 
The U.S. was the 11th nation to ratify the treaty and it will go into effect when 25 countries ratify it, according to National Geographic.
And some blacklisted countries say they're working to clean up their trafficking issues.
In response to the recent U.S. report, Thai Prime Minister Prayuth Chan-ocha said he's addressing the problems and that the assessment was made when his administration had just taken over, according to the AP. 
"We just have to keep working and not to worry. It's an issue of international rules, so we'll have to follow," Chan-ocha said. "Don't worry too much. Their assessment was up to them as they were the ones assessing, not us. We just do our job. What they said in the assessment, we fixed every part of it, but some issues are quicker to fix and some are slow."
CORRECTION: A previous version of this story stated that Darden owns Red Lobster. The company sold the chain last year.