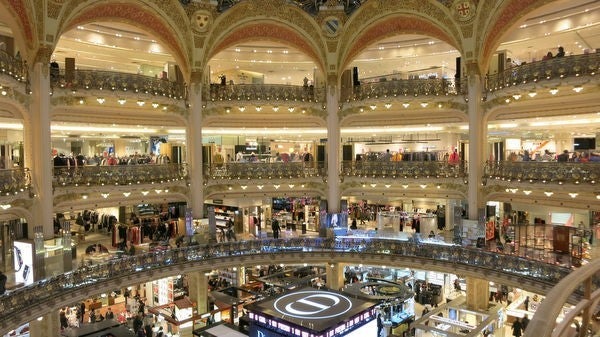 Achieve Shopping Nirvana in Paris, France
France is one of my favorite destinations for history, culture, and shopping! Paris is a global trend-setter in fashion, but you don't need to spend a lot to bring the Parisian lifestyle home with you.
For high-quality artsy souvenirs, books, and paper products, visit Brentano's Librairie Americaine on 37 Avenue de l'Opéra. This is on my must-visit list every time I visit Paris. The first time, I think I spent two hours admiring all their creative stationery, stickers, and other handmade crafts.
I LOVE escaping the crowds of tourists by shopping at Montmartre. Here you'll find inexpensive vintage clothes, thrift shops, one-of-a kind jewelry, cute leather purses, and unique sweaters.
Get off on the Abbesses metro stop and spend half a day exploring the many streets lined with shops. Many stores are closed on Sunday, so remember that when planning your shopping spree.
Explore the City's History and Culture
If you're not into shopping, there is so much to see and do in Paris. The city has enough museums to keep you busy for weeks! Do your research ahead of time to determine which ones you want to visit.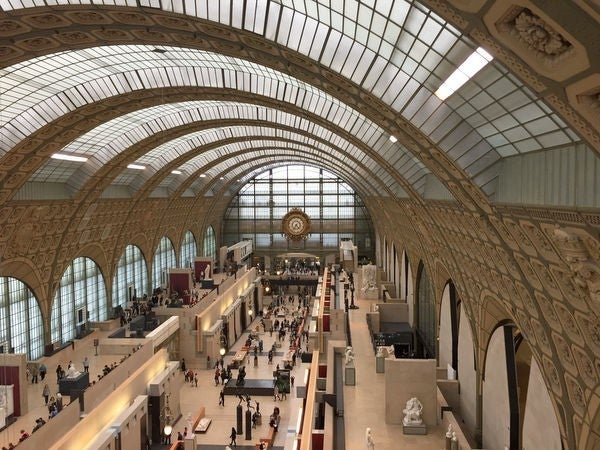 Immerse Yourself in History by Visiting a Chateau
The French were known for opulence, and the chateaus tell a story of lavish bygone times. Although Versailles is the most famous, you should check out other less touristy palaces. The Château of Vincennes is a 14th century castle just a 25-minute metro ride from the Paris city center!
Eat All the French Food You Can Handle
I LOVE French food. I love the coffee, the desserts, and everything in between. Try different bakeries and enjoy unique creations (bakeries are also a low-pressure way to practice your French).
If you're shopping near Galeries Lafayette or Rue de Rivoli, don't miss trying the food at the Laurent Dheilly Artisan Boulanger. I had the best pistachio macaroon sandwich with raspberry filling and fresh raspberries on top. Divine!
Every day when I was in Paris, I would pop into a patisserie (bakery) to see the morning's masterpieces. Parisians bring their love of art to their desserts. Not only do they look nice, but they're full of flavor, and melt in your mouth!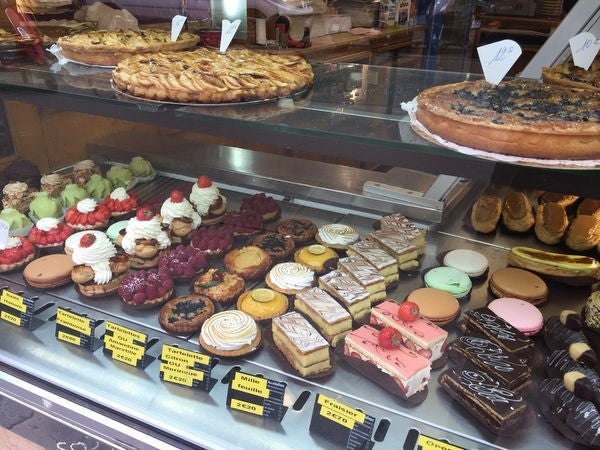 Also, don't expect your American coffee with free refills. I've never seen a restaurant or café offer free refills. Part of traveling is experiencing life – and coffee – how the locals experience it!
Sometimes you can find a fare sale for cheap tickets into Europe. If you can't find cheap tickets though, consider using airline miles earned from credit cards to help get you there. Don't forget to check partner airlines and if there are specific travel dates where fares are cheaper!
While my main focus when traveling is seeing the sights and getting to know the locals, it's definitely nice to pamper yourself, too. So consider using hotel points for an award stay. Both the Park Hyatt Paris-Vendome and the Hotel du Louvre make very good award stays.
The cost was $149 per night, split between me and my 3 accompanying friends. So we only paid $37 per night!
Shopping in international cities is so fun, because you can find unique items at good prices. I also love exploring and appreciating the food, architecture, and people. You can't miss Galeries Lafayette if you plan a trip to Paris. It's my top shopping recommendation!
Because collecting frequent flyer miles from credit card sign-up bonuses is so easy, there's no excuse not to fit in a shopping trip to the city of your dreams!
This post was published on the now-closed HuffPost Contributor platform. Contributors control their own work and posted freely to our site. If you need to flag this entry as abusive,
send us an email
.