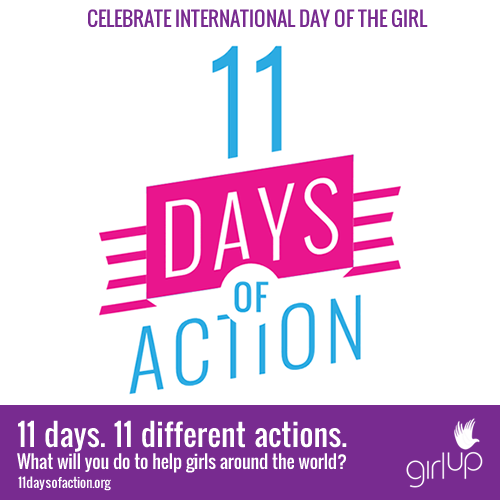 It's that time of year. In addition to the lower temperature and the changing color of leaves, October brings with it stress about school work, exams, projects, and maybe for some even college applications. It's easy to get carried away with the hustle and bustle of our own lives and be blinded by our every day struggles.
However, October is also a time to shine a light on the challenges that 600 million adolescent girls living in developing countries face every day just to have the opportunity to go to school, be healthy, stay safe from violence and above all, just be a girl. Girl Up is a campaign of the United Nations Foundation that mobilizes teens to raise awareness and funds for girls in developing countries and beginning today is celebrating the second International Day of the Girl with 11 Days of Action.
Around the world, girls are forced to overcome obstacles that are bigger than we can even imagine here in the U.S. We have all seen the staggering statistics too many times. In places like Ethiopia, one in five girls is married before the age of 15. In Guatemala, only 5 percent of indigenous girls have completed primary school, and only one in 10 girls is enrolled in secondary school. This is our chance to give them a platform and a microphone so that they can raise their voices and say, "I matter and so does she."
We need you to join the movement! October 11 and the days leading up to it is our time to tell that world that girls everywhere count. According to the United Nations, International Day of the Girl will "help galvanize worldwide enthusiasm for goals to better girls' lives, providing an opportunity for them to show leadership and reach their full potential."
Girl Up is asking that starting tomorrow, we follow an action each day leading up to October 11th. It is essential that we all play a role in raising awareness and sharing our sisters' stories. In addition to raising awareness and funds through these days of action, promoting advocacy is a very important part in creating concrete change in the lives of girls everywhere. We each have unique strengths, passions, and networks that we each can mobilize to call attention to these issues.
There is so much you can do! Here are some of the daily actions you can take, but to see the full eleven days of action, please visit 11daysofaction.org:
Day 1: Hang up posters raising awareness about the issues.

Day 2: Make an announcement in your school's town hall or assembly to continue to spread awareness and get the whole student body to play a role in the day.

Day 3: Donate a photo with the Johnson & Johnson Donate a Photo app, so that you can make a $1 donation to Girl Up every day just by uploading a photo.

Day 5: Screen the extended version of the Nepal chapter of Girl Rising.

Day 7: Collect spare change by placing jars in classrooms around your school and making it a friendly competition.

Day 11: Celebrate the day by organizing a "pep rally," cupcake party, or girls' night out event. Be sure to register the event!
Whether you choose to complete all of these actions or just a couple, you will have succeeded in bringing awareness and attention to the injustices and also in celebrating the potential of girls everywhere!
Through my experience as a teen adviser and my trip to Guatemala this past spring to learn about Girl Up supported programs, I have come to realize that we all have the power to ignite the spark within each of us, but most importantly we have the opportunity to help each other light it. There is a pivotal moment in a girl's life that will help determine whether she will be able to escape the cycle of poverty. By joining this growing movement, you can play a critical role in ensuring that when she reaches this pivotal moment in her life, she has the tools to head down the path of opportunity in search for her future.