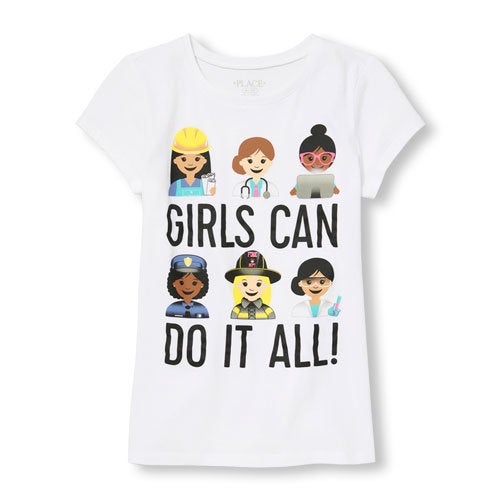 We all know who runs the world by now, but some retailers have yet to get the message. Case in point: the 5-year-old girl who wrote a letter to GAP recently asking for "cool girl's shirts." 
Luckily, a member of HuffPost Parents' So You Want To Raise A Feminist Facebook group pointed out this line of hyper-empowering shirts for girls currently on sale at The Children's Place.
The "Girls Can Do It All" emoji shirt shows a female police officer, doctor, construction worker and scientist, and other shirts bear girl-power slogans like "Girls Will Change The World" and "Never Underestimate The Power Of A Girl." The designs also emphasize the power of being smart ("Smart Girls Rule," "Smart Is The New Pretty,") and give props to strong moms ("Fabulous Smart Flawless Like My Mom,") ("My Mom: Superhero Role Model Best Friend"). 
The collection can be found in the "#GirlPower Shop" section, which is under a banner reading "Nothing is more fashionable than confidence." 
Usually $10.50, the shirts are all currently on sale for $5.25 each. Scroll through to see some of our favorites. 
BEFORE YOU GO