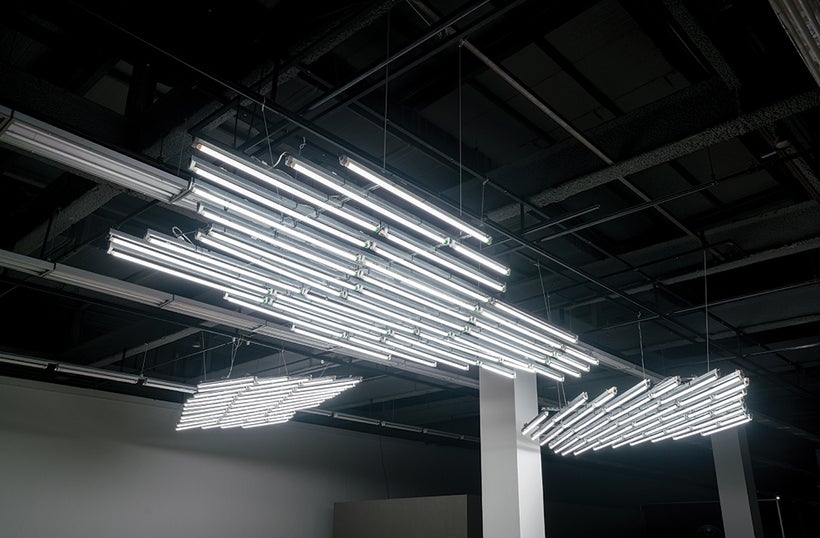 To match the opulence and scale of the high-rise city, the artworks in Encounters—Art Basel in Hong Kong's sector of large-scale sculptural works and installations—rise up to impress visitors with sheer magnitude and complexity. Placed along the four spacious meridians that bisect the two exhibition halls, the Encounters installations provide landmarks for visitors navigating the art fair. The "relationship between time and experience" forms the general theme of the works in the sector, as stated by the curator of Encounters for the third year running, Alexie Glass-Kantor, the Executive Director of Artspace in Sydney. Other themes running under the 17 projects, including four site-specific works and 12 new works, include politics and current global issues, art history and beauty, geometry and the built environment, and personal reflection. We trace the various themes across the fair in these large-scale projects by international artists from Europe, Asia and the Pacific.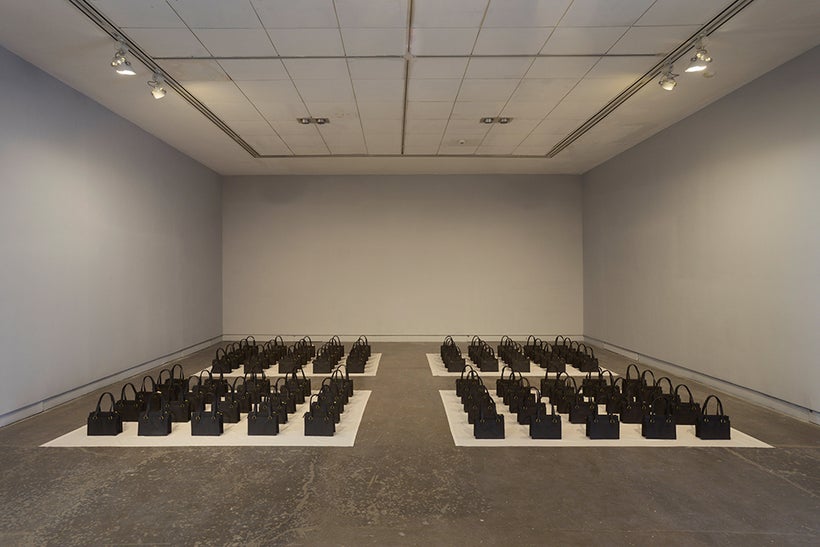 Several of the projects in the Encounters sector treat political issues related to the region, including the effects of consumerism, the refugee crisis and the movements of migrants, and cultural identity and globalism. On Level 1, Vietnamese artist Dinh Q. Lê (presented by 10 Chancery Lane, Hong Kong and P.P.O.W., New York) explores the global refugee crisis with an installation of appropriated images of refugee boats on the Mediterranean Sea, with each image stretched across 150 feet of photo paper, cascading down from the ceiling and rippling on the floor below. The next installation, Summit (2009-2010), by Chinese artist Shen Shaomin (Osage Gallery, Hong Kong), features life-size sculptures of five Communist leaders—Fidel Castro, Ho Chi Minh, Kim Il Sung, Vladimir Lenin and Mao Zedong—four of them lying under glass, reminiscent of Lenin's Tomb, with Castro lying on his deathbed. Filipino artist Pio Abad (Silverlens, Manila) has arranged 180 knockoff handbags in rows—reproductions of Margaret Thatcher's purse—produced in the city of Marikina, the Philippines, which had once prospered as a center of leather manufacturing, but suffered from the introduction of neoliberal, Thatcherite trade policies. Just past Abad's installation, Chinese artist Li Jinghu's (Magician Space, Beijing) installation reflects on the transformation of the artist's hometown of Dongguan, China into an industrial center known as "the factory of the world": fluorescent lights form clouds overhead, stand-ins for the loss of nature, while industrial molds for mass-produced toys are arranged like museum artifacts below. On level 2, Tibetan artist Gonkar Gyatso (Pearl Lam Galleries, Hong Kong) presents Family Album (2016), a riotous installation of life-size cardboard cut-outs of individual Tibetan people in front of a backdrop replete with a Buddha embellished with corporate logos and advertising images.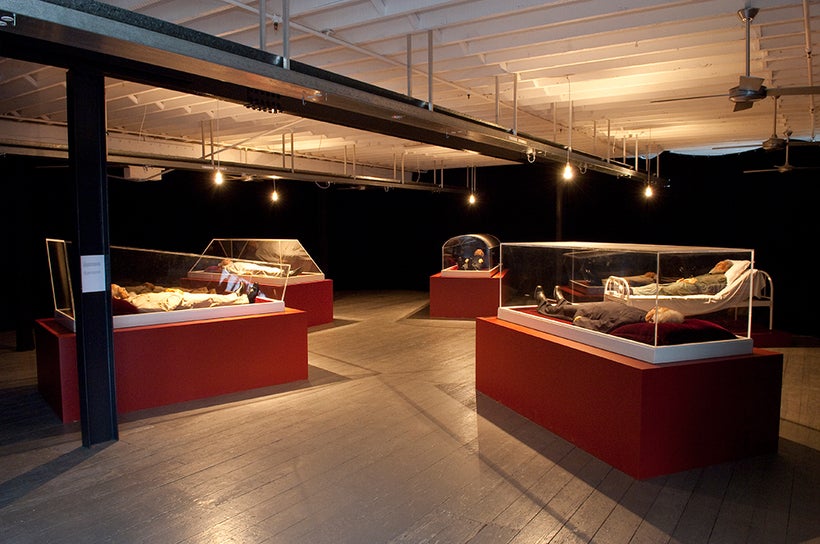 Scaffolding is particularly prevalent in the Encounters sector this year, as well as installations involving geometric and intertwining elements. Just down the row from Gonkar Gyatso's installation, viewers will find Pakistani artist Waqas Khan's (Galerie Krinzinger, Vienna) drawing-sculpture, In the Name of God II (2017), that unfolds like a book into space, marked with thousands of fine marks after the Bardhakhat technique of Persian Mughal miniature painting. Just next to it, Pakistani artist Rasheed Araeen (Rossi & Rossi, Hong Kong), master of architectural grid sculptures, has created an enormous immersive installation of a geometric grid of bamboo scaffolding entitled House of Red Bamboo(2017). Another bamboo scaffolding structure can be found on the other side of the exhibition hall, with Thai artist Rirkrit Tiravanija's (neugerriemschneider, Berlin) large-scale bamboo installation, which visitors can walk into and discover five versions of a 3D-printed bonsai tree of white polymer. Next to it is a six-meter-long sculpture by Polish artist Alicja Kwade (König Galerie, Berlin, 303 Gallery, New York and kamel mennour, Paris) in scintillating silver, with steel beams intersecting and diverging, meant to represent the world's time zones. Kwade's sculpture complements the next installation: Chinese artist Hu Qingyan's (Galerie Urs Meile, Luzern) strange amalgam of crisscrossed, confused, and complex iron tube sculptures, collectively titled Go in One Ear and Out The Other (2017). On the level below, Korean artist Kimsooja's (Kukje Gallery / Tina Kim Gallery, Seoul) stunning installation of a mirrored floor and a candy-striped, shining ovoid structure dazzles and hums with geometric perfection.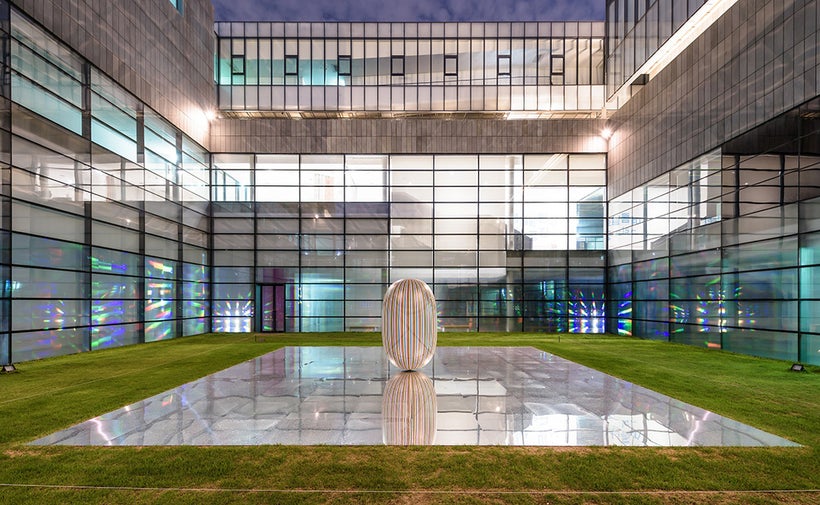 Another underlying theme of many of the Encounters installations is the reflection on the nature of the art object, beauty, or art history. Just next to Kimsooja's installation, German artist Katharina Grosse (Gagosian Gallery, New York) crosses abstract sculpture with abstract painting in her jagged and crumpled cast aluminum sculptures spray painted with splashes and jets of beyond-bright colors. In the same row, Chinese artist Wang Wei's (Edouard Malingue Gallery, Hong Kong) installation lays flat on the floor: constructed of thousands of tiles, the picture of a palm tree, birds, and clouds is appropriated from a Beijing zoo. Another installation in the same area, by New Zealand artist Michael Parekowhai (Roslyn Oxley9 Gallery, Sydney and Michael Lett, Auckland) humorously points at art historical conventions with an exaggerated cherub, greasy and fat, with genitals "blurred out," lying passed out on a park bench. Up on level 2, Dutch-Australian artist Sanné Mestrom (Sullivan+Strumpf, Sydney) is showing enormous, stylized sculptures modeled after the figures in Paul Cézanne's famous painting The Bathers, bringing painting to life in sculptural form. While on the other side of the exhibition hall, Chinese artist Bingyi (Ink Studio, Beijing) looks to Eastern painting traditions as well as Western art, presenting landscapes in ink on xuan paper on a monumental scale, inviting the natural world to become a collaborator by exposing the paper to the elements.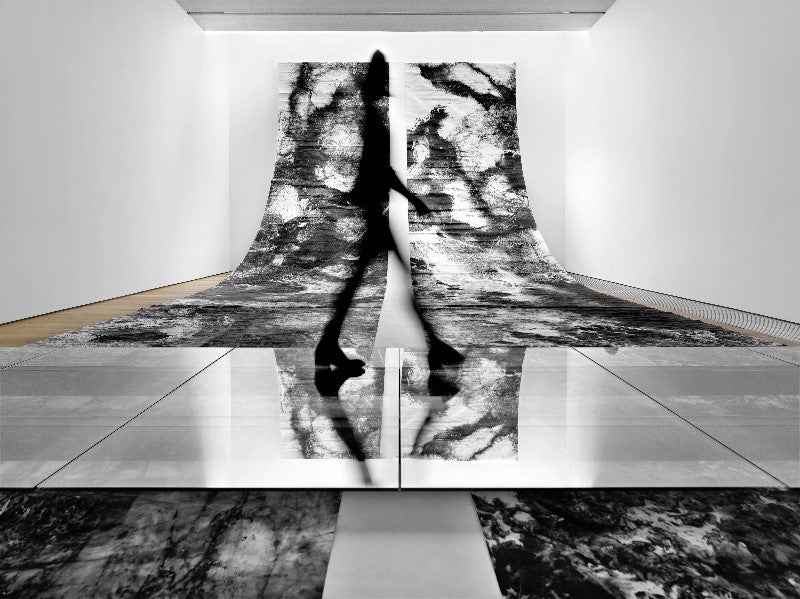 There is one last project in Art Basel in Hong Kong's Encounters, a quieter, more intimate experience, one that evokes a strange kind of personal reflection. On the second day, Saturday, your three minutes (2017) by Taiwanese artist Joyce Ho (TKG+, Taipei), installed in what seems like a secret room over by the Salon auditorium, invites visitors to gaze at their reflection and that of the visitors seated opposite them, through a reflective two-way glass. Sitting across from another person, the installation invites a kind of out-of-body experience, as the other's visage blends with one's own, as though seeing a different side of one's self.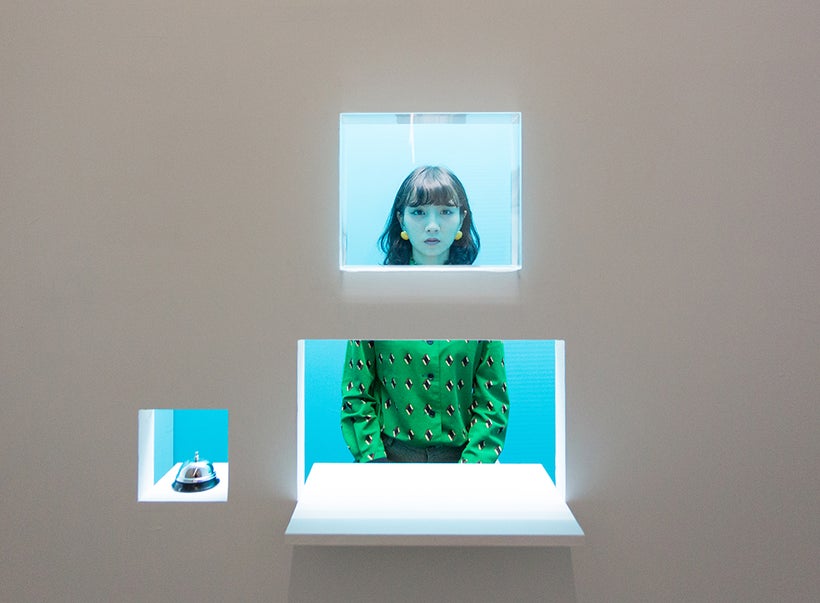 Art Basel in Hong Kong takes place at the Hong Kong Convention and Exhibition Centre (HKCEC), and is open to the public from Thursday, March 23 to Saturday, March 25, 2017.
This post was published on the now-closed HuffPost Contributor platform. Contributors control their own work and posted freely to our site. If you need to flag this entry as abusive,
send us an email
.