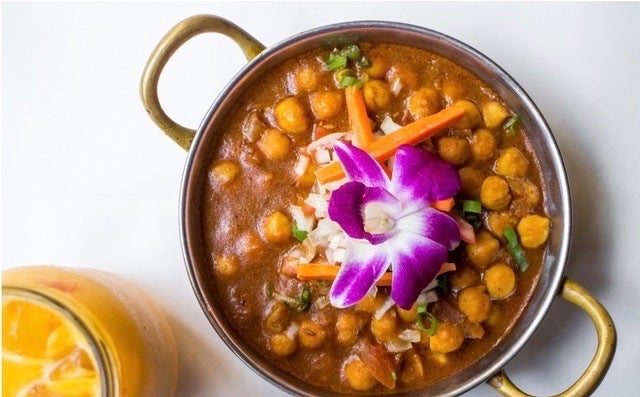 No American city can claim any longer to be the best when it comes to Asian restaurants. Houston can brag about its Vietnamese neighborhoods teeming with restaurants large and small; Los Angeles can brag about its Koreatowns and there are Chinatowns in every major city. But only New York can claim to be an umbrella city to so many Asian restaurants in so many different neighborhoods, from the "Curry Hill" eateries in Manhattan to the Colombian storefronts in Jackson Heights. Two disparate examples of family-owned spots serving very good food for very modest prices—one on the Upper West Side, the other in Astoria—only hint at the offerings in a city that has 45,681 "eating and drinking locations" and counting.
SWAGAT 411 Amsterdam Ave (near 80th St) 212-362-1400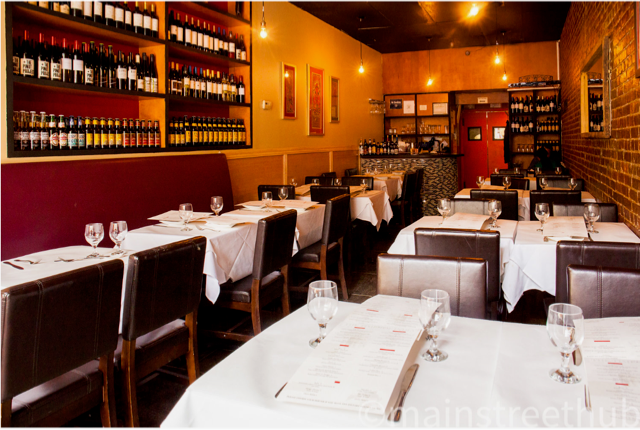 The word "swagat" is Hindi for welcome, and this little slip of a restaurant wholly lives up to its name. The room in slender, the décor minimal—brick and ocher walls, deep red banquettes and wine shelves, which hold a very good array of bottlings that go well with Indian food, whose spices, rather than heat, are difficult for a wine to complement. There are, of course, Indian beers offered. The menu is fairly extensive, with appetizers ($6-$10), soups and salads ($5-$7), tandoori dishes $14-$25), seafood curries ($18), lamb and goat curries ($16), chicken curries ($15), biryanis and basmati rice ($3-$18) and vegetarian curries ($13), which is not easy for a small kitchen to handle, but overall I found the various dishes distinctive, without the kind of overlapping curry sauces in so many dishes that end up tasting the same. Begin with Aloo Papri Chat, flour crispies topped with potatoes, chickpeas, flour straws and mint, yogurt and tamarind sauces, or the samosas (lamb or vegetable). Lasuni gobi is a dish of tender cauliflower carefully fried and tossed with a garlic-tomato sauce, and shrimp balchao involves mustard seeds and curry leaves for a tangy but mild flavor. Shrimp figures in six more dishes, with only two other seafood items on the menu, which tells you something.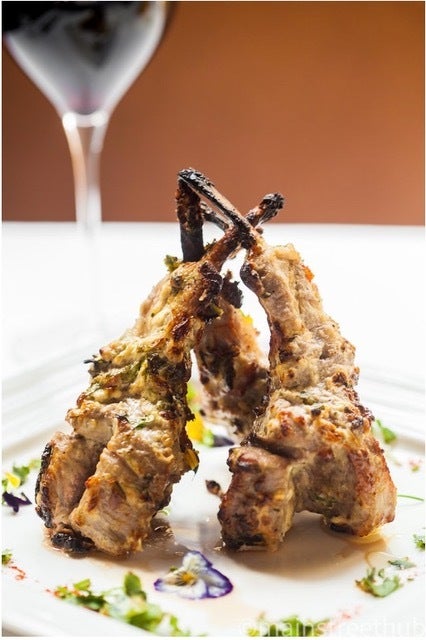 So often vegetable dishes are the best ones on an Indian menu, and Swagat's certainly are, including a luscious and rich channa masala made of chickpeas entwined in sweet onions, tomatoes and ground spices, and anything with eggplant, like the Hyderabad bhangare nainagu baby eggplant stuffed with spices and simmered in coconut milk. Still you'll be happy with the Adrak lamb chops marinated in red wine and yogurt and fragrant with cinnamon (above). I found the chicken kebabs of all white meat bland by comparison. The breads are addictive at Swagat, especially the naan not just flavored with garlic but stuffed with it. Desserts are run of the mill. Swagat is part of the movement to serve Indian street food, which has always been where the good stuff is, and at the prices charged, you can pick and choose and share with abandon.
ENTHAICE 3320 31st Ave (near 34th St) Astoria, Queens 718-932-1111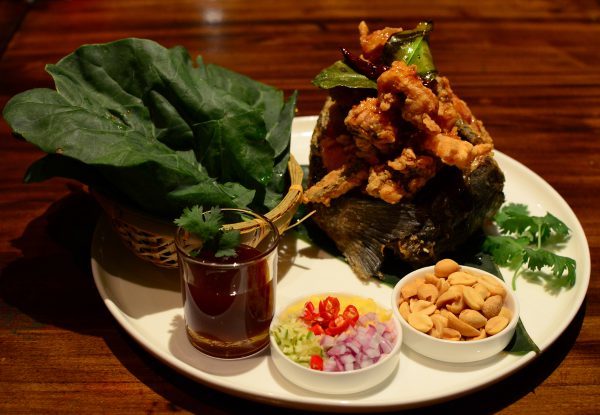 Think about the name Enthaice a moment and it will come to you: "Thai" fits snugly into a misspelling of a word for temptation. Now four years old, Enthaice Thai Kitchen has found the favor of its Queens neighborhood, and its reputation deserves to grow beyond. Unlike the more famous SriPraPhai in nearby Woodside (with another in Manhattan), which is huge and packs people in, Enthaice is a quieter, more cordial spot in Astoria, run by two sisters who hail from Northern Thailand and feature the cooking of Chiang Mai and Phayao. (For reasons I don't care to know, the manager would not give me their names.) As at Enthaice's competitors, the menu is far longer than it should be to insure consistency in every dish, so I tried to stick to the chef's specialties as listed. These included "yum & yum" items (which has a double meaning of being yummy as well as a reference to hot Asian women), like tum yum shrimp in an aromatic broth with crushed red chilies ($6.95), and yum ped, a crispy duck salad tossed with red onion, pineapple and spicy lime dressing ($14.95).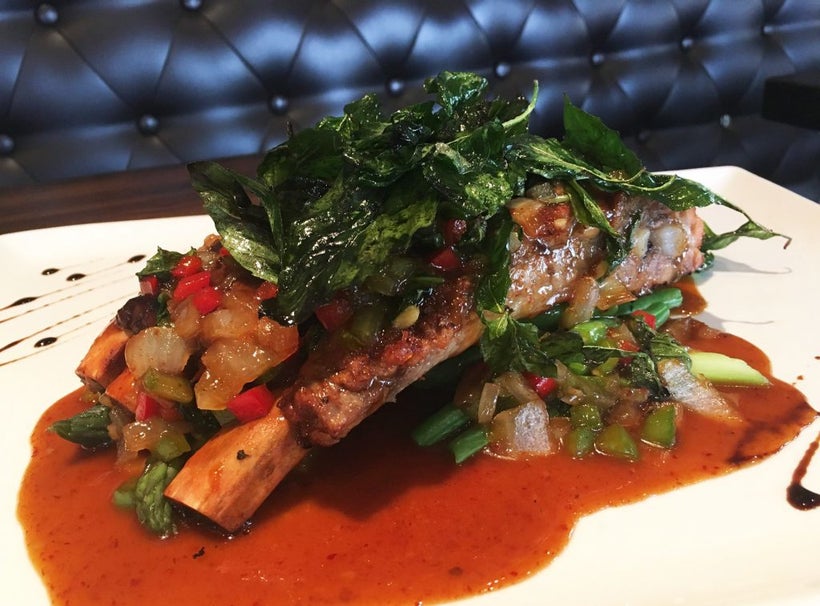 You can skip the crab Rangoon puffs made with imitation crabmeat (not unusual in Thai restaurants); instead order the BBQ ribs on a bed of string beans with a tamarind glaze (above). "Mango fish" is a delightful crispy red snapper with red onion, scallion, cilantro, chili paste, cashews and spicy mango salad ($27.95), easily shared by two or more. And if you like things spicy, the masaman curry with potato, peanut and fried shallots in coconut milk will satisfy your cravings. There is, of course, pad Thai , a dish always pretty good but rarely wonderful, and Enthaice's falls somewhere in between. Tom yum fried rice is rather dull. Enthaice is a pleasant-looking corner restaurant with the inevitable brick walls and bare wooden tables. Nice touches include flowers on those tables and a colorful Chihuly-style chandelier cobbled together from coffee cups, glasses and creamers. The service is extremely cordial and helpful, and Enthaice does a very brisk take-out business.
Open daily for lunch and dinner.
This post was published on the now-closed HuffPost Contributor platform. Contributors control their own work and posted freely to our site. If you need to flag this entry as abusive,
send us an email
.