Under the terms of the deal, the U.S. cannot officially withdraw until November 2019. But in signaling an exit from the deal, Trump would make good on one of his major campaign promises and win the favor of the 22 Republican senators who last week wrote him a letter urging him to do so.
The claim seems outlandish, but more than a third of white evangelicals agree that climate change probably isn't occurring.
Among white evangelical Christians ― more than 80 percent of whom threw their support behind Trump in the election ― climate change is an issue of little import. According to Pew Research Center, white evangelicals are the least likely of any U.S. religious group to believe climate change is occurring.
Just 28 percent of white evangelicals believe the Earth is warming primarily due to human activity, compared with 56 percent of black Protestants and 41 percent of white mainline Protestants who say it is.
Thirty-three percent of white evangelicals say the Earth's warming is mostly due to natural patterns, and 37 percent don't believe that climate change is occurring.
As attorney general, Pruitt sued the EPA more than a dozen times and once sent a letter on behalf of an Oklahoma-based oil company accusing the agency of overestimating the air pollution caused by fracking.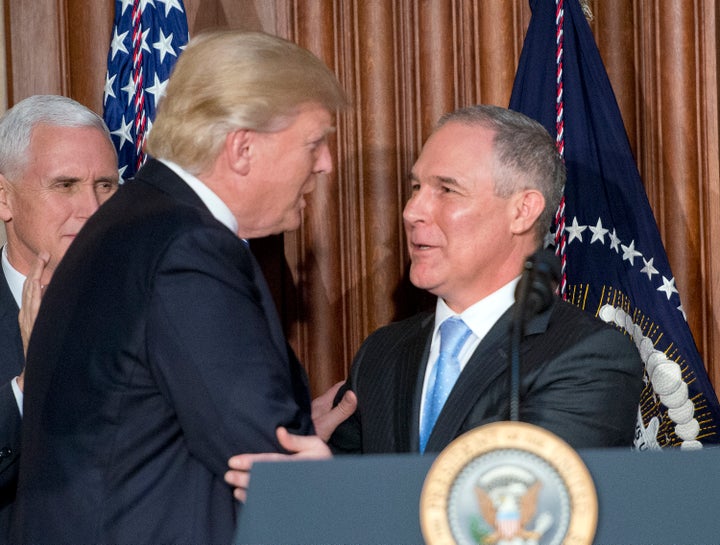 In a letter published in the Baptist Press in December, nearly 50 evangelical leaders said Pruitt "has been misrepresented as denying 'settled science,' when he has actually called for a continuing debate."
The quotations around "settled science" point to another misconception white evangelical Christians tend to have about climate change. The group is roughly split in their perception of whether scientists generally agree or disagree that the Earth is warming due to human activity. Slightly more ― 47 percent versus 45 percent ― believe scientists disagree on this. 
In reality, more than 97 percent of actively publishing climate scientists agree that the Earth's warming is due to human activity.
Climate skepticism among someChristians may be partly theological. Rep. Tim Walberg (R-Mich.) said during a town hall in Coldwater, Michigan, last week that God can solve the problem of climate change if the global phenomenon truly exists. 
The 66-year-old Republican, who is a climate change skeptic, said he believes "there's been climate change since the beginning of time."
"As a Christian, I believe that there is a creator in God who is much bigger than us. And I'm confident that, if there's a real problem, he can take care of it."
Just days before his expected withdrawal from the Paris Agreement ― which the pope has passionately supported ― Trump promised the pontiff he'd be reading the encyclical.
The Paris Agreement has been signed by 195 nations, and 147 have ratified it.
BEFORE YOU GO
PHOTO GALLERY
What You Can Do Right Now To Stop Donald Trump's Dangerous Climate Agenda