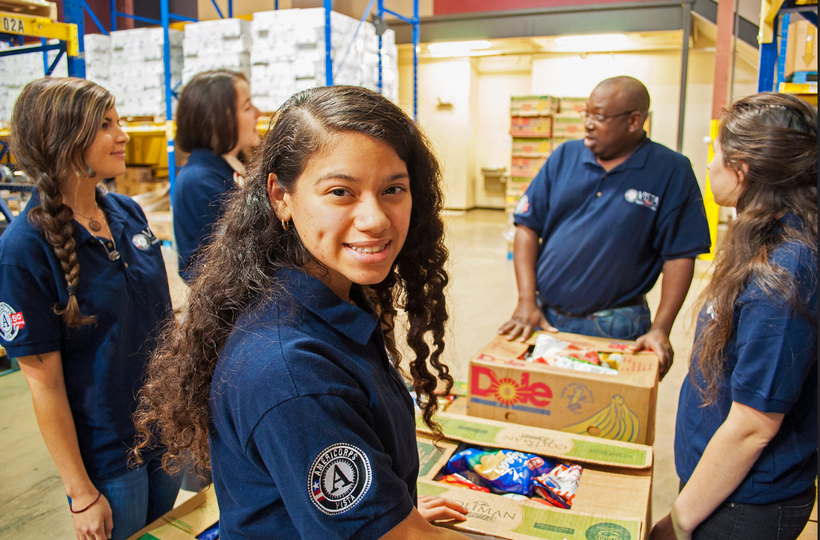 Every few years, someone promotes the idea of mandatory national service for young Americans. Just as regularly, the idea fades away. But for a variety of reasons right now, this would be a great time for Congress to put finally put obligatory national service in place.
The latest call for this comes from Isabel Sawhill of Brookings. As she points out, mandatory national service has been supported in the past by leaders such as Sen. John McCain, Presidents George H.W. and George W. Bush, Gov. John Kasich and Mitt Romney.
Why is this a good idea? One year or more of national service gives young adults a valuable dose of reality before they enter college. It gives them greater perspective to choose what they really want to study. When teens were surveyed a couple of years ago and asked what kind of jobs they wanted to do after finishing their education, 15% said they didn't know. While 15% does not seem like many, it was second only to 17% of students who said they wanted to do public service. In another survey, 165,000 high school juniors and seniors were asked if they felt they'd been well prepared to choose a career that matched their abilities and interests. Fewer than half said yes.
Liz Freedman, a career counselor at Butler University, cites studies showing that most students choose their college majors without understanding their own goals and values, and "when the wrong choice is made, the implications can be harsh." Among the implications is wasted money, time and meaningful education.
I write this from personal experience. After graduating high school, I enrolled at the University of Illinois with a vague plan to major in some type of engineering. The classes I was required to take had nothing to do with my real interests. I was tired of being confined in classrooms for so many years. I quit the university and decided to hitchhike to San Francisco with only $5 to force myself to stop, work and get to know people along the way.
But by the time I got to Amarillo, Texas, I was hungry, dirty, tired and broke. I hitchhiked back home and enlisted in the Army. Because I really wanted to be a writer, I enrolled in the Army's journalism school and ended up as a combat correspondent in Vietnam at the age of 19. It was difficult and life-changing, but it was the beginning of a fulfilling and fascinating journalism career. I never looked back or regretted my decision to skip college.
This is not a path I would recommend for anyone else, but I do believe that national service – whether it's in the military, the Peace Corps, AmeriCorps or some other program – is a valuable maturing experience. It underscores the responsibility of citizenship. It exposes a young adult to people of different backgrounds, creeds and colors. The more demanding the national service is, the more it creates a sense of fellowship with people who share little else but that experience. It's one way for us to leave our tribes long enough to learn about and appreciate others.
If it seems as though delaying college for a year or two would be a bad career move, a recent Columbia University study found that $1 invested in national service returns nearly $4 in higher income and other benefits.
The next step toward universal national service is for Congress to adequately fund the nation's principal program for voluntarism, the Corporation for National and Community Service (CNCS). A decision will be made in the Fiscal Year 2018 budget Congress is supposed to finalize this week. Donald Trump proposed to shut down the CNCS.
AmeriCorps volunteers receive a living allowance while serving. After one year of service, they get a grant for college tuition and priority hiring at 450 companies. The most valuable benefits, however, are life experience that cannot be found in classrooms, as well as a feeling of investment in our country. Having made that investment, I've found it produces a greater sense of responsibility for keeping our country strong, unified and principled.
Gen. Stanley McChrystal has written that we are "not the America we can be" today and that "America needs a big idea that plays to its strength." That idea is mandatory national service for at least one year, he says. He recommends bipartisan action in Congress to provide 250,000 service opportunities annually through the Serve America Act; to amend the National Defense Reauthorization Act to have civilian service organizations meet the needs of military families and veterans; to enable veterans to perform civilian service that helps them transition back to civilian life; and to pass a bill that Sen. McCain introduced in 2015 to engage young Americans and veterans in restoring national parks and other public lands.
While many of us object to government mandates, this one would be worthwhile. It would provide important opportunities for young Americans to serve their country. It is also an opportunity for Congress to serve the country by putting citizenship ahead of its tiresome partisan gridlock.
This post was published on the now-closed HuffPost Contributor platform. Contributors control their own work and posted freely to our site. If you need to flag this entry as abusive,
send us an email
.