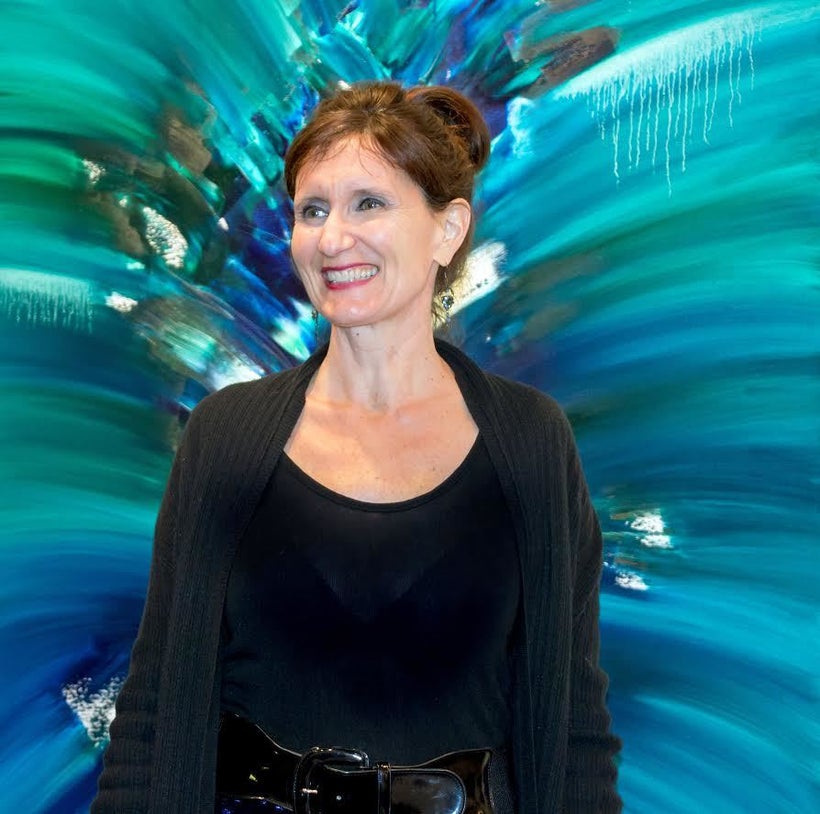 Jill Joy was raised in Arizona, Hawaii and Massachusetts. She attended Tufts University on scholarship and graduated Summa Cum Laude with a BA in history and French. At Tufts she was inducted into the Phi Beta Kappa Society. After a brief stint in a corporate law firm in NYC that offered to pay her way through law school, she renounced the idea of becoming a lawyer and decided to pursue her passion, art. She got a job at the McKee Gallery in Manhattan where she became assistant director and discovered her true calling was to be an artist.
Jill planned to return to school to study art at the School of the Museum of Fine Arts in Boston. Prior to enrolling, a brief summer detour in a Yoga Ashram in the Berkshire Mountains of Massachusetts turned into a 2.5 year stay. During this time Jill immersed herself in the spiritual practices of celibacy, Yoga, meditation, vegetarianism and service. Over the course of her focused spiritual practice she uncovered and dealt with unresolved emotional issues, conditioning and pain. She also experienced states of spiritual ecstasy and a sense of oneness hitherto unknown to her. She came to recognize her deeper purpose in life, the pursuit and hopefully eventual achievement of enlightenment.
Eventually Jill came to recognize the creation of art as spiritual practice, her personal Yoga (which means union). She paints to develop her consciousness and evolve her soul. As part of this process, the art she produces becomes a conduit for the spiritual evolution of the viewer.
There are elements of abstract expressionism, surrealism and minimalism in her work culminating in a dynamic yet peaceful visual experience. In viewing Jill's work one gets the sense of the soul's energetic movement and development through space, time and the atmosphere. She has been strongly influence by eastern mysticism. Artistically her influences include Rothko, Turner, the New York Abstract Expressionists and Magritte.
On the path to becoming a full time artist, she was a graphic design software entrepreneur and then worked as a corporate global market researcher in advertising development before devoting herself full time to making art. For the last 13 years she has lived in Southern California and is strongly influenced by the light, ocean and the natural elements of the coastal desert.
Jill is the proud owner of her own gallery, the Jill Joy Gallery in Los Angeles, CA. She has won numerous awards and residencies. Her paintings are in private collections across the United States.
What were some of the challenges you faced in opening a gallery of your own art?
The first challenges were internal. Believing in myself and my work enough to make the investment. And then being willing to free up the funds and take the risk. I don't come from a wealthy background, so in essence this was an endeavor that would consume all of my savings. That being said, I'd been painting on the side at a very nice day job in global market research & advertising strategy at Hewlett Packard, so I had some money saved. I also had a burning desire to give my art every chance of making it in the world after having devoted nearly 25 years to honing my craft.
Once I got going, the biggest external obstacle was my first space on Wilshire Blvd near the Los Angeles County Museum of Art. It turned out to be a leaky, floody mess with a less than reputable landlord. I had to vacate the space after being open a very short time. I lost time and money and frankly wasn't sure I'd bounce back, but I did. It was the toughest setback I'd ever overcome.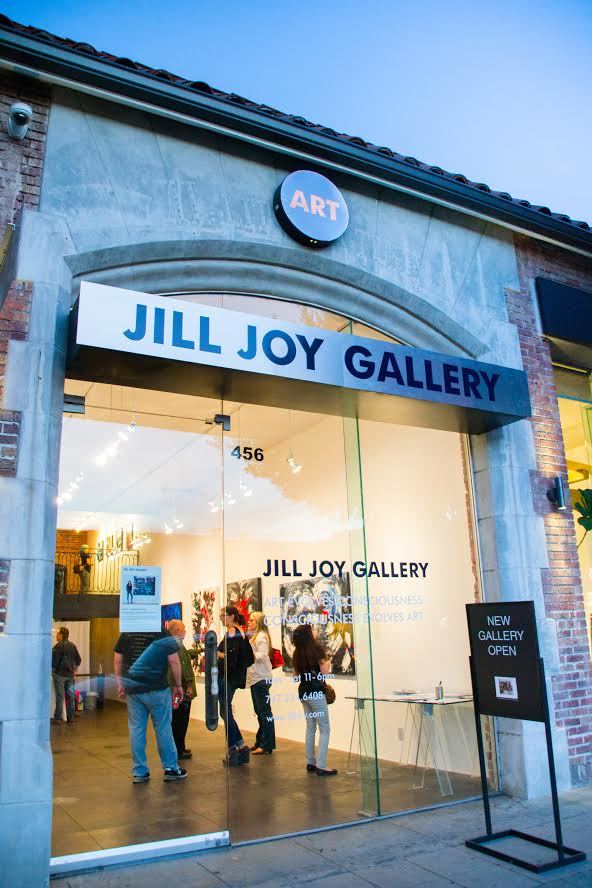 Don't most artists show their works in already established galleries? Why open one of your own?
As a young person out of college, I worked in a A-list gallery in NYC. I fell in love with the pristine, nearly holy atmosphere of the clean white, well-lit space. What I didn't fall in love with was the cynicism and materialism of the art world. It was still a dream of mine to one day be represented by a gallery. Early on, though, as my work took a very strong spiritual direction, I had the intuition that in order to give it a voice, I would someday have to open my own space. So the message and content of my work was one driver for opening my own space.
A second ended up being my age, educational background and sex. As a self-taught artist over 50 and a woman to boot, getting into the traditional gallery system would be tough for me and would take years of networking I didn't necessarily feel I had to spend. I'd been developing as an artist on my own very seriously for over 15 years in New York and then San Diego, but not a part of the art world "scene" or "core". I had accumulated a large body of work of very large paintings. Deep down I felt they were important and felt the need to take matters into my own hands and take control of my own career and open my own space.
The gallery system, as we know it, is only about 120 or 130 years old. It came into being as art began to evolve towards Impressionism and then Abstraction. Dealers became necessary as the art collecting public was unable to continue to judge for themselves what was quality and what was not. Prior to that, artists sold their own work in salons. I felt that Abstraction, Modern and Contemporary art has been around long enough that I'm hoping people can judge for themselves and buy what they love. I also feel it's important for artists to take control of their own careers. So many artists of quality are left outside the gates of the gallery world. I also began to realize that those who resonate with my art the most are those who have had similar spiritual experiences or are deeply involved in developing their consciousness. That population does not necessarily line up with those who own and operate art galleries. There is some intersection but it's a very small target.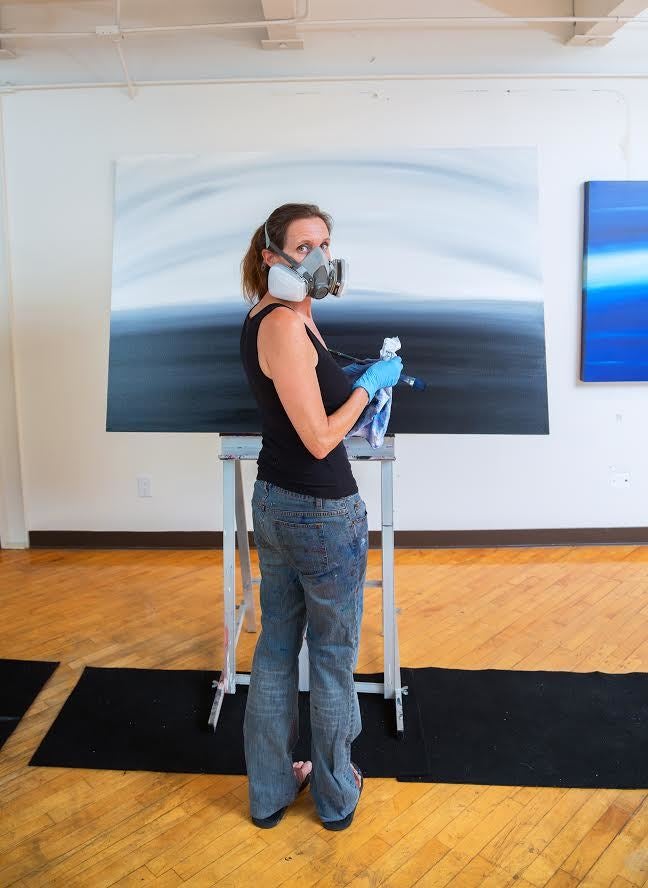 Another reason I opened my own space is because for the last 5 years or so, I have worked on a series trifecta which includes Emotion, Consciousness and Illumination. These are three very distinct bodies of work and as a result, my multi-faceted expression makes it more difficult to "brand" me visually, which is a nearly necessary factor for seeking gallery representation.
I work on these three series concurrently as the inspiration and spiritual or emotional need arises. Metaphorically these three bodies of work represent the evolution of the soul through the three aspects of existence: the body (Emotion), the mind (Consciousness) and spirit (Illumination). As human beings, we work with and evolve these three aspects of ourselves to achieve our full potential as divine beings and to attain peace in the here and now.
Lastly I wanted to provide a more intimate and affordable experience of contemporary art and the artists who make it. So many of the artists I know (including myself) have stacks of unsold, un-shown work in their studios and storage places. The world is poorer for this. In having my own space, I have control over bringing my work to the public and I'm also around for more than the opening reception to experience the impact it has on people and discuss it with them.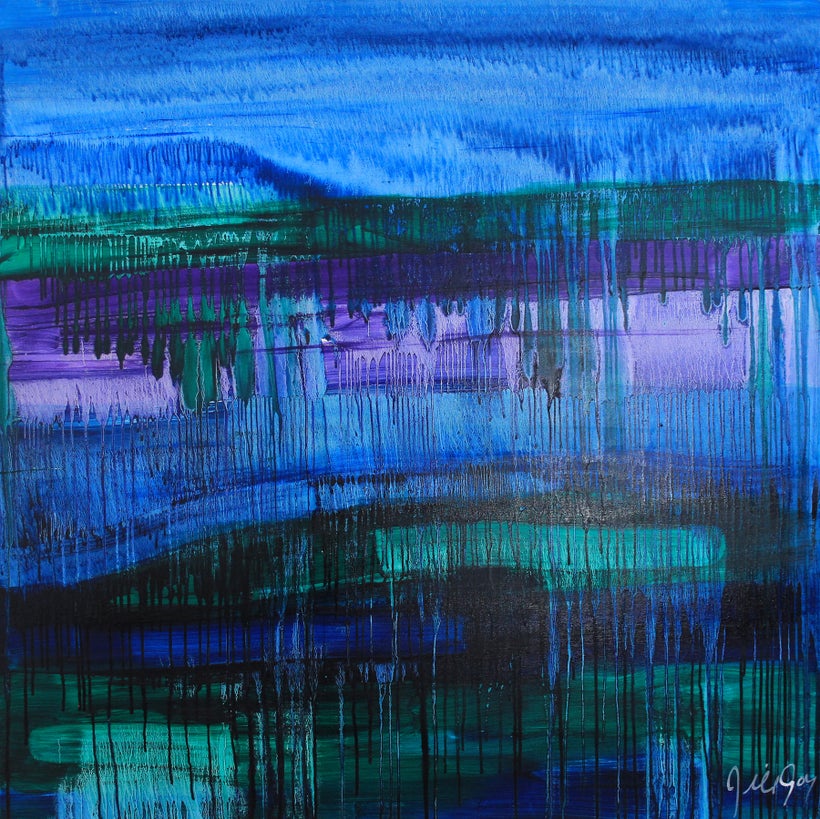 Your work deals with spiritual healing and the evolution of consciousness. Why those topics, and how, exactly, does your work reflect or explore them?
My love of art developed in college as did my interest in eastern mysticism. When I moved to NYC after graduating from Tufts University, I started studying art and worked in a gallery. To cope with the stress of the city, I also started doing yoga. This pushed me further into the idea of spiritual development and the union of body, mind and spirit. Eventually I spent two plus years doing yoga at an ashram-like retreat, and I also started painting. So the two passions began to dovetail. I believe that for all of us there is an activity that causes time to stop and for us to evolve as people. For me it started out as yoga and meditation and then morphed into making art.
As time went on and through the process of working on myself, I began see my spiritual and emotional experience in my inner eye…visual representations, if you will, of what I am going through on those levels. Invisible to the naked eye, but real none the less. I found that in painting what I see, I am able to not only enter a meditative state while doing it, my consciousness evolves in the process and I am able to resolve the tricky emotional and spiritual dilemmas we are all faced with a bit faster and more joyfully than if don't paint.
You lived in New York as a young artist. Why the move to Los Angeles?
I moved to San Diego after New York first. I had just gone through a divorce, sold the business I started with my then husband to him, had no kids and was totally free. So I asked myself, where of all the places in the US did I want to live? I wanted to live somewhere with an easier lifestyle than NY, close to the ocean and warmer (I was raised in Arizona and Hawaii until age 13). I chose San Diego.
San Diego was a great place to paint without art-market pressures and intrusions and to find my unique voice. But when my intuition began to push me to take my work more seriously and become part of the cultural dialogue, Los Angeles was the natural choice. It would be LA or New York, but I love California and wanted to stay here. Also, LA is a burgeoning art market and it's financially and culturally easier to strike a unique and unusual path here than New York. And don't forget the weather!
How can art create spiritual healing?
Abstract art is about color, motion, energy and movement. Art speaks to the soul and emotions. A piece of art, especially, I would argue, abstract art, can engage the non-verbal parts of the brain and also the subconscious. If created with an intention of healing and an illuminating use of color, energy and movement, it can evolve us. If as an artist you have a strong spiritual inner vision and can represent that, people recognize it and identify with it and it helps them move towards it. Living with art changes us just as much as making it can. Art can be a porthole into a deeper emotional experience and trigger a spiritual one. The best art pulls, in my opinion, from the collective unconscious and/or and the experience of transcendence. Color, too, has healing properties, both visual and vibrational. A piece of art, if firing on all of these cylinders, can be a powerful tool for the awakening of consciousness, the perception of oneself as part of a greater, connected whole. People have told me that they experience a sense of mediation, expansion and healing in the presence of my work. One woman recently told me she felt it was part of her journey to end up in my gallery and a particular painting helped her deal with and process the grief she was experiencing from the death of her father.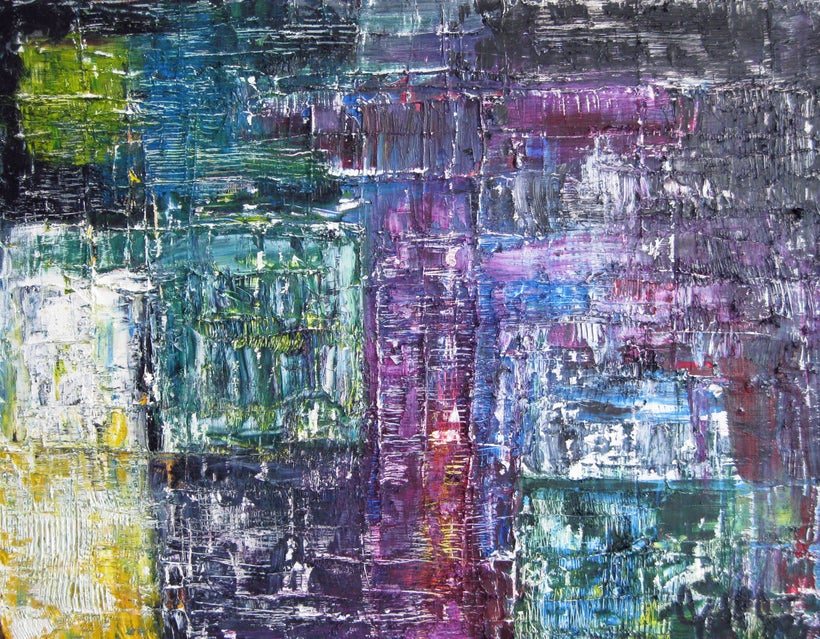 How did you first become interested in art? Who encouraged you?
I was raised by a single mom with an alcohol problem and a very absent & indifferent father. There was not a lot of time, attention or money for the extras. My mom did her best despite her demons and moved us to a town with a good public school system and a high rate of college acceptance. This helped me get into Tufts. During my junior year abroad, I was in Paris. The course Tufts offered included immersion in art and museums large and small. It was in Paris that I fell in love with art. I came back and took two photography courses at the School of the Museum of Fine Arts in Boston (the school is accredited by Tufts). I was deemed to have some talent, which probably surprised both me and the instructors. And I was hooked.
You attended Tufts University on scholarship and graduated Summa Cum Laude with a BA in history and French. Has all that book learnin' informed your art? How so?
At Tufts, I got a liberal arts education, which I think is probably very undervalued today. Or maybe with tuition being so expensive, it feels like an indulgence now. I was able to take courses in history, eastern religion, French language and literature, sociology, political science, studio arts, etc. Being at Tufts taught me how to think and fed my innate curiosity about the world. Art in essence is about ideas and so, I would argue, is a liberal arts education. Art is also a continuous intellectual, spiritual and emotional exploration. What better way to prepare for that than a good education?
After college, you were on a track to becoming a lawyer. Steady income! And you gave it all up for the uncertainties of a career as an artist. What happened?
Well, I've always been a little bit of a bold thing. I graduated with what I thought was a lot of debt and a statement from my father not to look for any more financial support from him again, so as I reached graduation, I was in a bit of a panic. I got a job with a firm that would pay my way through most of law school and hire me afterward. After about 5 or 6 months, I realized I was dying inside and this was not a life I could envision for myself no matter how much they paid me. So I asked myself, what do I love to do most? At that time, it was go to museums and galleries and look at art. So, I got a job in what turned out to be a very good gallery. It was there, being surrounded by some of the best contemporary art being produced in the 80s, that I realized I didn't want to be an art-dealer; I wanted to be an artist. I had no idea at that time (I was 24, I think) that eventually the two would dovetail.
Prior to returning to school to study art at the School of the Museum of Fine Arts in Boston, you took a summer detour in a Yoga Ashram in the Berkshire Mountains of Massachusetts. That turned into a 2.5 year stay in which you immersed yourself in the spiritual practices of celibacy, Yoga, meditation, vegetarianism and service. Which of those practices remain active with you today and what do they add to your life?
My yoga career was sidelined with a back injury I sustained not long after I left the ashram. It was a completely un-yoga-related injury. However, the inability to do the kind of intensive spiritual practice I had been doing with yoga caused me to funnel that energy into making art. I still meditate, though, which helps create those "inner visions" I mentioned that result in paintings and also helps me stay connected to something greater than myself during the times I'm not able to paint as much. Also, the visceral experiences of something beyond myself that I had when I was living the concentrated and disciplined spiritual life in the Ashram still inform my beliefs about spirituality, the world and how we should be treating each other here on earth.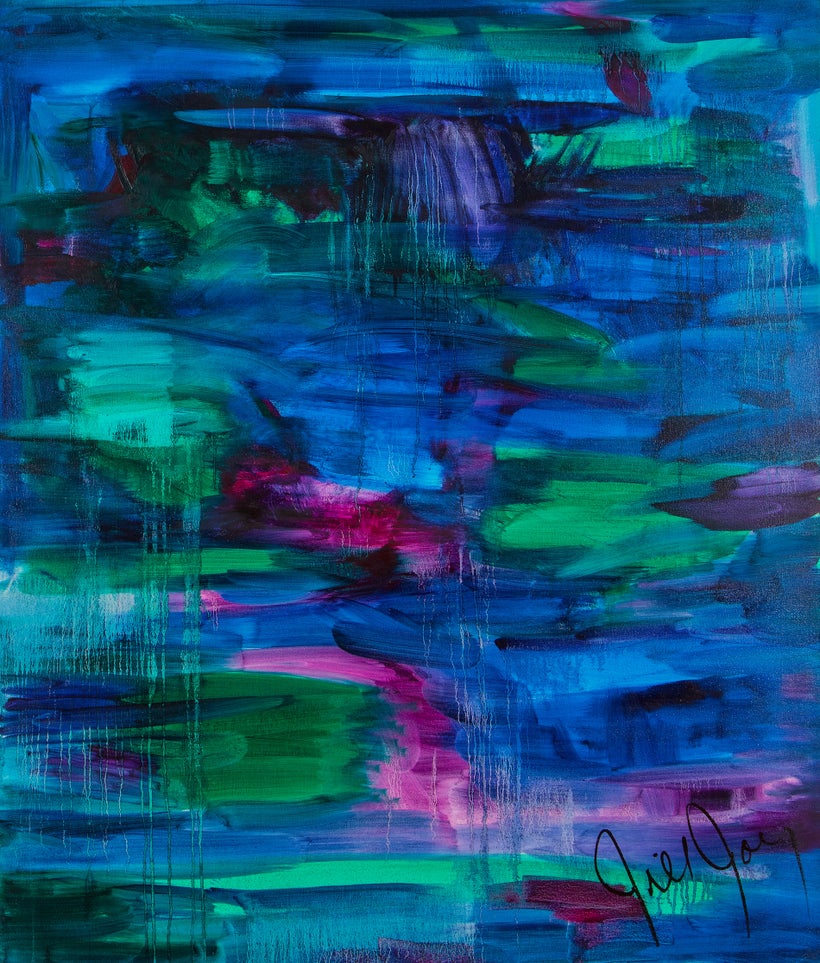 Your desert island choices for:
Book: Eckhart Tolle's A New Earth, Awakening to your Life's Purpose or Joseph Campbell's The Hero With A Thousand Faces
Music: Anything by Mozart
Food: Oranges & Dark Chocolate
Work of Art: Orange & Yellow By Mark Rothko
Any person in history for conversation: Winston Churchill – How did he inspire a weakened country to fight and overcome the worst evil of our time?
Any person in history for romance: Obama (can we call him historical?) I've got a major crush on him.
Who are your favorite and/or most influential artists? Rothko, Turner, Matisse
Any advice to young artists starting out?
Find your vision and don't worry about making money. At the end of the day you'll advance yourself and society with your own unique expression. It's the only thing that matters as an artist.
A genie grants you any three wishes. They are:
2. Selling out my inventory of paintings to people who need them
3. A planet filled with compassion, equity and humanity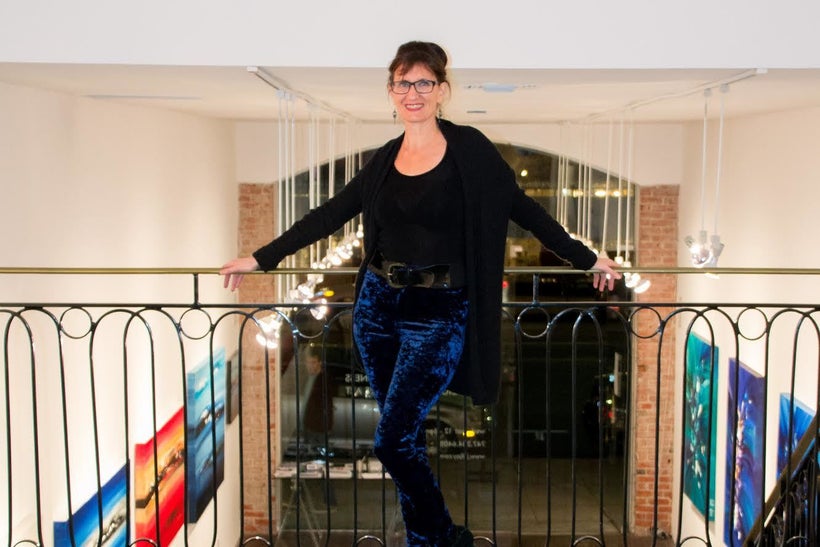 This post was published on the now-closed HuffPost Contributor platform. Contributors control their own work and posted freely to our site. If you need to flag this entry as abusive,
send us an email
.