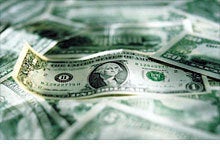 Concerns about the weak dollar are mounting. But even as the greenback sinks to new lows against the euro and other global currencies, some experts say this is not necessarily a bad thing for the U.S. economy.
The anemic dollar does pose plenty of hurdles for an economy that some argue is already in a recession. Most notably, the weak dollar is raising more fears about the very visible impact of higher inflation.
Textbook economics suggest that a weaker dollar forces consumers to pay more for imported goods like toys made in China or a bottle of wine from France's Bordeaux region.