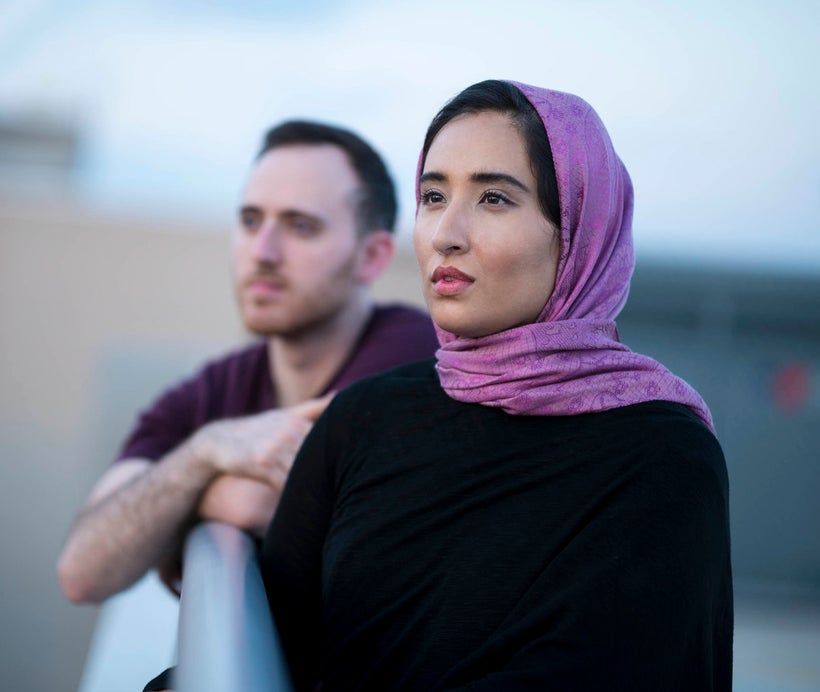 It was a brisk August day in the Big Apple. Two twenty-somethings walked along Manhattan streets to a secluded music studio. The year was 2015. These two kids, Fajjr Khan and Ali Andre Ali were taking the first steps, maybe with a little feeling of trepidation, to fulfill their definition of the American Dream: record a pop single.
I was lucky enough to sit down with them for a candid and deeply fun interview.
Fajjr grew up the daughter of Pakistani Americans in Schulkill county Pennsylvania. Her father kept a piano in the foyer, which enticed a young Fajjr, "For hours I was sitting there. I was too scared in front of my family. It was just my father living there. I would leave the house, make sure nobody was there, and I would just play." Humbly, she went on to declare "I'm not very good at it."
Well, I have heard her singing, and the rich tambre and precise pitch more than make up for whatever piano skills Fajjr may be lacking. "Got to Be", fajjr+ali's debut single hits the right blend of light pop with enough instrumental simplicity for Fajjr's bubbly personality to ring through in the lyrics like crisp bell tolls at some moments, and rich velvet at others. I know I could say a thousand things, just check it out.
During our interview Fajjr confessed to me, rather quietly, I might add, that she couldn't read music, I was aghast. "You CAN'T READ MUSIC?" I exclaimed, interrupting her stream of consciousness dictation. She can play, and sing for that matter, by ear. This is the closest thing to a scandal I might add. Neither Ali nor Fajjr had a rebellious streak, neither ran off and found themselves after trying weed in college. Both practice Islam and do not drink. Fajjr and Ali are here to show you don't need a tabloid cover breakup to compose moving tracks.
Ali got his start in music at a younger age than Fajjr. Growing up 40 minutes north of Boston, he was the son of a Christian mother and a Muslim father who's family hails from Palestine. "We culturally did both," Ali reminisces. His first memory with music is heartfelt: "My older sister, she passed away, she never did anything professionally, but during family gatherings she would sing, and she actually went to the football stadium [the one in Foxborough, you know, where the Patriots play, no big deal] and she auditioned, off tape, for American Idol. She didn't move on." Ali pauses, then opens up, "I haven't consciously decided this, but maybe her inspiration really is what drove me into music since no one else was really musical in my family."
Taking the well beaten path of selecting a band instrument in 5th grade, Ali rode through the ups and downs of public school band life. He chose saxophone, but hey, we all make mistakes right? "I picked up saxophone petty fast. I don't want to say I stood out, but I picked it up fast and made it for jazz band," Ali humbly recounts. He made the elite jazz ensemble in 7th grade, a full year before most other students made the cut. Ali goes on, "I was very lucky to be in a supportive artistic public school."
As an alumnus of an artistic public school myself, I cannot let this opportunity pass by to strenuously highlight just how important music is for America's youth. As many school districts (across many states) continue to face budget cuts and a choice between standardized test preparedness, or student enrichment, often the tests win out. fajjr+ali is a rising pop group that would not have existed without a love for music cultivated in the band members' childhoods. Ok. Soapbox rant over, back to the band.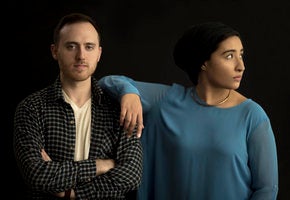 The 'why' is an important part of why Fajjr and Ali have decided to relegate the standard car-in driveway, white picket fence American success story to the back-burner, and go all-in on the real American Dream. NYU had free Iftar dinners every night during Ramadan 2009. Come on, its free college food! Ali was afraid to go because he felt he wasn't "fully Muslim". He went anyway, and through a series of events, it's crazy how quickly he and Fajjr found each other. Both have a dream of changing the face of the country's music industry. And here they are, joined by Nate Raring on drums, Quentin James Moyer on bass, and Steve Beares on guitar doing just that.
The band's Indiegogo page highlights what they are all about: an indie-pop duo that hopes to bring a new image to American pop music. Yes! Fajjr can wear a headscarf and be the front liner for the band. Old standards and pop stereotypes don't apply in this 21st century music landscape.
Inspired by the likes of Twenty One Pilots, both Ali and Fajjr laughingly agreed that Schizophrenic rock is a fitting qualifier for what they strive for in their distinct sound. That schizophrenic sound can be discerned in their second single "Without You". An ominous track backs foreboding lyrics of tangled love, then transitions to brain jarring rapid fire staccato. Add in rim shots as the thriller builds, then resolve to a smooth chorus and you're flying as high as Twenty One pilots.
In the modern realm of "anything goes" Pop top 40 charts, either of fajjr+ali's two singles have breakout potential. In other words, these two visionaries have got "It". Two twenty-somethings from NYC aspire to bring a new, diverse, image to pop music, and I have no doubt they will. We may one day see fajjr+ali at the top of the charts, and 'denounce the others'.
This post was published on the now-closed HuffPost Contributor platform. Contributors control their own work and posted freely to our site. If you need to flag this entry as abusive,
send us an email
.