When it comes to mealtime with kids, it sometimes seems like pulling teeth to provide a healthy balance. Naturally, kids aren't concerned with caloric intake, fat ratios, or nutritional value–all they care about is taste. But with childhood obesity on the rise, it's more important than ever to inspire healthy eating behaviors in our kids.
Easier said than done? Well, the good news is that you may have more influence than you realize. According to a study by National Institutes of Health, "Parents powerfully shape children's early experiences with food and eating, providing both genes and environments for children." In other words, parents play a significant role in the development of their children's eating behaviors, since they control what their children eat, as well as where and how.
However, to capitalize on this influence, parents need to promote family interaction at mealtime, and that means a move away from technology at the table.
Providing this environment of family togetherness is nothing new for the near-century-old company, Dixie Products. In an effort to get families off their mobile phones during dinnertime, engaging them in quality family time over great-tasting, healthy food, they created DeadZone Diners—pop-up restaurants with no cell-phone signal. Along with Carla Hall, celebrity chef and co-host of ABC's The Chew, Dixie Products has hit many Los Angeles no-service zones with one goal—true, uninterrupted togetherness.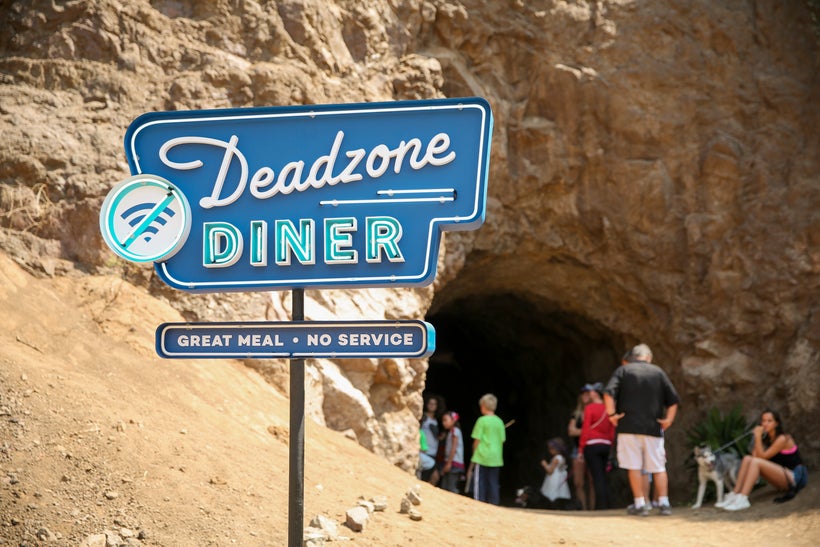 I recently visited one such DeadZone Diner location in the heart of Downtown Los Angeles. While sampling the menu, I had the opportunity to chat with Chef Carla Hall about the impact of family togetherness in developing healthy eating behavior. When asked how to get kids on board with healthy family meals, she offered five helpful tips: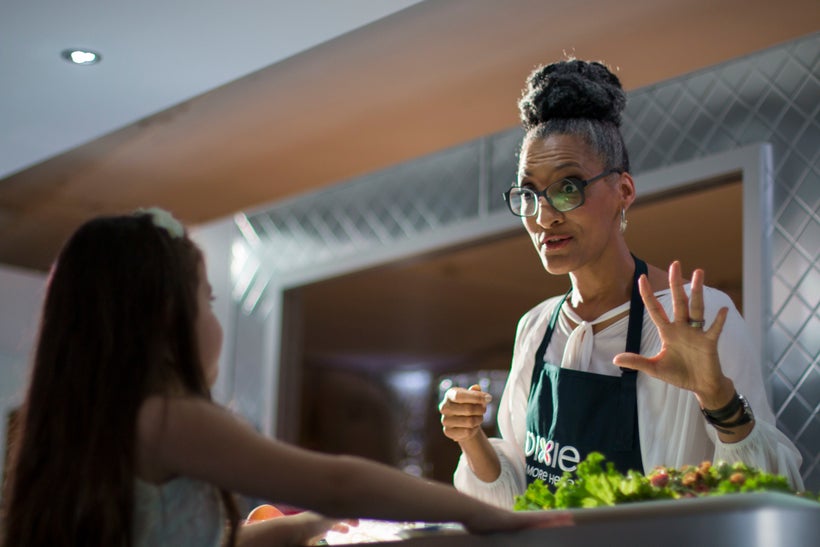 Get Your Kids Involved in the Process
Engage them in the process—brainstorm meal ideas with them, take them along when grocery shopping, and give them hands-on meal prep tasks.
Even young children like to feel that they are 'big kids' and can handle anything that comes their way. Empower them by increasing their responsibility in the kitchen. Instead of merely having them fetch items, have them cut soft vegetables using kid-safe knives as you monitor and offer tips.
Prepare Familiar Meals With a Healthy Twist
Burgers, hot dogs, and mac and cheese may be kid favorites, but they won't make the cut for everyday healthy eating. Instead, experiment with healthy versions of those kid classics–your kids may even like the new version better than the original.
Give Your Kids Some Freedom
Instead of simply deciding what's for dinner yourself, ask them what they want to eat and why. This will give you a bit of a break, and provides an opportunity to talk to them about nutritional value.
Meatless Mondays? Kid-Prepared Wednesdays? Salad Sundays? In this day and age, it may be tough to gather loved ones for quality family time; scheduling a regular meal plan or tradition may become your favorite healthy planning tool.
If you're ready to commit to healthy eating for you and your family, maybe it's time to follow Dixie Products' lead and create your own DeadZone Diner—at your dinner table. With these five tips from Chef Carla Hall, you'll have your kids looking forward to healthy dinner prep and family table talk in no time.
This post was published on the now-closed HuffPost Contributor platform. Contributors control their own work and posted freely to our site. If you need to flag this entry as abusive,
send us an email
.