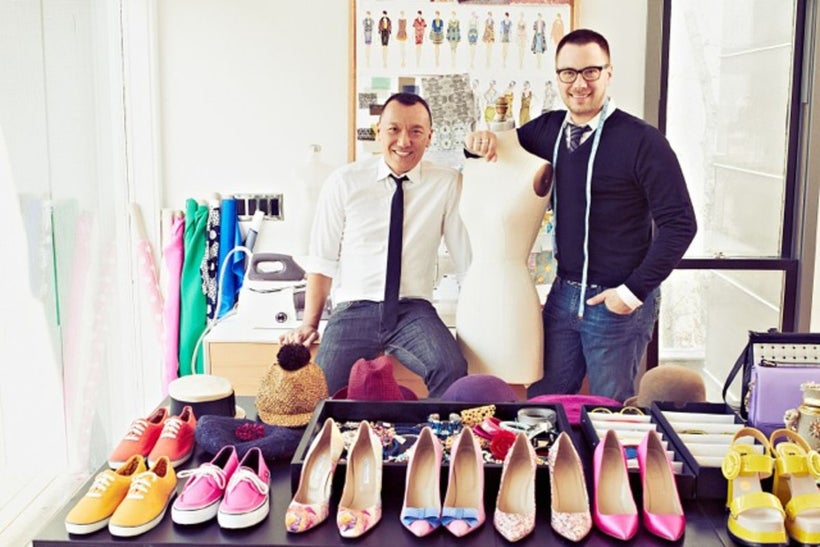 There are certain kinds of kids that can't wait for summer so they can get out of the class rooms and get into the wilderness, jumping into lakes and playing sports at an activity based summer camp. And then, there are also the kinds of kids that are bursting with self-expression and creativity. Kids that are in tune with the ever-changing trends around them and can't wait to learn the things they weren't taught throughout the school year that will advance them for a future they are excited for in the world of arts and fashion. Luckily for those kids, fashion dream couple Joe Zee and Rob Younkers have put together such a camp; Stitched Fashion Camp.
     Now in its fourth year, Stitched offers campers everything from learning pattern making, to sewing, to draping, to mood boards and beyond. The day camp based at The Guild Hall in East Hampton runs for two weeks from July 25th to August 5th from 10 AM-4PM and not only gives kids fun activities to do while beating the dog days of summer, but unlike other camps, offers them skills and connections toward getting into colleges and building a future. It's quite rare when education and fun can blend so cohesively, but Zee and Younkers have managed to make it seem effortless, giving the kids who have thirsted for something like this exactly what they want as they not only get to engage in creative projects that they will love on a daily basis, but they get dedicated mentoring from industry insiders with a 4-to-1 student/teacher ratio.
     And when the two people in charge of the camp make up one of the most powerful couples in fashion, the esteem couldn't be more high. Zee, now the Editor in Chief and Creative Executive Officer of Yahoo Style, is a fashion stylist extraordinaire that also hosts the smash success FabLife, and just released a book, That's What Fashion Is: Lessons and Stories From My Non-Stop, Mostly Glamorous Life in Style. Younkers, mentored by fashion wizard Tim Gunn, got his start working for Sex and The City costuming icon, Patricia Field before going on to be the first American designer for Dolce and Gabbana. Younkers now hosts Logo TV's, Secret Guide To Fabulous, and works as a contributing fashion expert for Yahoo Style, and will soon host Pint Size Fashion- a new series that focuses on fashion for children. He also continues to teach at Parsons and is designing his own menswear line. Together, the two are an unstoppable fashion-force that give new meaning to the hashtag that everyone seems so desperate to use; "#lifegoals"  as they possess never-ending clout in the industry.
     But, the super-power couple seem to only wield that power for good as they seek to spend their summers giving kids the best time possible for both entertainment and education, offering them long-lasting skill-sets and opportunities for their futures that even adults could never dream of. Joe and Rob clearly know how to do a lot more than put together the perfect look- they know how to make dreams come true. Below, they talk about Stitched a bit, how it got started, and what they have in store for it.
Talk a little bit about Stitched. It's been around for four years now. How did it come to fruition, and how has it grown?
ROB YOUNKERS: So, yes, this are fourth summer doing Stitched. This is an idea that I've had for a long time- I love teaching, I love fashion, and I love young, creative minds. And when Joe and I first started dating, we had talked about this. He asked me what I wanted to do in my career, and I brought this idea up and he said I had to do it. He said to me; "This is brilliant, we have to do this, let's team up and make it happen." And it's been so incredibly fun, challenging and exciting. Our first year is always tough to start something and we had about ten kids. This summer, we now have eighteen kids coming, with a waiting list of over twenty-five people dying to come. So, it's grown and we're outgrowing our space- but we love being out here and we love The Guild Hall.
JOE ZEE: And the great thing is that Rob has been a professor of fashion for about thirteen years now, Tim Gunn was the one who mentored him and recruited him. So, when he was telling me about this he was explaining how all of these kids at a college level are getting this education, but there are kids that are young today that are very young ages that are much more fashion-savvy than previous generations. There is so much fashion on the internet and television, so they are very aware of everything. And Rob said that they just don't have that level of training where they are not talked down to. So, he suggested just doing this as a fun camp and I knew he was right. And moving into the fourth year now? I have to say that these kids are so incredibly attuned to the world of fashion. They know what's happening on the runway, they know how to sew, they know technique, they know about branding- it's not the level of kids I knew. When I was ten I didn't even know what a princess seem was! But, this is what kids are talking about today and now they can have a real Parsons level education as well as fun. They do everything from designing, to embellishing, to customizing their look- and a lot of these kids wear their looks the first day of school and get a ton of compliments!
And what is on the scheduled curriculum for the kids at Stitched?
ROB: Every year we evolve the curriculum. We have kids who are coming back for their fourth year in a row- so every year it has to be fresh and on trend. But, also, I have a background in education- so I know how to make it fun and how they are going to walk away with some real skills. This summer we totally revamped the curriculum- we have more projects than ever! DIY is really on trend right now, so we are doing a lot of that- patches, studs, and ways to customize your clothes, in addition to digitally printed fabrics with a company called Spoonflower that has supported us from the beginning. Singer Sewing Machines have also really supported us. So, these kids create their own patterns, drape their own looks, and they sew it all together. They create very high quality products and really learn technique. They are working on Spring-Summer 2017 collections, and we do everything- mood boards, fabrics- it's literally like walking into a New York City design studio! Everything you need is in that room!
JOE: And I think when Rob was talking about how it has grown from ten kids to eighteen kids, this is a really important thing for him too, because he really wanted all the kids to have a very hands-on experience with real mentors. So, we do have a fellow professor from Parsons with him and other trainees, but he never wanted it to be more than three or four kids per instructor so they can really get the training that they need. So, pushing the amount of kids to eighteen was huge because it really expanded the group. Rob was originally going to tap it out at twelve, but he just wanted to be able to give more kids the opportunity as it grew more popular. One thing we've looked into is working with charities to bring children in so that more kids will be able to have this opportunity. And the kids are just so enthusiastic about the camp. At the end, we do an open studio where they have everything they worked at on display- and that happens at a college level!
The age limit expanded from kids ages 10-14 to kids ages 7-17. Why did you expand the ages? Any chance you might expand them further?

ROB: I've worked with kids for a long time, so I thought that starting at ten years old was a good place and that age range would work well together. But, as the kids are learning, we're also learning ourselves and what I realized was that these ten year old kids are just as capable as a fifteen year old! So, I realized I could maybe go a little younger and also go a little older. Because of the ratio of instructor to camper, it's very one on one. So, there is that possibility that the kid comes with more experience and gets that possibility to take them to the next level, or that an eight year old novice comes that has never sewn in their life and they can get the attention they need as well. The project is geared toward different skill levels, but every day these kids walk out of that studio with something they made. And at first I was worried opening it up since there is such an age difference and that they might not connect, but by the end of the first day the older kids were giving the little kids piggy-back rides and they were all very encouraging of one another. I think they inspire one another.
JOE: I don't think there's as much of a gap as we think there was. And kids are really smart! And we do two weeks in the Hamptons once a year, and the amount of response from this has been so overwhelming and people have been so supportive. Last summer Target sponsored our camp! For Target to come and sponsor us was very validating- that they understood how important this was to foster kids to that next level. Rob is writing a letter for Parsons admission to one of our campers who has been coming since our first year! So, these kids are taking this and turning it into an education and perhaps, a full blown career!
ROB: It's a family that we created out here, and anyone who comes in adds to that family. So, eventually I would love for these kids to come back and be assistants to the instructors we have. We have one girl who just graduated from fashion school, and she's been working with us for three years. And design is universal- it's really for everybody.
You've obviously watched some of the campers grow at this point. Do you harness them into having a career? Have you seen any of them really develop into something yet?
ROB: Well, at this point it's our fourth year, so most of the kids were quite young when they came in and are either in high school, or entering high school- but there are definitely conversations happening with their parents because the camp sparks something in their children and they seek us to mentor them through the next steps toward creating a college portfolio. There are definitely kids that will walk away with tons of valuable take-away from this, future-wise.
What other industry insiders have gotten involved in the camp so far, and who would you love to see participate? 
ROB: We've had the head designer from Tory Burch. And Elizabeth Kennedy- who is an evening wear designer that sells in Bergdorf Goodman.
JOE: The kids were so impressed when these guests came, of course. And I've been talking to Lisa Perry, who is a huge mainstay out in the Hamptons- she approached us about getting involved and it didn't work out last summer, but we're eager to try and make it work. We've had all of the design directors from Target come in and work with the kids- and they love that! We've had Stacy Igel, who does T-shirts. We've had all different types of people from the fashion industry come out and that teaches these kids the many different roads this business can lead them, and it gives them understanding that being a designer isn't just being a designer but you can design for a company, you can design for yourself...there are many different avenues.
ROB: I have a long dream list of people I would love to see come talk to the kids, mainly people I admired growing up- Bob Mackie, Todd Oldham, I love Alber Elbaz- who is the head designer of Lanvin...
JOE: Oh, I love everyone! And I love having kids respond! They would really respond to a Betsey Johnson, because she's so dynamic and fun! But, then again, I would love to have the head designers come out from Old Navy, or Gap- because these brands are part of their everyday life. We try and think of things that connect with the kids.
You are extremely busy men. How on earth do you find the time to do this on a daily basis? How often do you spend working? Talk about hosting your respective shows, and what your normal work days look like?
ROB: [Takes a long sigh with a chuckle that Joe matches, showing how in tune they are] Well, we are both multi-taskers! But, when you love what you do? It doesn't feel like work. I am thinking about this all the time. I have a notebook by my bed. If I'm not by my phone, I'm on the phone. It's so much work, but it's so gratifying, because the minute that those kids arrive and walk in that room their eyes light up! They are so excited! And it doesn't feel like work. And the same thing with my television show- I just love it. So, I make time for everything. Two years ago I was filming my show during camp. I would do camp in East Hampton, get in a car and drive to New York City, do my show, and then come back- and it was crazy. But, when you love everything it doesn't feel like work, I just feel lucky to have this all happening.
JOE: I agree. I have to say that a lot of this is Rob, because he does do the training with the kids- but it's a 24/7 thing. We live in a 24/7 world. When you do the things that you love, this is the nature of it. But, I tip my hat off to Rob, he has been immersed in this for 24/7 for the past couple of months and he wants everything to be the best for these kids and that is so unwavering.
What do you guys like to do on your downtime when you have it? Clearly you vacation in the Hamptons. What are your favorite spots, restaurants, and shops? Where should everyone be going?
ROB: We definitely have our stomping grounds. Joe and I love to go to Almond on Friday nights in Bridgehampton. We love Sen in Sag Harbor for Japanese. As far as shopping, there's a store called Tenet in South Hampton that I think is the best store for clothing out here. But, we really love to lay low. Usually during the day Joe is here grilling and I'm gardening, we swim and we have our dogs, which we love. We really enjoy cooking and cooking magazines.
JOE: What's strangely ironic is that in the summer we hibernate at home and go out less! During the fall and winter we usually go out a lot more, maybe to a movie or venture around. It's just so crazy in the summer!
And do you plan on expanding Stitched outside of the Hamptons?
ROB: Up till now, Stitched has only been in East Hampton, but we've gotten so many people interested all over the country, so we are currently talking about expanding to Los Angeles, or doing subscription service and pop-up shops all across the country. So, it has been something that has been unique to East Hampton, but we have definitely talked about making it grow because we want all kids who are interested in fashion to experience Stitched!
     Judging by the way Younkers and Zee are when they want something to happen, it most likely won't be long until more kids get that opportunity as the dynamic fashion duo make more dreams come true.
This post was published on the now-closed HuffPost Contributor platform. Contributors control their own work and posted freely to our site. If you need to flag this entry as abusive,
send us an email
.