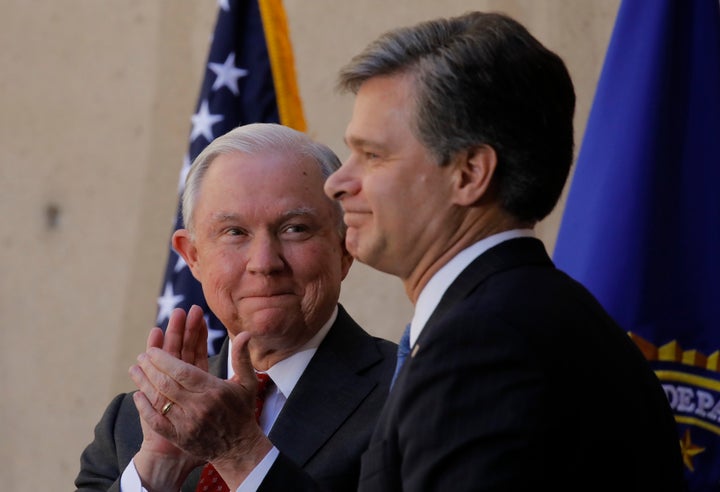 WASHINGTON ― His name was uttered just once, as the eighth director of the Federal Bureau of Investigation rattled off the names of his seven predecessors. But former bureau chief James Comey loomed large over the swearing-in of new FBI Director Christopher Wray on Thursday, as employees and alumni gathered in the courtyard of the FBI building to formally welcome the boss replacing the man the president fired.
President Donald Trump unceremoniously fired Comey in May, about two months after the former FBI chief confirmed that the bureau was investigating ties between Russia and the Trump campaign, and a few days after Comey said the idea he swayed the election made him "mildly nauseous." The official reason for Comey's firing was that Attorney General Jeff Sessions and Deputy Attorney General Rod Rosenstein had made a recommendation to get rid of Comey based on his public disclosures about the Hillary Clinton investigation. But Trump revealed in interviews that he was going to fire Comey no matter what Rosenstein and Sessions recommended and said he was thinking about the Russia probe when he made the decision.
The White House claimed that FBI agents had lost faith in Comey's leadership, but the former acting head of the FBI said that wasn't true. And surveys of FBI employees released last month in response to a public records request shows agents consistently gave Comey high marks. Moreover, Comey said during congressional testimony that the White House lied and defamed him and the FBI by saying the bureau was in chaos and that agents had lost faith in his leadership.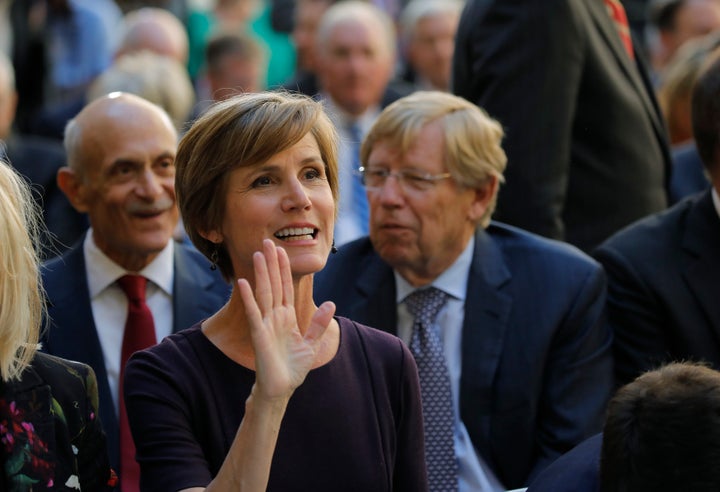 So Thursday's event for Wray was a bit of an awkward affair. The audience was greeted by Deputy Director Andrew McCabe, who previously came under criticism from Trump on Twitter because his wife's political campaign received donations from a group affiliated with an ally of Clinton. Former Acting Attorney General Sally Yates, who was fired by Trump a few days into his presidency for refusing to defend the travel ban, was in the crowd. So was Rosenstein, who wrote the letter used as the official excuse to get rid of Comey.
But Comey wasn't present, nor was former FBI Director Robert Mueller, who was appointed by Rosenstein to oversee the special counsel investigation into ties between the Trump campaign and the Russian government. The circumstances of Comey's firing are now part of that wide-ranging special counsel investigation.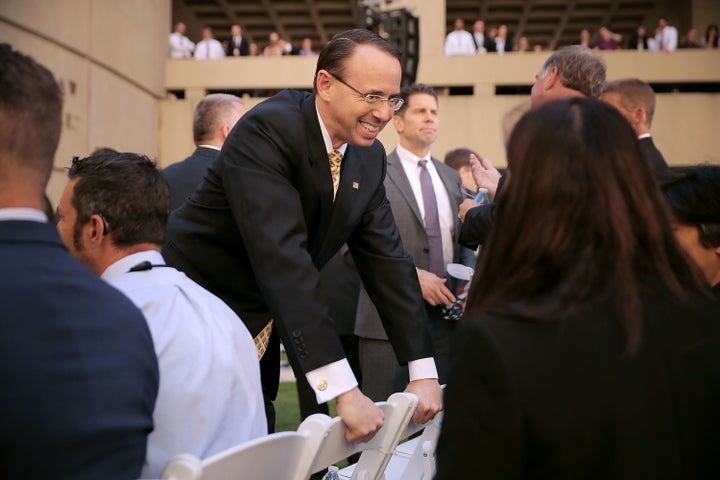 Wray's speech made little reference to the circumstances that placed him in the position of the head of what he called the "finest law enforcement and national security agency in the world."
Instead, he focused on the challenges that the bureau will face in a fast and changing world. He said terrorist threats were becoming "more agile, and more challenging to detect," and that U.S. economic secrets and values were being targeted by foreign entities.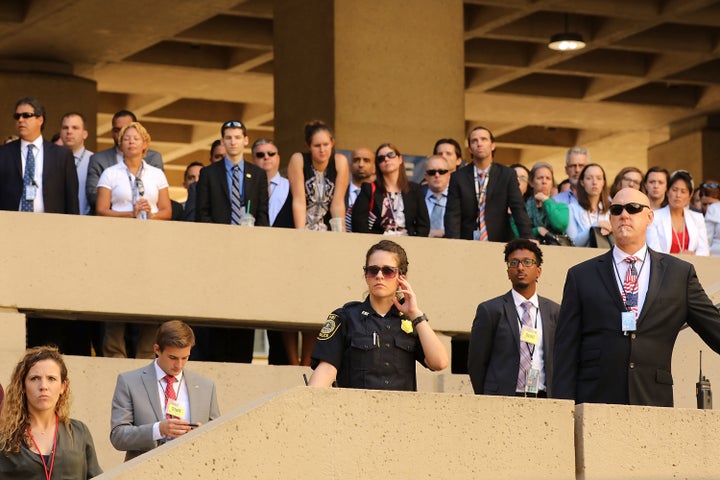 "So we know that we're going to have to up our game and adapt through innovation with new ideas, new strategies, and especially new technologies," Wray said. "We're going to embrace those changes. We're going to evolve to stay one step ahead, just as the bureau has done so many times before."
Also speaking was Sessions, who previously recommended that Wray's predecessor be fired and who himself came under blistering criticism from the president and reportedly even offered up his resignation. The attorney general said that Wray is a patriot who was committed to the rule of law and that Wray had "no hidden agenda." Sessions' speech made only a passing reference to the turmoil inside the bureau in recently months after Comey's departure.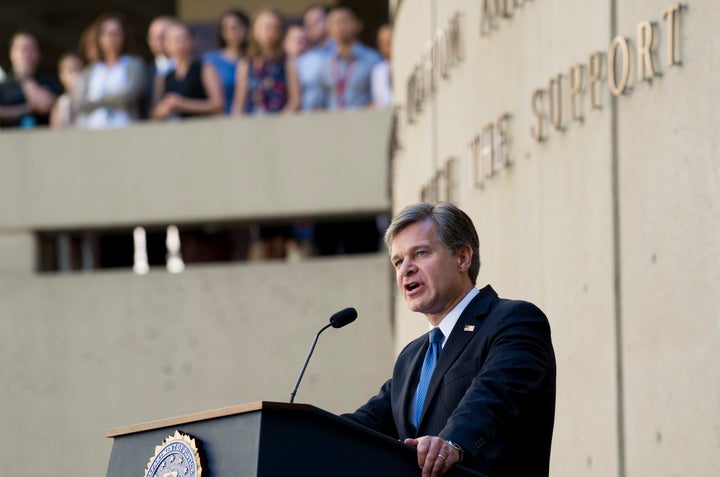 "In the days to come, Chris, they'll be many controversies. There seem to be a lot of them these days," Sessions said. "It's the nature of the job, I suppose. But I'm sure that the American people will see their confidence in you and your leadership and the FBI grow steadily."