This is all ferry confusing.
A registered sex offender in Seattle stole a 132-foot passenger ferry and took it out about 300 yards offshore, police say. Samuel McDonough, 33, somehow managed to hop a fence at Pier 69, board the Victoria Clipper and go through a series of tasks to start the engines, according to The Tacoma News Tribune.
He reportedly told SWAT officers who boarded that boat that he "only wanted to go to West Seattle."
At 7:20 a.m. Sunday, two hours after McDonough cast off in Elliot Bay, the CEO of Clipper Navigation received calls from other tour-boat operators. He said someone from Holland America called him and asked, "I see your boat sitting out in the bay. Anything we can do?"
That's when he knew something was wrong. He called the Coast Guard.
"It was just, I guess, a joy ride on his part," Bryan told KOMO. "It was bizarre ... A number of people said they thought it was a joke when I first initiated some calls and no joke. It's just bad experience."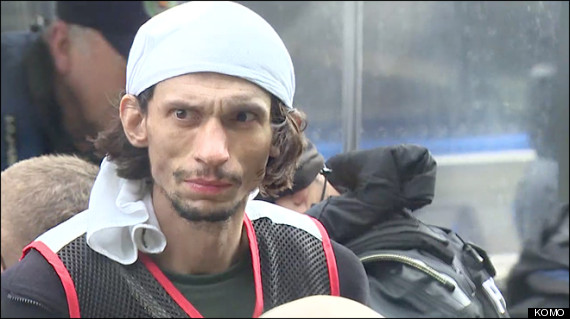 Samuel McDonough
McDonough was arrested, but not before he caused a few scares. A GPS system on the boat later revealed that the Clipper first drifted south, then north, then dangerously close to the running onto the rocks at Elliot Bay Marina, Bryan told The News Tribune. Had McDonough known how to operate a giant passenger ferry, he could have sailed as far as Victoria, 65 nautical miles away.
Bryan admitted that a key was needed to start the ferry, but wouldn't say if one was left onboard.
McDonough faces charges including burglary, reckless endangerment, and malicious mischief. He may also be charged with grand theft vessel, CTV reports.
McDonough registered as a level-three sex offender after a February 2012 incident in which he tried to break into a drive-through coffee stand, then masturbated in front of two female baristas, according to the News Tribune.
Bryan, who serves on an international committee of tour-boat owners, said he's the only member to have had a boat stolen.
BEFORE YOU GO
PHOTO GALLERY
Inventions You'll Never See