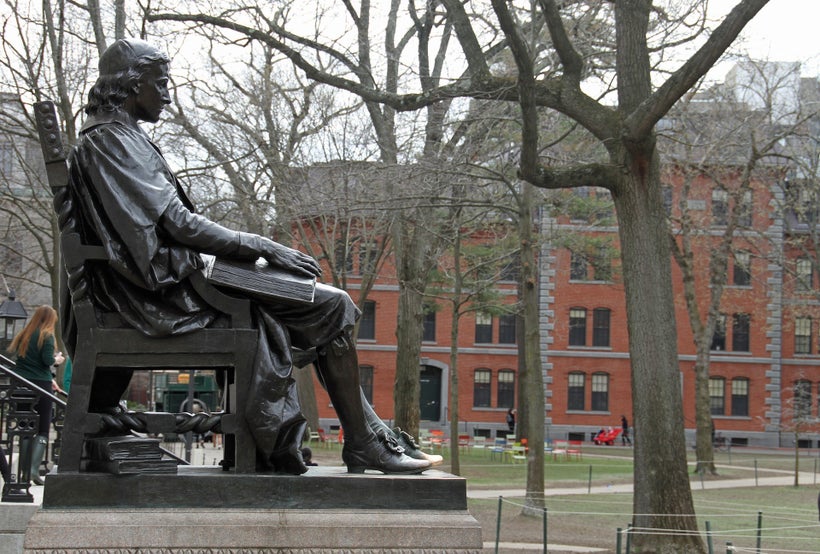 In Love
It was the fall of 2004 on a brisk cold November day when I fell in love with New England. As I drove from Brooklyn, New York to Cambridge, Massachusetts via 95 North, I was drawn in like a new lover. The fall foliage was magnificent. The orange, brown, and auburn colors appeared to be deliberately drawn onto each leaf. The beauty of fall would be what first attracted me to New England. There was something refreshing about the fall season. It begged newness; another opportunity to get it right. That is what I needed. That first year in NYC was not a complete failure. However, with the challenges of teaching, Taylor's spiking autism symptoms and a bad break up, I was intentional about starting anew. What better place to start than Harvard? Though during my first year of teaching I took classes at Brooklyn College, it was not academically challenging enough.  Besides, I wanted the opportunity to study elementary education at the graduate level without simultaneously teaching it.
Cambridge
After researching programs, Harvard was the best program in the northeast. The further north I drove, the more beautiful the landscape became. No more concrete sidewalks, only trees, lots of trees, and a freshness that welcomed me. The event that I attended that day was a diversity fair for prospective students.  My sister attended Brown University for college. I vividly remember attending her graduation. It was my first experience at an Ivy League school. The east coast had such an interesting history. I was drawn to it immediately. Though some would see it as a long shot for me to attend Harvard, I was determined to try. I felt my grandmother's urging to go for the best; anything was possible. I gained a new sense of direction and purpose over the summer, and now the autumn season begged for something new and fresh. I wanted to listen to the admissions committee regarding my odds for admission. Cambridge appeared to be diverse socioeconomically and ethnically. It was sort of a utopia, and offered a false preview of what my life would be like in Chestnut Hill. Boston is historically a segregated city, yet Cambridge served as its apology for segregation. I drove over the Charles River to a more inclusive and diverse aspect of the commonwealth. Harvard's campus was beautiful, it extended the visual pleasure that I received driving on the highway. I was hopeful that this new season would prove to be as rewarding as the drive; scenic and invigorating.
Something New
Bringing Taylor with me on my endeavors was a gift, but also a challenge. Often times I credit her ability to coexist with me during those outings to her personality. She grew up with me. Navigating the gorgeous Harvard campus with a special needs child was humbling. A healthy dose of reality coupled with humility was what I needed during those moments. It was a much needed reminder of my purpose. My friend accompanied me, and kept Taylor while I attended the daylong seminar. The landscape was impressive, and I studied the Harvard logo to see if the visual ignited some special feeling on the inside. The detailed mixture of crimson reminded me of the drapes from the hotel we first stayed at when we moved to New York. The gold colors from the logo were eye-catching, but I did not swoon over the school as a whole. My hope was that if nothing else, this experience would teach me to develop a palate for the best. The buildings and architecture were straightforward; nothing remarkable, and almost expected. As I clutched my folder and flipped my shoulder length hair, I surveyed the room. I made a conscious effort not to slouch while still working to maintain a cool posture. In my survey of the room, I saw different types of students. Some of the students had already graduated from Ivy League schools. By this time in history also included Asian American students, Latino Students, students of African descent, my new politically correct term for that time period, and others (students whose ethnic backgrounds and nationalities were unidentifiable). Everyone wore business casual, which made me grateful for wearing a blouse, skirt, and a fitted blazer.
I was thankful for my latest find, the earring studs from the beauty supply store. They made my outfit complete. It was not until I lived in Connecticut three years later that I developed an affinity for pearls. I took a breath and made sure to give eye contact to those that looked my way. I learned the courteous head nod and half smile my first year in NYC. It was taught to me by a local guy in Best-Stuy who gave me lessons in east coast living. He taught me that showing my teeth in a full smile was reserved for people that I knew personally; not for strangers. It would take me years to unlearn my east coast survival behavior. I followed the protocol, having completely forgotten everything I learned in the Midwest except my manners. The thing that I would come to realize about Harvard that I still appreciate to this day is that there was little fluff; the presentation was formatted and deliberate. They never told you more than you needed to know, which is another east coast trait that I adopted quickly. Sort of like a reporter does; just the facts.
The Competition
Observing the group of prospective students was a lesson in itself. I learned much of what I needed to know to move forward with my decision. Two very important things were that it was a competitive program for admissions, which means I would need to start studying and retrieving the needed items for admissions. The second was that though outwardly I looked the part, technically I had a different background than the students represented there; most were east coast educated by boarding school, day schools, and undergraduate programs. Some of the prospective students were also legacies. Their parents had attended Harvard, and they were just completing the program as a requirement. Sort of the way people obtain their driver's license. It was what they needed in order to drive and have access the road ahead, a preset path of privilege. Neither observation was overwhelming, and as I left the facility, I bounced and walked on my toes with excitement. Two things that I was sure of. One: I was moving North, away from NYC because the I needed a fresh start, and two: I would attend an Ivy League University one day, and it all started with Harvard.
This post was published on the now-closed HuffPost Contributor platform. Contributors control their own work and posted freely to our site. If you need to flag this entry as abusive,
send us an email
.