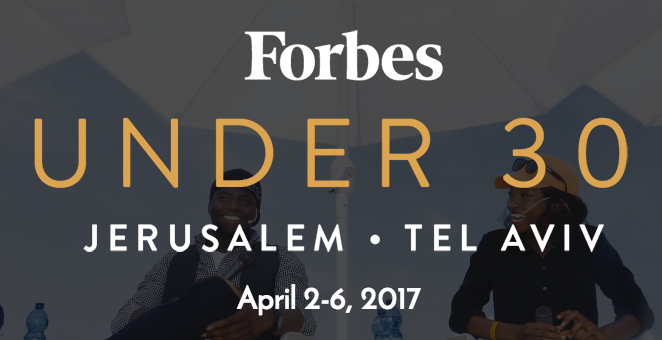 The first installment of 2017's Forbes' annual 30 Under 30 conference looks set to touch on some of today's most pressing international issues, judging by the recently released line-up of speakers and the program of activities. Taking place this year between April 2nd and 6th, the five day summit will see the world's most inventive and influential millennials come together for a range of events and talks under the umbrella of "Innovation, Exploration and Inspiration". The summit will be hosted in Tel Aviv and Jerusalem, Israel, chosen for their entrepreneurial prowess, with each city boasting more startups per capita than Silicon Valley.
750 people chosen from the master list of Forbes 30 Under 30 will come from the U.S., Europe and Israel to participate in the conference.
This year's summit comes amidst a changing global landscape, both politically and socially. With significant upsets already underway in Europe with the Brexit vote and in the U.S. with the election of President Trump, the gathering of these 750 young entrepreneurs and innovators "will focus on breakthrough ideas that tackle the most intractable problems facing our society and the planet", according to Forbes' press release. And it's no surprise that this section of society is the one that Forbes is looking to to fix the future - millennials overwhelmingly voted against Brexit and for candidates other than Donald Trump.
The summit calls on its participants to use "innovation to reimagine humanity", a task that will no doubt be undertaken with gusto by some of the keynote speakers, who include Tinder founder Sean Rad and German-based Somali refugee, author, blogger and human rights activist Farah Abdi -- a testament to the conference's commitment to inclusion and celebration of diversity. Keynote addresses, performances and interviews on trending topics such as AI, Big Data and virtual reality will make up the summit's program, but being as this is a millennial event, it's not all work and no play; other activities on the line-up include a welcome party on Tel Aviv's Mediterranean beaches, a Music Festival featuring local and international acts and taking in the sunrise over the Dead Sea.
This post was published on the now-closed HuffPost Contributor platform. Contributors control their own work and posted freely to our site. If you need to flag this entry as abusive,
send us an email
.