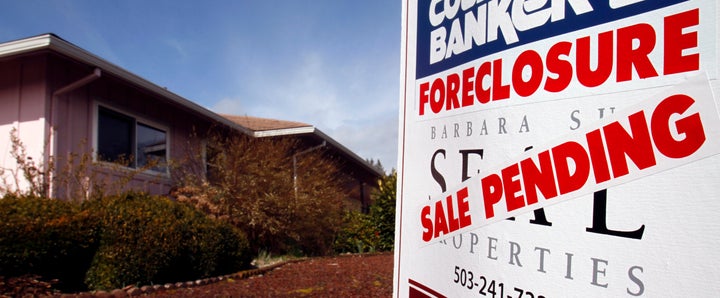 This is going to come as a big shock: Wall Street banks are manipulating the media in their campaign to avoid responsibility for throwing millions of people out of their homes and sending our economy into a tailspin.
For months, the attorneys general from all 50 states have been investigating the big banks for fraudulent, criminal, and generally unconscionable behavior in their handling of mortgages and foreclosures across the country. On May 11, the American Banker which serves as a mouthpiece for Wall Street, reported incorrectly that the Attorneys General investigating dropped principal reduction from the terms of an emerging settlement.
Principal reduction means adjusting mortgages to reflect homes' current values -- values reflecting the crash caused by the banks. Principal reduction would help reset the housing market and get our economy back on track, and it represents an essential component of a fair settlement.
Fortunately, the story being peddled by the American Banker is inaccurate. Reports in the Wall Street Journal and the Huffington Post, suggest that the attorneys general haven't given up on this key opportunity to hold big banks accountable and provide justice for millions of homeowners.
But this effort to spread misinformation about principal reduction being off the table is part of a coordinated effort by Wall Street banks to confuse the public and push off the day of reckoning on their fraudulent foreclosures practices.
This week, Zillow issued a report showing that housing values fell in the first quarter of 2011 in the biggest drop since 2008. A full 28 percent of mortgage holders in the U.S. -- more than one quarter -- now owe more on their mortgage than their home is worth. The primary cause for the continued slide in housing values? It's the glut of foreclosed homes now flooding the market, thanks to the big banks' foreclosure frenzy.
The good news is that while Wall Street banks have been putting a full court press on the attorneys general to water down an eventual settlement, there's been a coordinated national campaign to shine a light on the negotiations and make sure that homeowners and communities are protected. Groups like PICO, Alliance for a Just Society and National People's Action have come together to fight against the big banks and for American families.
To ramp up our campaign, we have formed The New Bottom Line -- a coalition of community organizations, congregations, labor unions, and individuals working together to build a movement that puts the needs struggling and middle-class families and communities ahead the interests of Wall Street.
In San Francisco on May 3, homeowners, clergy, and community leaders converged on the Wells Fargo shareholder meeting, demanding a new bottom line - one that puts homeowners and communities ahead of bank profiteering. They directly challenged Wells CEO John Stumpf to drop his opposition to loan modifications.
This week in North Carolina, homeowners, clergy, community leaders and others descended on the Bank of America shareholder meeting to protest the big bank's fraudulent handling of mortgages. In New York City, people are taking back Wall Street in a weeklong series of events targeting bank practices that driven cities and states into fiscal crisis. In coming days, community and faith leaders will be taking the same message and passion to the J.P. Morgan Chase shareholder meeting. Until banks are held accountable, these actions will continue.
As of May 11, 2011, it's been 864 days since the big banks caused our financial system to implode, and despite causing massive hardship for American families, these mega financial institutions have never wanted to be held accountable for anything. Fixing the mess they created in the housing market is no exception.
We need our attorneys general to stand with homeowners, community leaders, clergy, and small businesses to hold banks accountable - not to the banks' profit but to our new bottom line that puts people first.

For more information and to join The New Bottom Line campaign, go to www.newbottomline.com.