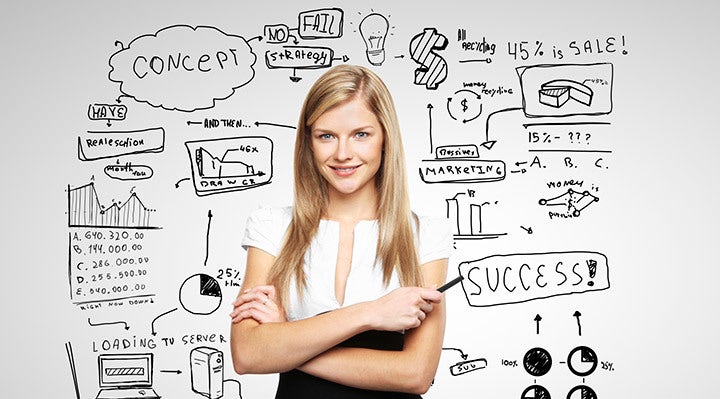 As the year comes to a close, it's exciting to keep an eye out on what 2017 has to offer. One statistic that continues to grow is the number of women entrepreneurs. According to Forbes, women entrepreneurs and women-led startups are becoming more prominent than ever. American Express's' recent State of Women-Owned Businesses Report states that the number of companies owned by women increased by 45 percent between 2007 and 2016 (in contrast, it rose by only 9 percent among all businesses).
This list of female entrepreneurs you should be watching out for is intended to inspire and inject some excitement into 2017; all of the women below represent incredibly skilled and savvy individuals who have tackled entrepreneurial challenges in an inspiring way.
With all the talent and contributions of female entrepreneurs in mind, here is a closer look at some of the most promising female entrepreneurs for 2017:
Prior to building her own online empire, Stephanie built herself a successful personal brand as a fitness personality, with her own line of DVDs, equipment, supplements and was working with the some of the world's biggest brands such as Nike, Adidas, Lululemon and Apple.
Stephanie Joanne now focuses her efforts as an online business mentor helping modern day entrepreneurs create brands that stand out from the pack.
When you ask her why she traded in her successful fitness industry career for her online business, she'll tell you that online marketing has changed the game. Its levelled the playing field for entrepreneurs with business degrees and college dropouts. Anyone who has a message to share with the world can create all the financial and time freedom imaginable.
Online marketing has removed all boarders, and for SJ, her new global platform has taken her from $0 to over 1 million in sales within 18 months of launching online. SJ is big on lean startup methodology and doing it with speed. The internet is a fast paced environment and this is one girl who always plans on being ahead of the curve.
Always practicing what she preaches, she'll be coming out of the gates hot in 2017 with her brand new "Stand Out Brand" program, which she created to be a perfect compliment to her signature Build Your Empire program. Her launches are only getting bigger and better, and she's showing no signs of slowing down anytime soon.
It was through a series of planning for different types of trips that the problems in the old-school way of booking hotels became frustrating for this former Wall Street executive who gave up the corporate boardroom for the life of a technology startup in the new Silicon Beach.
Barbara Parshall, a Boston native who is based in Los Angeles, is no stranger to the world of travel. With a deep personal belief that travel broadens people's minds and unites communities, Parshall is redefining the way people book places to stay to make the process easier and the location more meaningful.
Baarb is one of the world's first hotel booking sites that personalizes the results travelers receive according to their search cues and behavior across the site. Using advanced cognitive computing and deep learning, Baarb knows what your preferences are for each trip and understands your personality so the site can deliver the most relevant hotel choices.
With 96% of travelers abandoning the search process prior to booking because of information overload, price comparisons, and lack of personalization, there are huge opportunities in the travel technology space for innovation and disruption. That is why Parshall will be leading the way for travel booking in 2017.
When Susan Su looks for innovation in 2017, she thinks it will stem from the media landscape. Media has always opened things up for individuals and companies trying to break the noise and 2017 will make it even easier with emerging content platforms like Snap.
Susan Su is the head of marketing at Reforge, and a Venture Partner at 500 Startups, where she also coaches portfolio founders on growth marketing. She previously led marketing for Inside Network (acquired byWebMediaBrands in 2011), AppSumo.com, and Ramit Sethi.
At Reforge, a company that runs selective programs for experienced professionals in marketing, product, data, and engineering, Susan is known for her unique, brand-focused, marketing strategies. Before Reforge, Susan ran marketing at AppSumo, promoting products to help people do better work — sending daily deals to 700,000 email subscribers. Prior to AppSumo, Susan ran marketing and sales for a media company called Inside Network, where she set up scalable processes for a startup that grew from from a founding team of three, to a staff of 10, through acquisition in a year and a half.
Additionally, 2017 will focus on the classic modes of marketing like email. Believe it or not, email lists will become even more important than in the past, with more curation, and "little kingdoms" where individuals build their own audience and following. As a society, we're looking for leadership right now, and we'll see that reflected in a lot of different ways.
Stacey Ferreira ​is the CEO of Forge, an enterprise workforce management software that empowers W2 hourly employees to work on-demand at name-brand retailers and QSRs while providing flexible scheduling, time and attendance and performance rating software to their employers.
Previously, Stacey co-founded MySocialCloud, an SSO company that she sold to Reputation.com in 2013. In 2015, was selected as one of twenty Thiel Fellows and published her first book 2 Billion Under 20: How Millennials Are Breaking Down Age Barriers & Changing the World, which was recognized as a best seller on Amazon and the #1 Entrepreneurship book in 2015 by the Axiom Business Book Awards.
Ferreira is also a US State Department Speaker who has spoken on the topic of entrepreneurship in countries such as the Central African Republic, Cameroon, Egypt and Russia. In addition to her international speaking, Ferreira has spoken at numerous conferences and corporate events for companies like Cisco, IBM and Citi Bank in the states.
With 2017 almost upon us, it's time to celebrate what we've done in 2016 and what we have to look forward to in the new year. The number of women entrepreneurs will continue to grow and inspire the next generation of youth!
This post was published on the now-closed HuffPost Contributor platform. Contributors control their own work and posted freely to our site. If you need to flag this entry as abusive,
send us an email
.