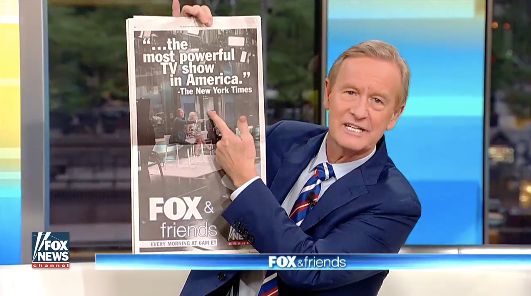 That quote about Fox & Friends," President Donald Trump's favorite morning show, appeared in a recent piece by Times television critic James Poniewozik. Trump again demonstrated his love for the reliably supportive morning show by tweeting the Times' quote later that hour. 
The placement of the "Fox & Friends" ad in the Times comes days after a heated dispute between the show and the newspaper.
On Sunday, the Times called on "Fox & Friends" to apologize for a "malicious and inaccurate" weekend segment jumping off Special Operations Command Gen. Tony Thomas' claim Friday that a 2015 leak about a Syria raid to a "prominent national newspaper," believed to be the Times, damaged efforts to capture the leader of the Islamic State militant group. One weekend co-host questioned the patriotism of the Times' journalists.
"Fox & Friends" did not apologize. A Times spokeswoman later said the show was hypocritical, given that a Fox News correspondent also covered aspects of the 2015 raid, which was announced at the time by the Pentagon. Fox News then accused the Times of trying to distract from criticism it received after naming a covert CIA official.
The Times doesn't disclose the price of advertisements, which may vary. But according to its standard rate card, a full-page, color, weekday ad can run around $150,000.
In Poniewozik's July 19 piece, titled "Watching 'Fox & Friends,' Trump Sees a Two-Way Mirror," the critic compared the morning show to a children's program that encourages interactivity with its viewers.
"The stars offer him flattery, encouragement and advice," he wrote. "When he tweets, his words and image appear on a giant video wall. It's the illusion of children's TV — that your favorite show is as aware of you as you are of it — except that for Mr. Trump, it's real."
With the president being such a devoted viewer, he wrote, the top-rated cable news program is now also "the most powerful TV show in America."
Trump, whom Poniewozik described as the show's "programmer, its publicist and its virtual fourth host," helped confirm that thesis by boosting the show Thursday to his 34 million followers.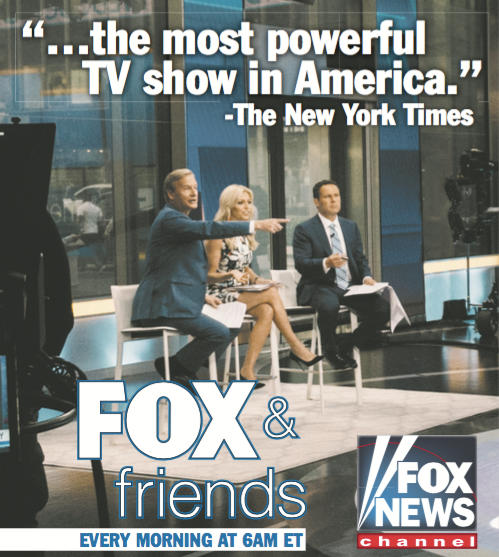 The weekday co-hosts clearly enjoyed the advertisement, which they mentioned several times during Thursday's three-hour show.
During the 8 a.m. hour, co-host Brian Kilmeade said it's "flattering" Trump watches, but took issue with the recent uptick in coverage of the show as a result of Trump's tweets. He pointed out that "Fox & Friends" has been the top-rated cable news morning show during the previous three presidencies.
"Why can't The New York Times actually write the story up, the continuing success of 'Fox & Friends'' has lasted through yet another administration," he said. "Why don't they pull up on that theme for a second. That seems to be where the journalists might want to pursue."
"Well, they called us the most powerful TV show in America," Doocy jumped in, "and for that, we agree."
BEFORE YOU GO
PHOTO GALLERY
19 Of Fox News' Most Unforgettable Moments