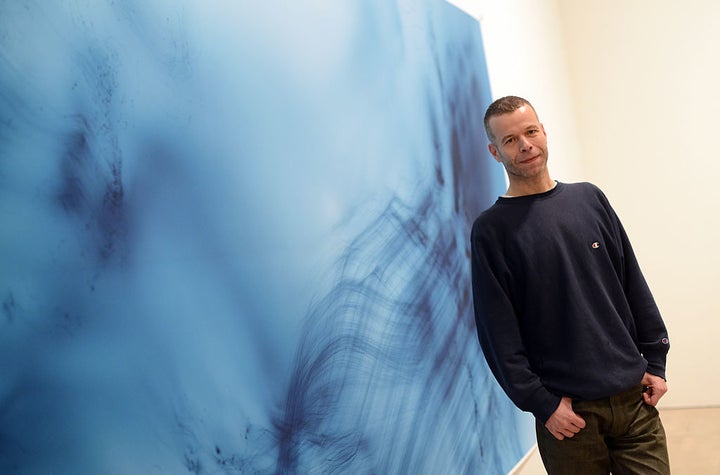 How did a song by the photographer and artist Wolfgang Tillmans end up on Frank Ocean's visual album "Endless"? Considered the hottest record release of the year, Ocean dropped the album on Friday, and followed up a day later with the release of another long-player titled Blond. (Or "Blonde" according to Apple Music).
Tillmans announced the inclusion of his electronic music track "Device Control" in the outro of Ocean's album via Instagram this past Friday, just as he had found out about it.
In a photo caption, Tillmans explained, "Three weeks ago I showed him [Ocean] a few songs, which I had written and produced for myself, and he replied 'Device Control is brilliant. Love. Can I sample it for the intro of my album?' I agreed and to my excited surprise this morning he didn't just sample it. He released my complete original track as the end of this amazing album."
Ocean also used a photograph shot by Tillmans for the cover of "Blond," the long awaited follow-up to his 2011 hit album "Channel Orange." In an interview with Pitchfork, the artist opened up on how he met Ocean and how the pair's collaboration came about.
"We were brought together by the wonderful people at Fantastic Man magazine, who had set up an exclusive cover story for their 10th anniversary album early last year," the photographer said. "The shoot turned out to be almost impossible to set up…I had given up hope and said I had to go the Berlin next day. He said he would prefer to do it there. I didn't think he meant it, but two days later he showed up at my Berlin studio."
But, as Tillmans went on to explain, in true pop star fashion Ocean made a u-turn. "All seemed well, but a couple weeks later Fantastic Man got a letter from his lawyers in Los Angeles barring them from using the pictures," Tillmans added. "It was a huge disappointment and felt very unfair, but we stayed in touch and he later wanted to use images for his book to accompany a future album."
BEFORE YOU GO
PHOTO GALLERY
30 Artist Names You Are Probably Pronouncing Wrong