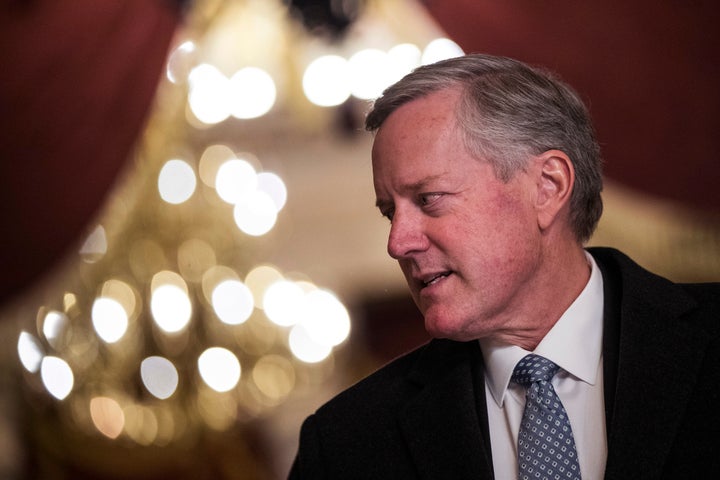 WASHINGTON ― In a strange gambit that left many aides and House members scratching their heads, the Freedom Caucus nearly took down a motion to go to conference on the GOP tax bill Monday night in order to change the expiration date of an upcoming government continuing resolution.
Stranger yet: The strategy seemed to work.
About a dozen House Freedom Caucus members initially voted against a motion for the House and Senate to negotiate on their differing tax bills, blocking the motion from adoption. But after a tense conversation on the floor between leaders of the conservative caucus and Majority Leader Kevin McCarthy (R-Calif.) and chief deputy whip Patrick McHenry (R-N.C.) ― as well as an off-the-floor phone conversation between HFC Chairman Mark Meadows (R-N.C.) and Speaker Paul Ryan (R-Wis.) ― the conservatives flipped their votes to allow the tax bill to go to conference.
After the vote, Meadows wouldn't say he got "an ironclad commitment" to change the expiration date of the continuing resolution, which is needed this week to prevent a government shutdown, but he heavily suggested that conservatives had forced GOP leadership to move the date from Dec. 22 to at least Dec. 30, and potentially even later. "I felt very good about the dialogue I had with the speaker," Meadows said.
Meadows added that he thought there was a better chance the resolution would go to the 30th, but there isn't a clear sense of why conservatives feel so strongly that going a few days past Christmas is so much more preferable to a resolution that expires a few days before Christmas.
"This doesn't seem to accomplish anything material," one senior GOP aide told HuffPost after the vote Monday night, "unless their goal is to screw up people's Christmas plans — and that's just mean."
Freedom Caucus members seemed to think there would be more pressure for members to accept a raw deal on the 22nd than there would be on the 30th. "There is a whole lot more pressure to get home for Christmas than there is for New Year's," Meadows told reporters Monday night.
But no one among GOP or Democratic leadership could explain how this changes the dynamics of a year-end spending deal. Democrats still have the leverage by virtue of Republicans controlling government. (Voters tend to blame the party in power for a government shutdown, and Republicans need Democratic votes if they're going to pass any of these spending deals.)
Worse yet for Republicans, GOP defense hawks want a significant plus-up beyond spending caps set in 2011. To get an agreement on those defense numbers, Democrats are expected to demand concessions on non-defense spending, an immigration program, a reauthorization of the Childrean's Health Insurance Program and subsidies for Obamacare.
Pushing back the expiration date of one continuing resolution ― leaders expect to have to pass another CR as well before lawmakers pass a massive omnibus spending package early next year ― doesn't really change the dynamics of the situation, unless conservatives are just trying to separate the continuing resolution and the final version of the tax bill. But even then, Republican and Democratic leaders could pass a continuing resolution until Dec. 30, pass another one a week early that would last longer, without conservatives' help, and be in exactly the same situation.
The truth is, no one really knows how this will play out. There's a general sense Democrats end up winning overall. But how and when ― that remains to be seen.
Congress needs to pass a bill to continue government operations by the end of the week. Republican leaders wanted that bill to go until Dec. 22, so they could use the next two weeks to work out an agreement with Democrats on overall spending numbers. If that gets done, then Congress would pass yet another CR to buy time for an even larger spending bill that would fund the government through September. And because Republicans will need to get some Democrats on board to support these bills in the Senate, the conservative caucus's votes probably aren't that vital.
That last insight was one of the reasons Freedom Caucus members held the motion to go to conference on the tax bill hostage. They may not have any sizable leverage over these spending bills, but they have plenty of sway over the tax legislation.
When HuffPost asked Freedom Caucus member Scott DesJarlais (R-Tenn.) if conservatives were afraid they had no leverage over the spending bills because at least some Democrats would be supplying the votes for these measures, not exclusively Republicans, DesJarlais said that was "exactly" the issue.
"Bundling" the continuing resolution with the tax bill negotiations "creates a potential problem as well," DesJarlais said.
Again, House Freedom Caucus members are concerned some Senate Republicans may ask for certain concessions on the continuing resolution in exchange for their votes on the tax bill conference report. But GOP leaders still have that trick at their disposal with a longer-term continuing resolution.
All that this strategy seems to do ― other than potentially ruin reporter travel plans ― is put Republican leaders on notice that the House Freedom Caucus is watching.