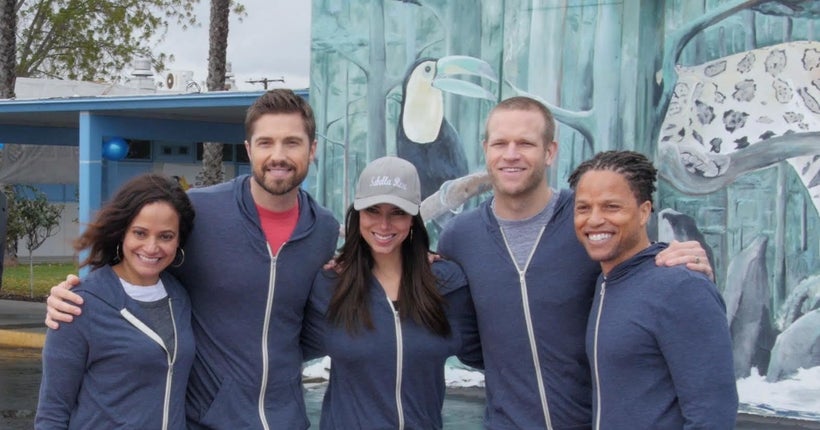 As Devious Maids comes closer to what's sure to be a scintillating season finale, the cast of the much beloved dramedy goes on hiatus to do other things. For instance, for scene-stealing talent Judy Reyes, who has been keeping people in stitches since Scrubs, she's lining up some theater work, while actress bombshell Roselyn Sanchez will be sure to steal a few more hearts in the movie she just wrapped for Lifetime. But, first and foremost, one of the most important jobs they have that they take very seriously is their position as mothers. Reyes, married to director and writer George Valencia, share a beautiful little girl together; Leila Rey, while Sanchez, married to actor and former fashion model Eric Winter, are the proud parents of Sebella Rose. And it's within that pride of parenthood and the love of their other passion; philanthropy, that this fab-foursome are changing the world.
     Inspired by little Leila Rey, loving father, strong philanthropist and brilliant talent George Valencia came up with the idea of La Golda- a pro-social animation series that uses different themes and messages to teach kids about what they are usually shielded from, such as adoption, autism, gender equality, the homeless and more. As serious as these issues might seem, the animations are still light-hearted and entertaining enough for children to enjoy them as they incorporate the worlds favorite sport- soccer- for kids to relate- and also for Valencia's brainchild to have more global reach and not clip it's wings in America. The entire cartoon also is one of the first to really encourage kids to really get involved in philanthropy themselves with The Sound Of Gol Foundation, which they will see within the cartoon.
     So impressed with the project, Reyes then recruited her Devious Maids co-star Roselyn Sanchez, who went home and couldn't stop talking about it to husband and fellow do-gooder actor, Eric Winter- who was thrilled that his daughter would potentially have something like this to grow up with. The power couple immediately got on board, using their own celebrity status, helping their friends recruit even more names  and assisting them in a process that has so far implemented them in the curriculum of 22 schools in California! And that's only the beginning!
     Extremely passionate about the project, the unstoppable couples have every intention to spread this into further curriculums and recruit even more great names. They already have even UnitedHealthcare and Microsoft signed on as sponsors!
     Together, Valencia, Reyes, Winter and Sanchez are tackling tough topics that parents don't want to talk to their kids about, and doing so in a way that is both informative and entertaining- and the best part? It teaches kids how to help and give back, training them to give of themselves to charity. And in a day and age where so much in media out there seems to be training children to be wrapped up in their own agenda, it's extremely refreshing to see something that dares to be different and shows kids that it feels good to give back.
     Below, Reyes, Sanchez and Winter talk about La Golda; George Valencia's genius pro-social animation and their involvement in it, The Sound Of Gol Foundation, who they would love to see get involved and more!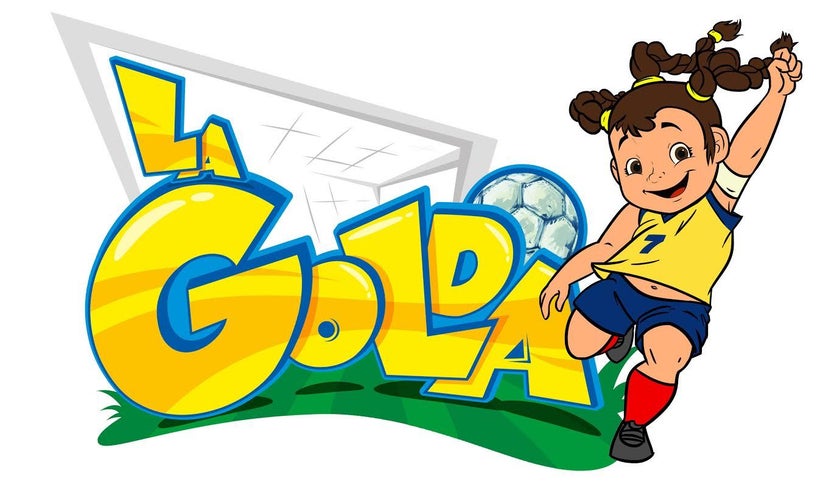 What is La Golda, and what is The Sound of Gol Foundation? How did La Golda come about, how did you get involved, and what does the organization set out to do?
JUDY REYES: The whole Sound Of Gol organization was founded as a result of La Golda, the animation. La Golda was born and inspired by the birth of my daughter, Leila. We wanted to do something really wonderful for kids now that we have a child of our own. So, this is an animated series that my husband, George Valencia and I created about an eight year old Latina who has been shuffled around from one orphanage to another in her native Colombia. And through her love of soccer, she recruits a team of fellow international orphans to travel the world and play matches while dealing with their social responsibility by addressing the issues that affect children worldwide. And within this animation is where The Sound Of Gol Foundation exists, and that's how we became and created this foundation.
ROSELYN SANCHEZ: I'll never forget- I was with Judy and we were headed to New York to do some press, and she told me that she wanted me to look at something. She told me that George had asked her to show me something, and she showed me this little teaser of the animation La Golda- and I remember being completely in awe. I thought it was so special because now that we have a daughter who is a toddler, we read to her all the time and see so many cartoons. And there are plenty of shows that might represent good morals and values, but this was the first time I saw something that really showed that "pay it forward" mentality and I loved it. I told her that they had something really special here. So, I went home and I couldn't stop thinking about it and I told Eric and the next day I texted them how touched I was by this concept, and that I thought it would be an incredible movement and that Eric and I would love to help in any way we could and that is how the whole thing got started.
ERIC WINTER: Right- Roselyn really just tackled the main reason why we got behind it, how we have a daughter and how we can really relate to it, but this is the first time ever we saw a true pro-social cartoon ever put to work. And because we're so philanthropic and put so much into charity, to see an animation really teach kids about making a difference- and not just manners and etiquette, but really making a difference out there and having this massive pro-social involvement with Sound of Gol, it's this really amazing vehicle to teach kids to give back and to watch the animation give back in a big way.
JUDY: So, the foundation itself is a character within the animation. And so, we created it as liaison. It's a non-for-profit organization aimed toward kids ages 4-7 really, that supposed to use soccer to empower social and personal growth to build strong well rounded leaders within the community. And it's also a soccer mentorship. We wanted to do something really good for kids now that we have a child of our own, and we're really proud and excited about it!
Can you tell fans a little bit more on what these cartoons will be about?
JUDY: The episodes really deal with big issues that people don't really talk about- especially within the frame of children's programming, and especially animation. Everything from technology, to autism, to gender equality- big issues are all dealt with in the first six episodes right within the very first season.
ROSELYN: And every episode tackles a different issue. Like one will tackle adoption, for instance. So the entire episode will be formatted and structured to teach kids in a very funny and entertaining way to understand the concept of adoption. And the last five minutes of every episode, The Sound Of Gol comes in- which is not only a real life non-profit, but it's a main focal point of the series. So at the end of each episode, we show this organization so that the kids can translate this concept into real life.
ERIC: And there's a little bit of a documentary style covering the documentary style coverage in the cartoon put to work. So, the kids can actually see the actual message in the animation played out in real life. And adoption can be a tricky subject for kids, but we tackle things that can be even more difficult in a very fun way- like living with disability, racism, autism, hunger- we tackle very big topics that a lot of cartoons don't and don't even know how to tackle, and these issues are still very important for children to see. So, if you see it in the animation, you'll then see it played out in real-life documentary style- these complex issues, and that's the main drive behind the animation and what makes it special. And this animation has really been able to get us together with UnitedHealthcare and with Do Good.Live Well, and that's been a big way for us to spread the word and give back. The fact that we have someone like UnitedHealthcare to back us has been such a huge contribution to this process. We've been so grateful to them.
JUDY: We give tremendous thanks to our sponsors. UnitedHealthcare and Do Good.Live Well have been supporting us since our conception and we couldn't be more grateful.
ROSELYN: When I first heard about the idea and the teaser I was so impressed. Kudos to George- he could have gone to any network he wanted with it. And his vision was so clear, he wanted to develop it to the best of his ability and nurture it and make it all about education and we took the longer route and do this massive distribution where it still has an entertainment value, but it never loses its essence, which is always philanthropy, philanthropy, philanthropy!
ERIC: And one of the amazing things that we are doing that George has come up with is that we are going straight to the school systems. We recently signed an agreement with Compton Unified to have episodes brought into the school and built into their actual curriculum. And we're going to eventually get this into more and more school districts so that these young kids aren't just watching cartoons at home for the sake of occupying time, but they are actually going to learn through a curriculum built into this animation about each task at hand for every episode. And I think that's really important when it comes to growing La Golda and The Sound Of Gol.
JUDY: Change starts with the little ones. All the stuff that is going on in the world is learned. And if you unlearn it, you start small. And that's why it's important to be in the school systems first.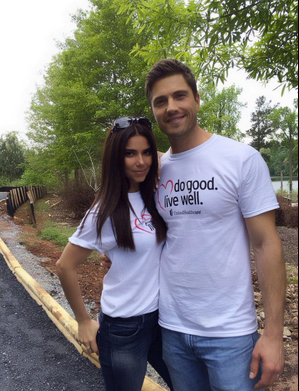 The goal of this series is to be implemented into the national school curriculum and, as mentioned, has already been signed into the curriculum of 22 schools in California! Talk about getting La Golda into schools, and how do you plan to branch out further?
ROSELYN: It was incredible. This is all George's initiative. He knocked on a lot of doors. When you are dealing with Compton Unified and the government, it does take longer. But, he got the meetings and this lady just loved it!
ERIC: And we are only starting with Compton Unified, but LA Unified is another target and we certainly plan to branch out even more from there. And we brought in some fellow celebrities and big soccer athletes, Cobi Jones, Jay DeMerit, and put on a full soccer clinic for these kids for free while watching this whole animation that ended up being an educational and fun experience that also got the kids out there, exorcising, playing soccer with the actual pros and not only to make a difference in the classroom and the project, but their own lives by being active.
ROSELYN: And it was so beautiful. These kids never in a million years thought they would get to play personally with Cobi Jones and Jay DeMerit. It was so lovely. It was pouring rain, and still they played for hours! So we left that event knowing this is what it's all about- so many people were smiling and this is going to be life changing for them.
JUDY: Monica Gonzales is another one not mentioned yet. The fact that we have these professional athletes of this caliber closely involved and consulting with us, and inspiring us- I get goosebumps just telling you about it! Monica Gonzales has over seventeen soccer clinics all over Latin America working very closely with girls just to change the game. Brandi Chastain, Cobi Jones, Jay DeMerit as well. We can't wait to recruit more.
La Golda seeks to educate people kids through different messages in each episode. What are some of the episodes you've done so far? Are there any particular messages or episodes that are near and dear to you, and messages you would like to cover that you haven't done yet?
ROSELYN: We've done adoption, race, autism, hunger, gender equality. We did one about an orphanage that didn't have any form of technology, and the kids didn't have any computers or iPads- and it was so foreign to them, because having an X-Box for those kids would simply be another form of heaven. That would never happen for them. So, we did one about the importance of technology, and having Microsoft actually donate a library of computers to a shelter in Colombia- which was great. We couldn't be more grateful for the contributions of sponsors like Microsoft, who have been amazing. There is also one subject that I'm very passionate about that I hope we will do, and I think we will, and it's about dog shelters and how to volunteer. It's nice for a kid to go with his family on a Sunday to a dog shelter and walk a dog or clean a dog, so they understand the importance of loving animals.
ERIC: And this is something that we will tackle in our season two curriculum, some of the themes Roselyn just brought up. Another thing that is important to us is bullying in school, because we have a kid that is in pre-school right now and even at that age you can see forms of bullying with kids that are four years old. So that is something we definitely want to bring awareness to. Homelessness is another important issue. Just the other day we were driving downtown and my daughter asked why there were tents on the side of the road. Even at four years old she sees that and we have to have that conversation. So, she's aware.
JUDY: You know what? All of these messages are really near and dear to me- and they are all important. It's impossible to value one over another, or say one is more important than another- and that is why I'm just so glad kids are finally hearing about all of them. That's what makes this so great- they're not hearing about just one issue, they get to hear and see and learn about all these really important topics.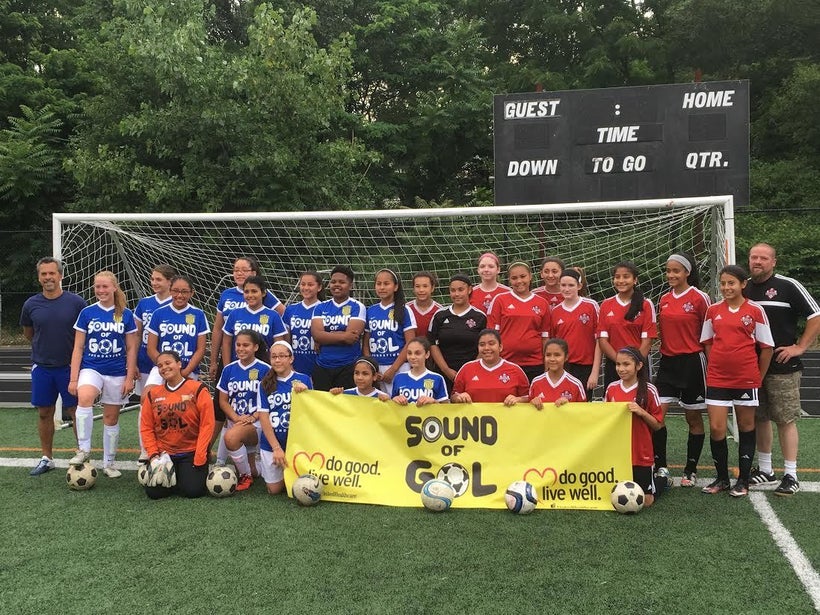 Talk about soccer a bit and why that was the selected sport. Are you all big fans of soccer? Any chance you might be able to get some more soccer players involved with the project? Who would you want to get?

JUDY: This was really George's brainchild- and he was a Colombian/Ecuadorean that was born and raised in New Jersey- which he will argue is one of the American birthplaces of Soccer, and he is just the largest fan of soccer. [Chuckles] He will argue that he knows more about soccer than anyone in the world.
ERIC: George is an extreme fan who has been involved in the world of soccer for years, working with major sports teams all around the globe.
JUDY: But, also, soccer is huge- especially amongst young girls in this country. And again, we now have a young daughter and that is who the animation is based on. It's also the biggest sport in the world. It's arguably a brilliant way to reach kids.
ERIC: It is a sport that is growing rapidly in the U.S., but it's the biggest sport in the world as far as demographic and outreach, and we thought that held a lot of importance for soccer being the vehicle to relate to kids. And because it's growing so rapidly in the U.S., no animation has really brought it into its way of teaching, so we felt it was new and fresh for the U.S. and massive internationally. We do have Cobi Jones, who does a voice in season one. We have Jay DeMerit and Brandi Chastain.
ROSELYN: I would love to get Alex Morgan!
ERIC: Yeah, that would be great! Next year we would love to have someone like Landon Donovan, or of course- David Beckham, who couldn't be a bigger international celebrity, and is a massive soccer star and has kids of his own, so he would understand this platform.
ROSELYN: Oh, David Beckham would be the dream! And I know he's very much into philanthropy, so it's attainable. I think we can get him- I hope. We would also love to have Victoria Beckham get involved in any way she can. She's amazing as well, and a great parent- so again, they really know where we are coming from. JUDY: [Cracks up as she reiterates]  Can we say David Beckham enough times? He would be wonderful! That would be a dream come true, not just for us, but for the children- which is what it's all about.
What other celebrities would you love to see get involved or to lend their voices to La Golda? Any chance any of the Devious Maids cast might cameo in one of the episodes? 
JUDY: Justina Machado was on! My dear, dear friend Marlene Forte. Lisa Vidal has done a voice for us. A good portion of my Labyrinth Theatre Company has done voices for us. We're working on building and elevating every day.
ROSELYN: Ana Ortiz from Devious Maids did a voice already. I did a voice. Eric did one. I would love to have Gina Rodriguez do this. Rosario Dawson would be phenomenal. Wilmer Valderrama would be fantastic.
ERIC: I think we also talked about going out to my old co-star Jenna Dewan-Tatum and her husband Channing Tatum and trying to get them to lend their voices. They also have children and can totally relate! And again, the kids would just love them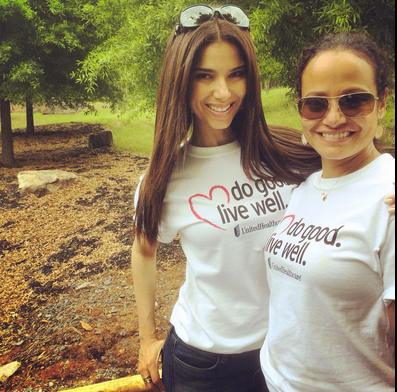 Within no time, all the celebrities- including grand-master of soccer David Beckham, will be sure to jump on this great cause as it is sure to change the world. As Reyes said, "Change starts with the little ones." And right now, we could use a lot of change- so, here's to La Golda and The Sound Of Gol Foundation for helping to make that happen!
     For more information and to learn how to get involved, head on over to the Sound Of Gol Foundation website at www.soundofgol.Org, and particularly check out La Golda at the website; www.lagolda.com.
This post was published on the now-closed HuffPost Contributor platform. Contributors control their own work and posted freely to our site. If you need to flag this entry as abusive,
send us an email
.