"Mark my face, know me again - join hands" - T.S. Eliot, "The Queen of Drum"
New Orleans Jazz & Heritage Festival headliner Janelle Monáe described her friend and collaborator Prince during an emotional set that included "Let's Go Crazy" and "Take Me With U" with: "He was free. He was fearless. He was music. He was rock and roll. He was on beat."
Jazz Fest's sprawling fairgrounds were full of musicians memorializing their mentors through music, and that will continue throughout the fest. Drummer Smokey Johnson invented the beat called Ratty Number 9. Its driving force powers the second lines that have sent so many others on the traditional New Orleans second line from funeral home to tomb, with stops at the dearly departed's favorite locations (particularly bars) in-between. Drummer Shannon Powell gave his friend and mentor Smokey a dance-worthy sendoff with a set that included a song by Smokey and arranger Wardell Quezergue (known as The Creole Beethoven): "It Ain't My Fault" - a second line standard.
These legacies are part of the reason music fans are drawn to the festival every year. There's a row of painted tributes to Jazz Fest's dear departed from photographers to chefs to crew to musicians to journalists to festival co-founder Joyce Wein, wife of George Wein. This year, New Orleans music legend Allen Toussaint will join that number.
Next weekend, Allen will be memorialized by his band and special guests including New Orleans natives Jon Batiste and Dr. John. Blues legend B.B. King will be remembered in music that same day. The music community is threaded through with so much loss this year. While the world reels at the news of Prince's death, he was so brilliant and so young, New Orleans is grieving the death of two pillars of its
own musical temple, Allen Toussaint and Smokey Johnson.
Our city's traditional funeral second line march starts with a dirge and grows into a dance, to help spirits pass on with joy. You hear it at Jazz Fest with Social Aid & Pleasure Clubs marching, brass bands playing, at the Heritage Stage, the Blues Tent, Jazz tents, Congo Square. Everywhere. At a second line's highest point, you can almost feel the spirits join the dance.
As Gospel Tent emcee Herman Charles said today: "Brother Prince has gone on home. He never wanted to see nobody in any pain. He only wanted to see us dancing in the purple rain."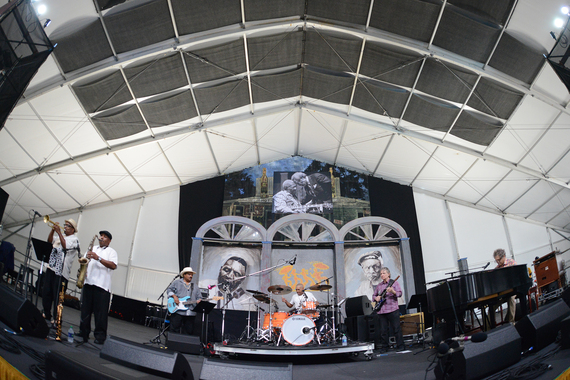 Kevin Lewis, Roderick Paulin, David Berard, Shannon Powell, Cranston Clements, David Torkanowsli
Photo by Adam McCullough