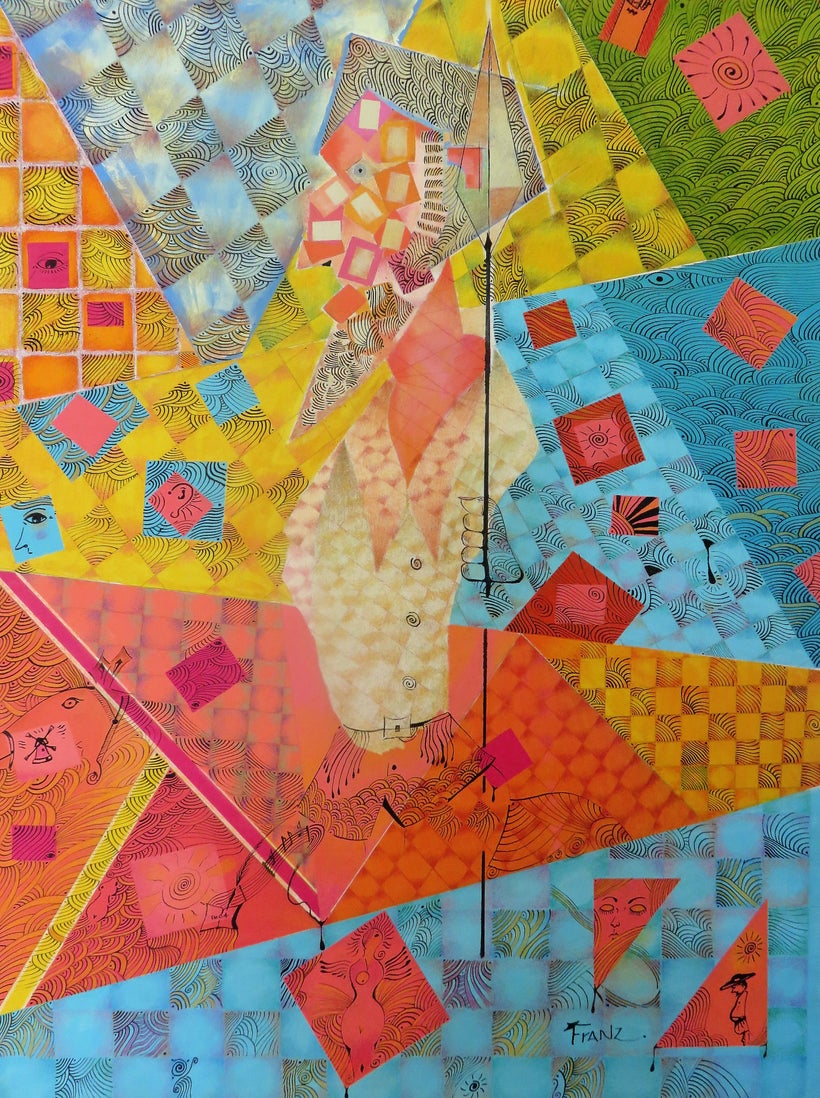 Franz Fox describes his style as 'neoplasticity.' A kind of surrealism in line with the literary genre of 'pure psychic automatism,' neoplasticity can be seen as approaching visual art as if composing a written document. Whereas a writer may write random thoughts as they have them, a painter utilizes random brushstrokes to tell a visual story that is, in its own way, 'mindless.' I spoke with Franz about his work and how I, as an entertainer, use similar principles of neoplasticity - at least within a given structure - in improvisation. In Franz's case, the initial 'structure' is the subject of the painting (for an improv team it may be a one-word suggestion from the audience). Franz explains how neoplasticity is the ability for something to change form:
"I get into a trance when I do the ink work because it is very repetitive. My mind drifts, I go through the motions, etc… Then something will trigger a thought and I'll start drawing a figure in the ink work. Sometimes they're premeditated because they affect the subject of the painting - for example, I just put forward a painting called, La Mancha - based on Cervantes' story of Don Quixote. The painting has symbolism in it that pertains to the story, but the ink work itself is the same. You can get lost in the process of doing the ink strokes and then remind yourself why you're working on it."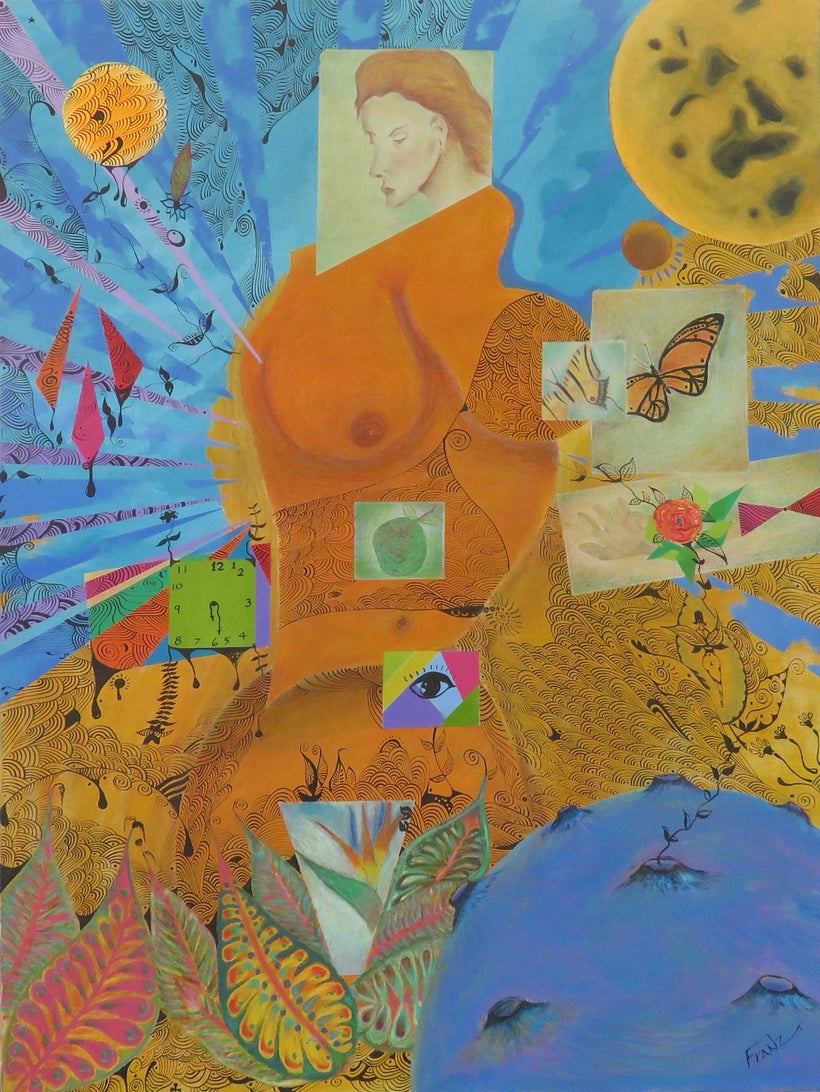 I asked Franz if he thought it was a natural progression for an artist to move from the 'basics' of doing landscape work towards doing something more abstract. After making it clear, however jovially, that he didn't want to receive any death threats from visual artists, Franz emphasized the importance of these works. For any professional (or otherwise) artist, landscape work is vital because you learn how to manage perspective (i.e. a tree looks larger in the foreground than in the background, etc.) He pointed out that both Picasso and Salvador Dali began their careers by painting landscapes before moving to abstract art. He continues:
"You learn how to block a painting, how to work with a canvas, section if off for maximum impact, how to do things properly, etc. But, in my opinion you can only take representational art to a certain level because it's already there, it is created.  The abstract artist has to create something out of his mind. Whether you have the concept or not, abstract art is something you deconstruct, or that you partially construct. There's just more expression there, in my opinion."
Even when he began painting landscapes, he'd often depict what he refers to as "landscapes of the mind" - often more surreal because they were cerebral concepts, not ones that he'd copied.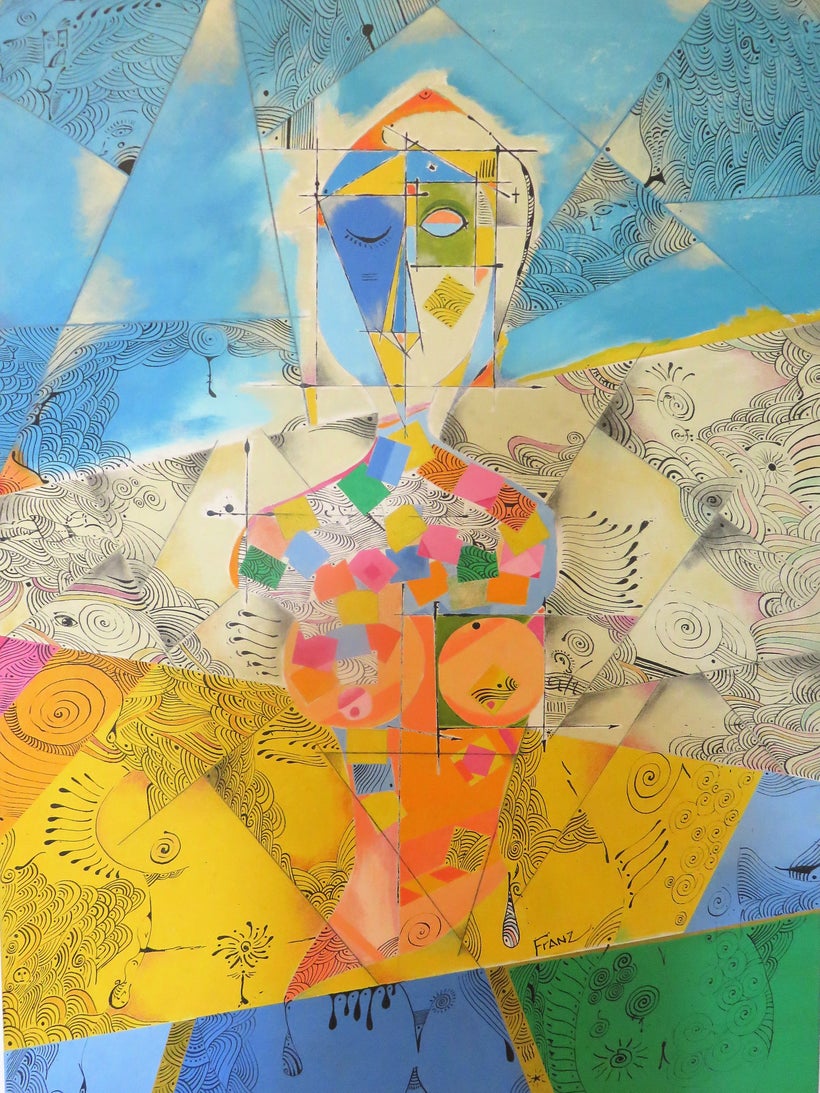 One of Franz's works, and the piece that truly began his exploration into neoplasticity was Life & Death - completed over the course of two months, after the sudden death of his first wife. I asked if he thought abstract forms allowed for a more substantial mourning process, or perhaps served a more therapeutic function. He replied: "['Life and Death'] was something I focused on to get my mind off of the tragedy I had in my life.  You don't get that painting flowers and trees."
Franz's work has grown to incorporate all of the skills - and materials - he has used throughout his life and career. Many of his works use pencil, ink, acrylic, oil pastel, charcoal, or a combination thereof. But according to Franz, it is not about the materials used in a work, it is about "whatever it takes to put the concept on canvas." He refers to viewing his work as though one were looking at a cloud. Often, viewers will find some form or meaning that was originally unintended, but this excites him: "I live on the edge with these paintings.  Sometimes the concept is clear, very straightforward.  But as a painter, you always know that often during the process you come up with something better than you had to begin with."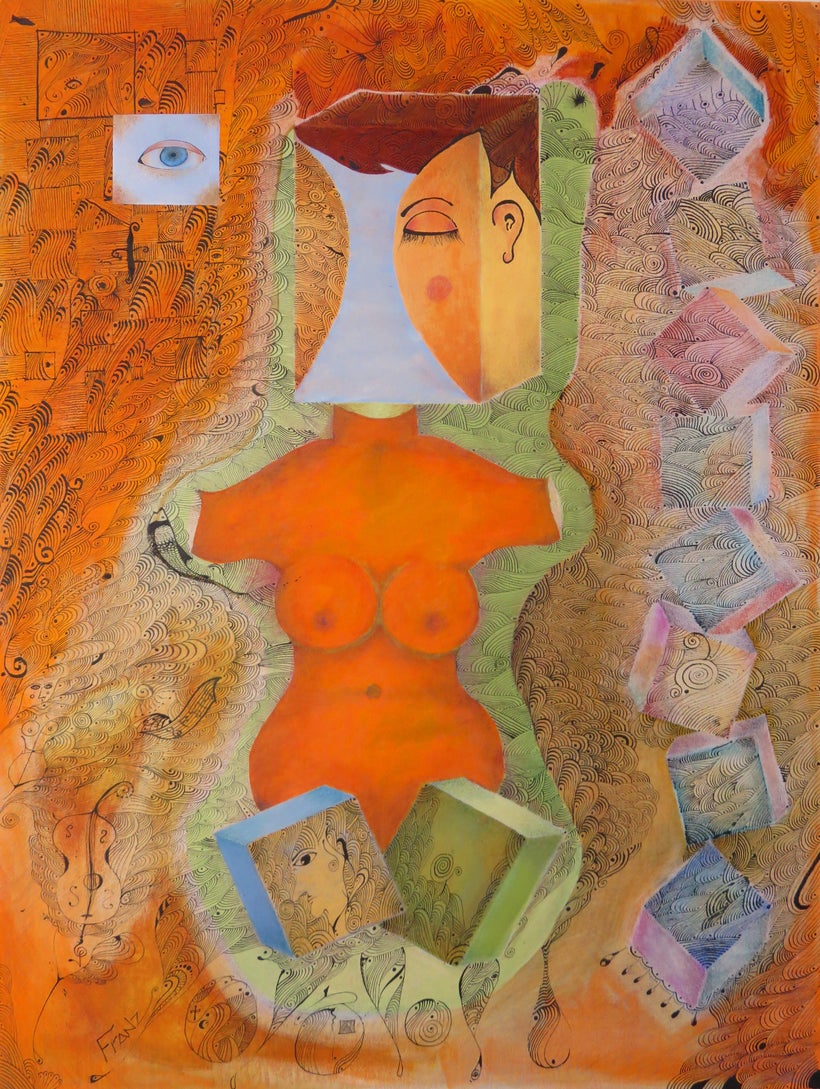 To learn more about Franz Fox and others of his works, please visit www.franzfox.com
This post was published on the now-closed HuffPost Contributor platform. Contributors control their own work and posted freely to our site. If you need to flag this entry as abusive,
send us an email
.