"You can't keep me away from where I was born.." ― Gregory Porter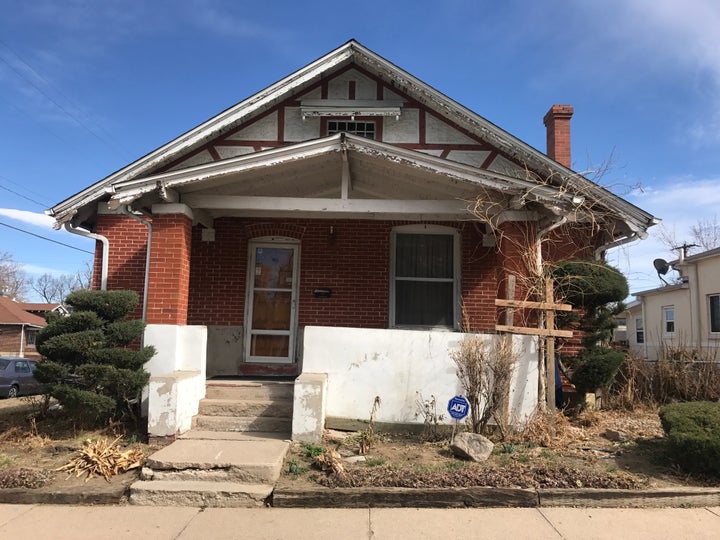 Of all the Gentrification songs that I've heard, and there have been several, nothing quite moves me like Gregory Porter's "On My Way to Harlem."
That refrain "you can't keep me away from where I was born" almost always pulls at my tear ducts. I recall stories from my elders in cities like Newark and Philadelphia talking about visiting their old stomping grounds only to not recognize anything.
My mother has similar stories.
The land she grew up on deep in the hallowed woods of Edgefield, South Carolina; the place where she picked cotton like our ancestors, where generation after generation of our family grew up has been fenced off for years since it was sold away to predatory buyers (more on that another time).
Like Ta-Nehisi Coates spelled out poignantly in The Case for Reparations, none of the conditions that you see the Black man and woman in are by accident. Laws across the country were made to keep neighborhoods segregated.
Go to any city and talk to older people and they will give you those exact borders and what happened if and when you crossed them.
By the time I was growing up, the laws may not have existed but the conditions were still there. Now things are different.
I wrote two pieces around this time last year concerning Gentrification having viewed it in Denver. I had visited the city several times over the years but had not lived here in almost 25 years. The changes were exhilarating and harrowing.
Exhilarating because Denver is transforming into a major city before my very eyes and harrowing because it's not happening without a cost.
What this quick writing is about is that  —  the cost.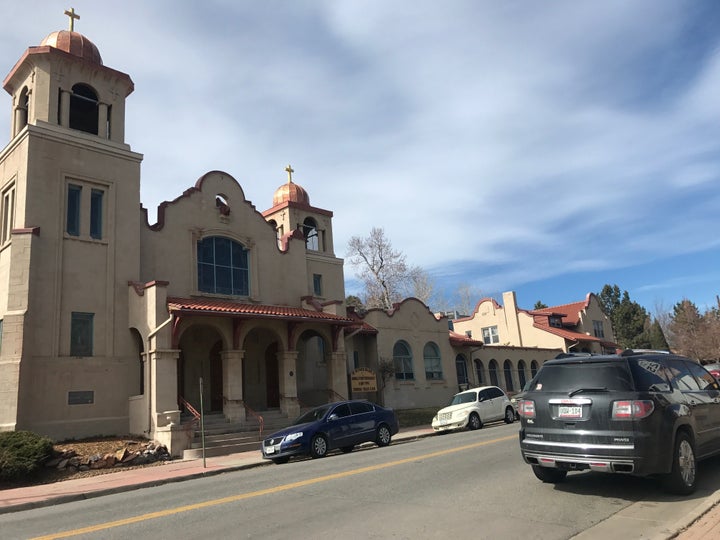 Growing up in Park Hill, Denver, as I've written in several places was not like what people think. It was Black.
Denver was still a deeply segregated city with real general terms as to where people lived. White people lived in South Denver, Black folks lived East, and Mexicans/Chicanos lived in West Denver.
What was considered south or west varied and on where you lived but from 36th and Grape, anything south of Colfax was south and west? Man, west was almost all encompassing. It was west of downtown, north of Park Hill, north of Five Points.
And we ain't fuck around in them parts.
Street names like Pecos, Tejon, Vallejo, Quivas, meant one thing — stay from round there.
I still don't know what is considered West Denver, I would guess if the street signs have a 'W' in them, i.e. W. 36th street, then that constitutes West. Not sure of the borders but what I am sure of is I would never walk around there. (note: just read that Broadway separates East and West and am more confused)
There were only 3 occasions when we would be in West Denver: Lakeside, Elitch's, and Casa Bonita.
The former two, Lakeside and Elitch's, are amusement parks. The third, Casa Bonita — a Mexican restaurant with family entertainment, was a popular Denver Public School field trip destination.
Lakeside is still there, Elitch's has been moved downtown, and since forced busing has ended I doubt they have field trips to Casa Bonita.
But Gentrification has changed everything.
I have no fear of walking anywhere. In neighborhoods once filled with stucco homes and century-old Catholic churches where hundreds would fill the pews with generations of parishioners, where you might just get yo wig split if you got caught slipping, now there's cookie-cutter modern homes, bars, and coffee shops, joggers and dogs…lots of dogs.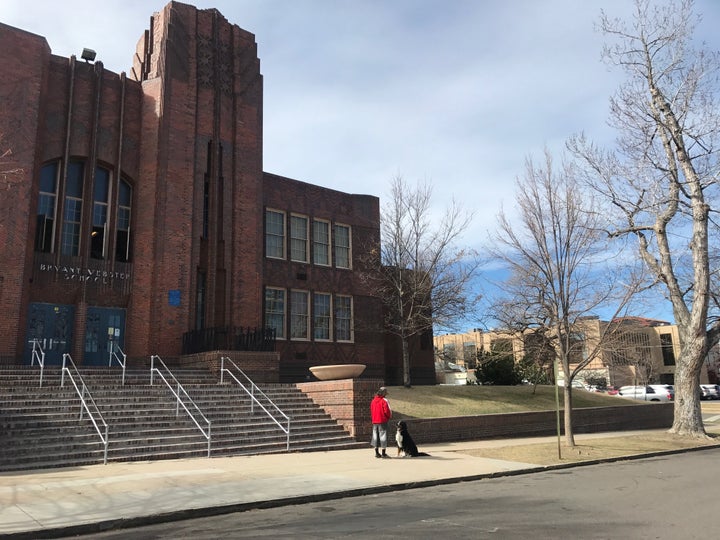 That old neighborhood, which natives call Northside (now called Highland and even…gasp LoHi) as seen in that first photo, still exists. Old people sit on the porches of their paint-chipped homes as new transplants to Denver jog by with dogs…always with dogs.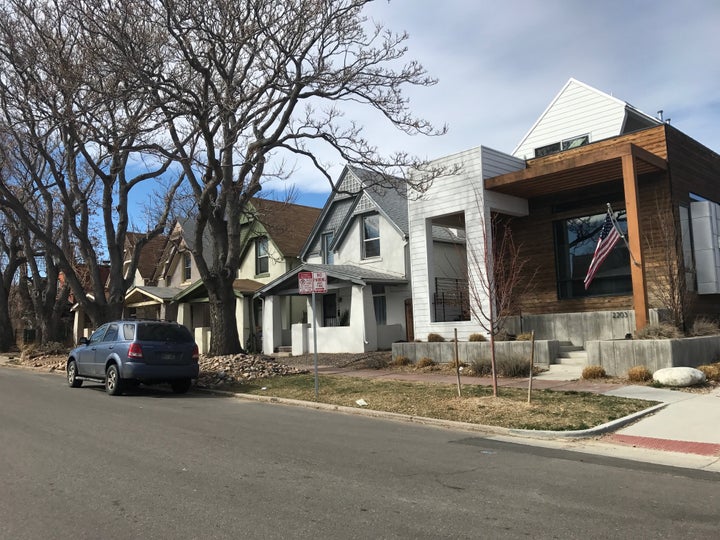 Like a beachhead in an occupied, war-torn country, these modern homes pop-up. At first sight, they stand out like a sore thumb. They don't match anything and go against the common neighborhood aesthetic which typically looks like this: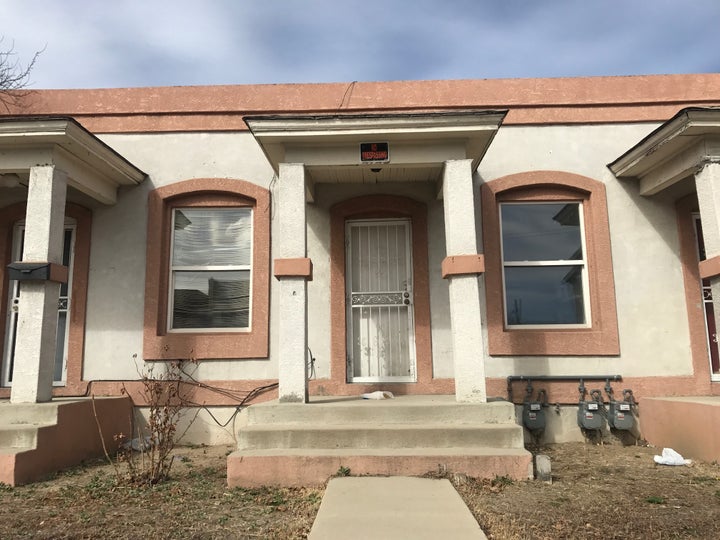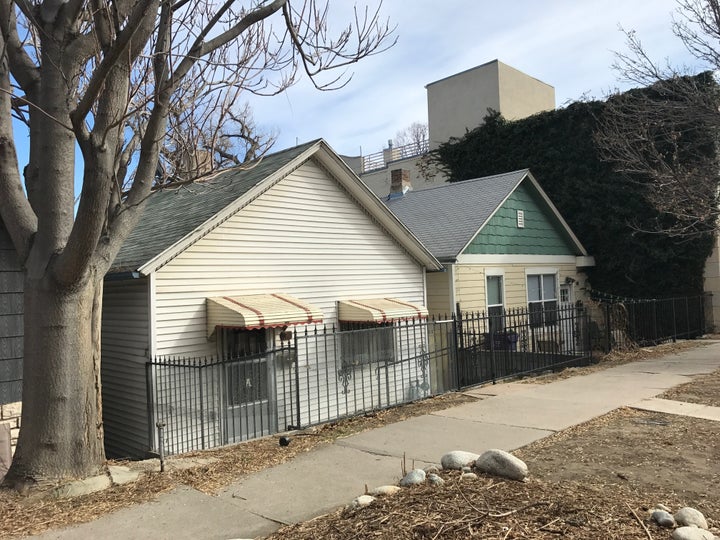 Slowly but surely, the old homes that housed families that have been living in this neighborhood since the 1930s give way to the ominous, ever-present apartment complexes that are going up in neighborhood after Denver neighborhood. First they appear next to Catholic churches like Mount Carmel that have been standing since 1904: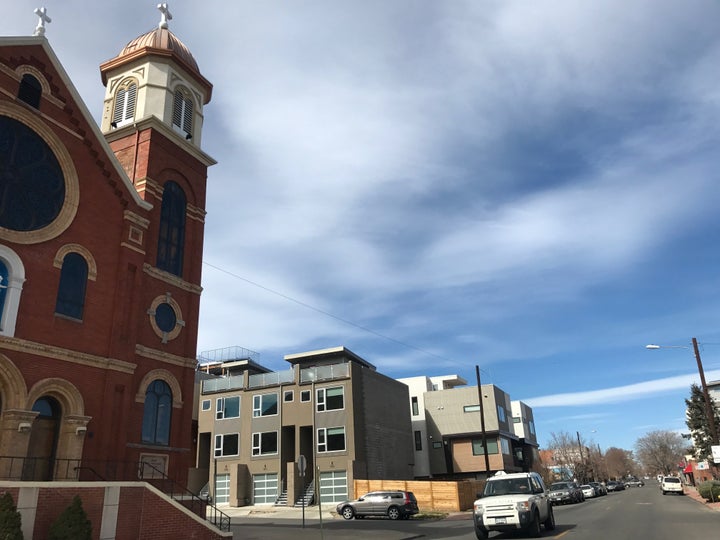 Then they begin to take over the landscape. They look like this: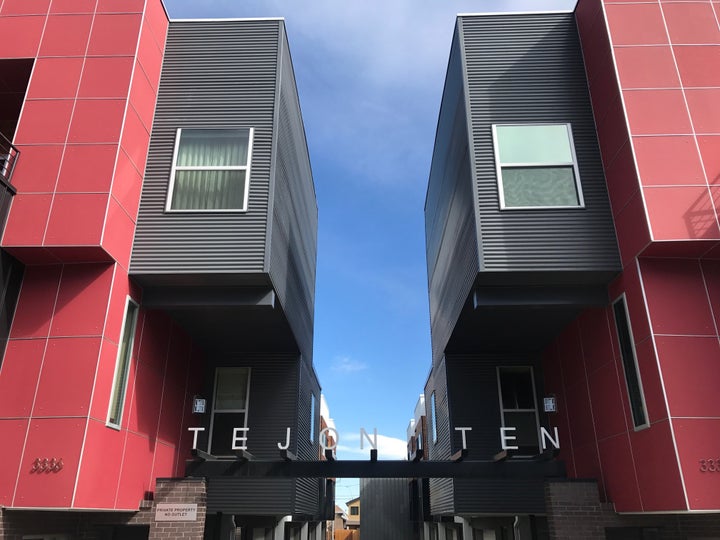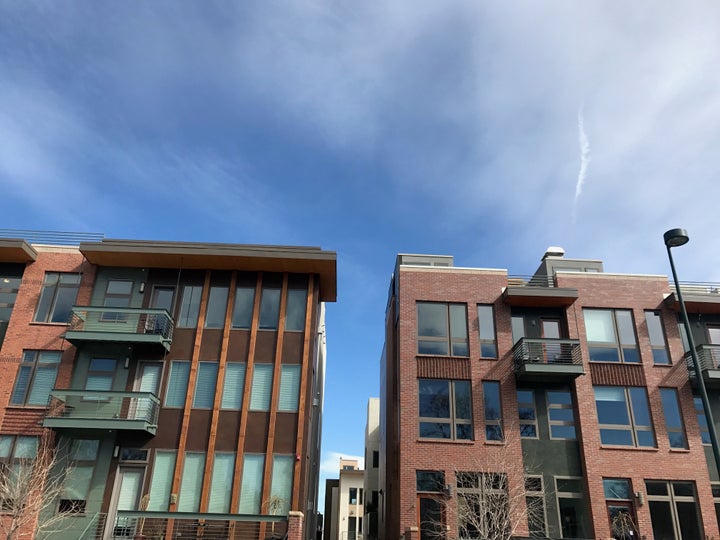 Some blocks are filled with these type of homes: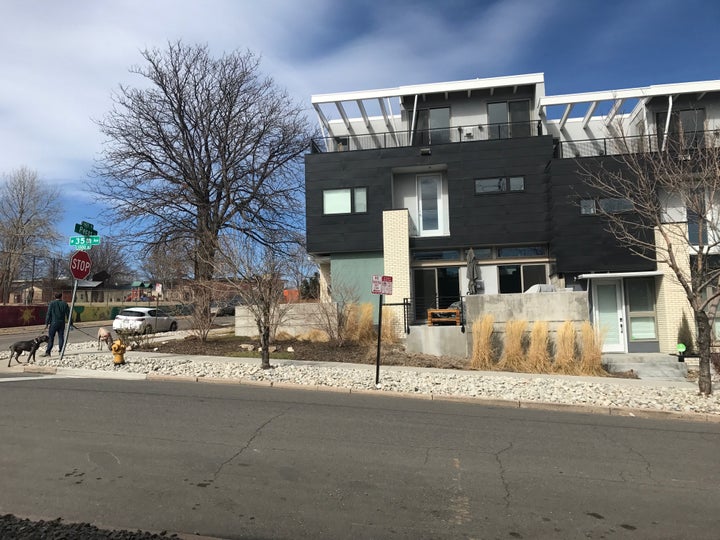 Where one would once find authentic Mexican restaurants and bakeries, the place that was the center of Denver's Chicano Movement, now you have this: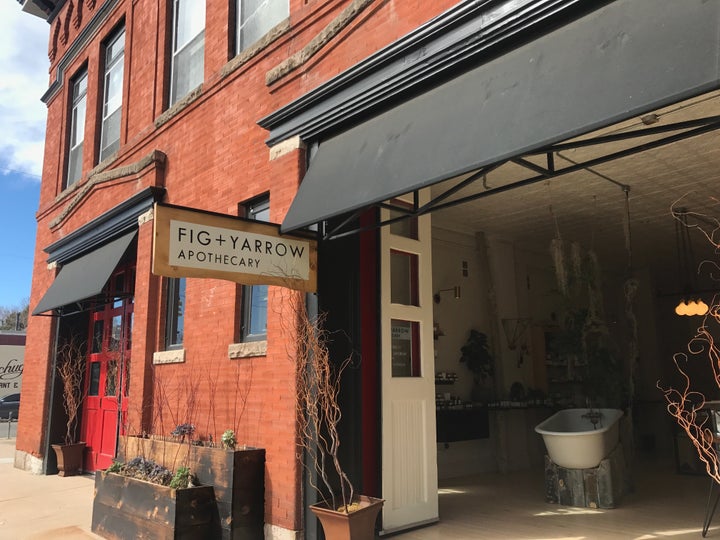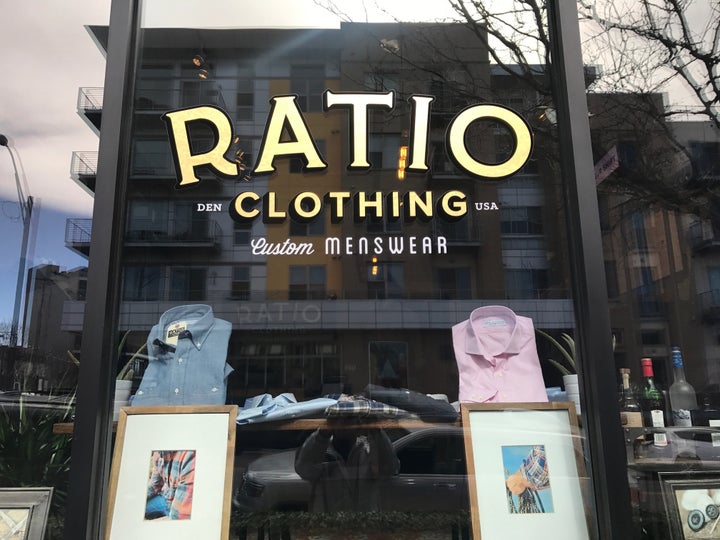 The beauty of Denver (and any city) used to be that neighborhoods meant a variety of people, shops, and atmosphere — it also meant a variety of architecture.
Homes like this are rarely seen in Park Hill: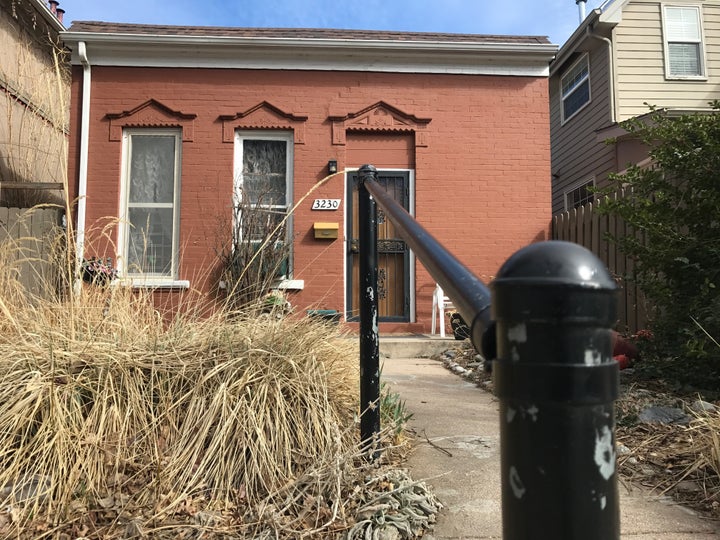 Sadly, they're giving way to more of the same: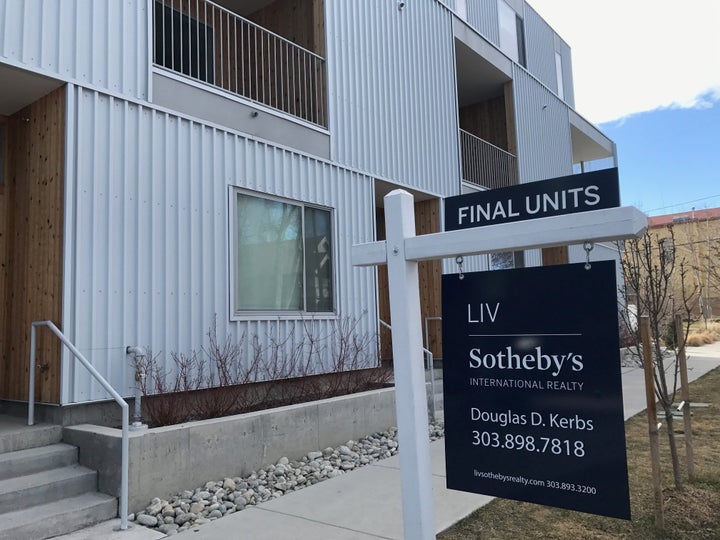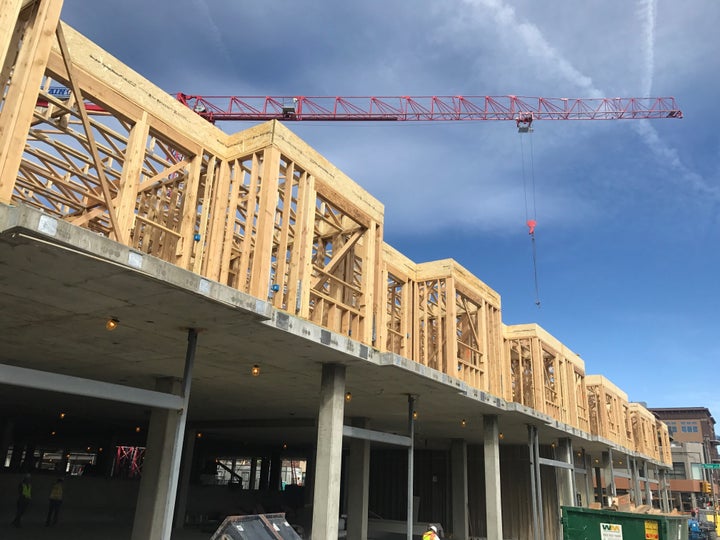 It doesn't take an architectural student to know what direction that framing is going.
A few years ago while visiting, I marveled at how the city had been connected.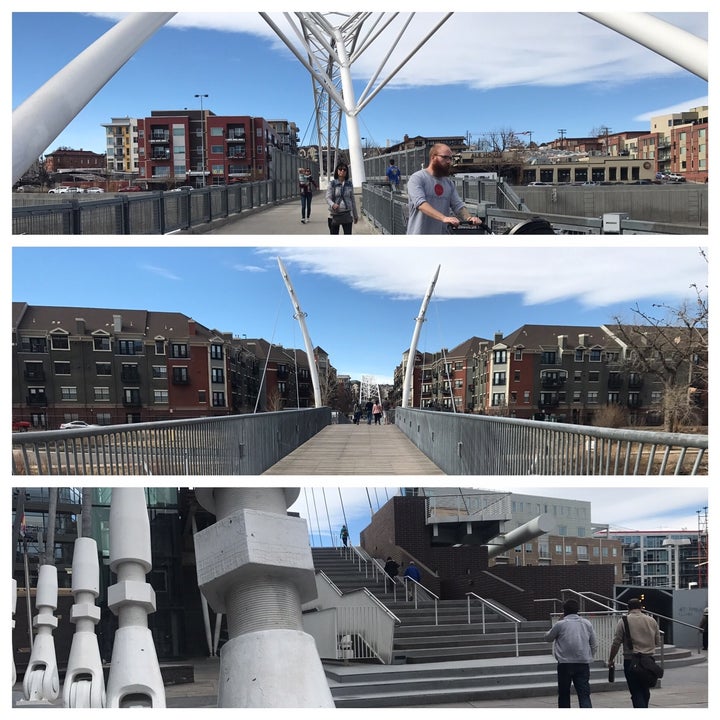 Bridges connecting Downtown with Northside (top to bottom, last to first opened)
One used to walk to the end of The 16th Street Mall for the Tabor Center or to catch the bus to Boulder…that was about it. But then the Steve Chucovich designed Denver Millennium Bridge was built…then the Platte River Bridge…and lastly Jeff Mehle's Highland Bridge was constructed…and downtown Denver was at long last connected with Northside.
And in between those bridges new parks sprung up: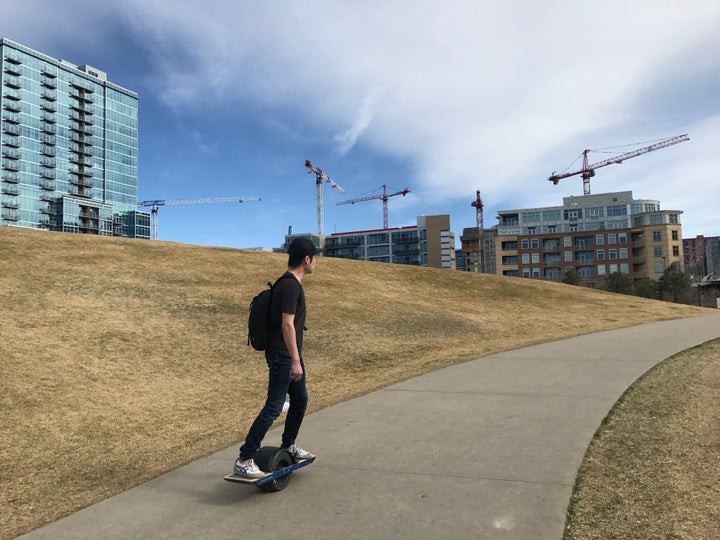 …and apartment complexes like Commons Park West opened.
New neighborhoods, which are contained in the Central Platte Valley (or CPV), shops, and apartments have appeared in that space made between downtown and Northside.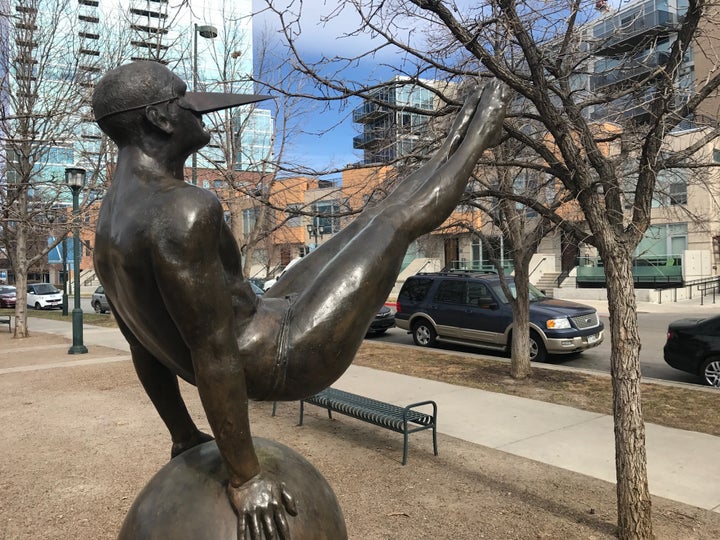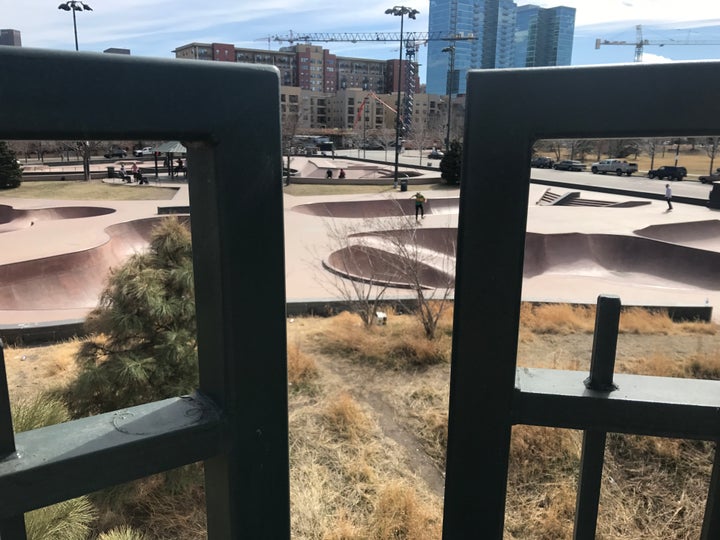 This is a Denver that my mother and older brother, who departed long ago, would not recognize.
It's always discussed — transplants move to new sections of the city for diversity and "character"and then, desiring the comforts and amenities that they've grown accustomed to, begin to make that section or neighborhood into a place very much like the ones that either they lived in or were priced out of. Removing Murals like Jerry Jaramillo's Primavera that residence have grown up with, completely altering the landscape, acting as invaders.
They open places like this: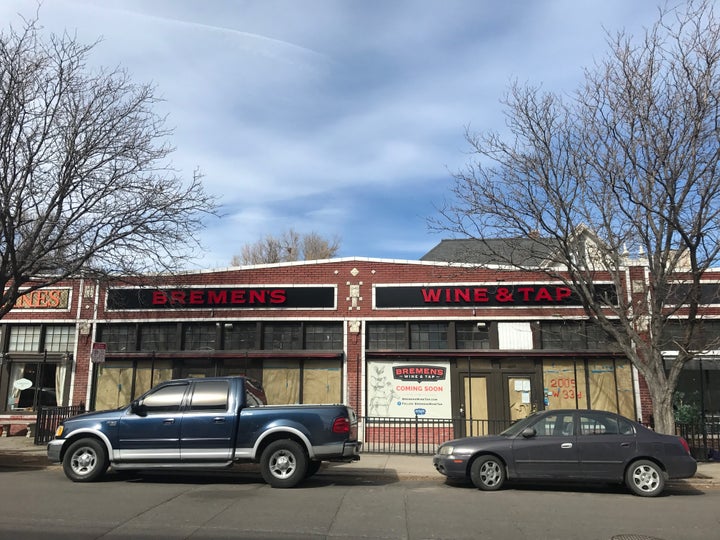 …and in time, with all the new construction, stores, bars, gyms, etc., the cost of living in the neighborhood skyrockets.
Homeowners who haven't paid mortgages in eons, who either live on fixed incomes or are accustomed to paying a set price for their property taxes have had that rug pulled from under them. Home prices have nearly tripled over the past 15 years and taxes have risen, consumate with all the growth.
Unable to pay those taxes and often with no one to give their century-old homes to, they sell them off. Soon the house is razed, the lot sold, and up comes another monstrosity.
I stopped writing about Gentrification because like death and taxes, it's inevitable. This world is a world that builds things for the benefit overlooking, or not even considering, the harm that the invention is causing.
White flight was a direct reaction to the progress of the Civil Rights Movement and the uprisings that occurred in the mid to late 60s.
Suburbs were thrown up all over the country and touted as the greatest places to live and raise your family.
Growing up, as our bus rolled by white neighborhood after white neighborhood to our school in yet another white neighborhood, I longed to live in Crestmoor or Southmoor (what's up with the moors?).
The blocks were tree-lined, parks were everywhere. The grass was literally greener.
Seeing these places as an adult, I'm unimpressed. And, apparently so were my white peers who grew up in these neighborhoods and lead the charge back in town.
They first moved in areas like Cherry Creek and Capital Heights. But Colorado Amendment 64 changed everything. Now people are pouring into the city faster than one can smoke an ounce.
Wherever you look in Denver, there's a crane. Signs advertising construction jobs are on the light rails, buses, and billboards.
So talking or writing about Gentrification is an act in futility.
But damned if it don't hurt walking through a once proud Mexican/Chicano neighborhood and seeing nothing but it's remains.
"You can't keep me from where I was born."
That may be true, but as the song goes on to say, the greats who made the neighborhood what it was no longer live there. It's sad. But real. Time to accept it and move on to build for ourselves.
Remember: hyperlinks are your friend. Thanks, management.