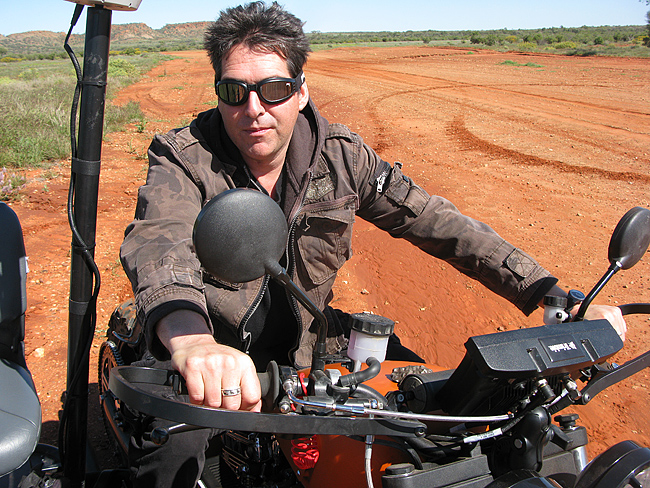 (Photo Credit: Geoff Notkin)
As a kid I remember collecting rocks, mostly what I now know to be quartz stones because they were shimmery. I also remember panning for "fool's gold" in Colorado with my parents. What is about kids and rocks?
I remember visiting the Natural Science Museum and seeing geodes for the first time. I started looking for ways to crack open every round rock I found. All those rocks and I never found one with anything special in the middle, but that didn't stop me from wanting to bust open another.
Recently I met Geoff Notkin; a big kid who is still collecting rocks. Not just any rock, but the meteorite kind. I learned he didn't have to travel outer space to find them. He took his collecting passion one more step and created a television show. He is one half of Meteorite Men.
The kid in me had to know more...
RH: I love the hunt when finding items to add to my collection. You really take the hunt to another level. Scouting worldwide for treasures that might have been in the open environment for hundreds of years but have yet to be discovered. It's almost as if you are scouring the sea for sunken treasure, yet you do it above water! Tell me how meteorites became a passion of yours!
NOTKIN: The surprise, and sometimes amazement, demonstrated by people when they learn that it is possible to collect and -- if they are persistent or lucky -- find meteorites always delights me. I started digging for rocks and fossils when I was about six or seven, growing up in southern England. The rolling chalk hills around our home in the County of Surrey were rich in fossils but, even then, it was the idea of finding a meteorite from outer space that truly enthralled me. My late father was an amateur astronomer, so I had more than a passing familiarity with our neighbors in the solar system, and my extremely patient mother was forever taking me on visits to Central London so I could see the mineral exhibits at the Geological Museum. Visiting the Hall of Meteorites, and gazing upon the ancient and eerie space rocks on display there, ignited a spark of fascination -- or some might say obsession -- that has remained with me for over 40 years. As a child, I set myself on a clear and dedicated mission to one day find my own visitor from outer space. My dream became a hobby, and then a business, and eventually an international adventure series on television. As a result, when I am lecturing to young science students, I tell them to "dream big!"
RH: Are there certain parts of the world that meteorites seem to be found in or how would one go about starting a collection?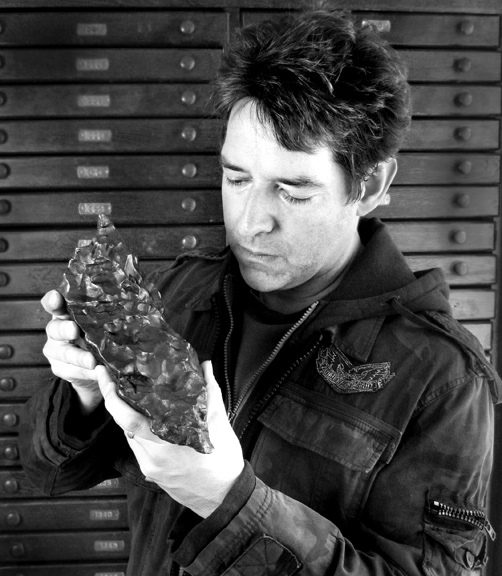 (Photo Credit: Geoff Notkin)
NOTKIN: We know that meteorites fall randomly over the entire face of our planet, so we do not expect there to be particular areas where more meteorites have fallen. There are, however, some places where they are more likely to be found. Nearly all meteorites are rich in iron, so those that fall in or near water, or in humid environments will decay comparatively quickly. Meteorites that fall in arid environments, such as hot deserts or Antarctica, can sometimes survive for hundreds of thousands of years. If we search on very old, dry surfaces that have not been cultivated or subjected to erosion and deposition, the chances of finding meteorites are much higher. In addition, there are numerous well-documented sites where meteorites have been found, often by accident. An iron meteorite from Argentina that is very popular with collectors, known as Campo del Cielo ("Field of the Sky"), was first discovered by the Spanish in 1576. We have a long association with rocks that have tumbled out of the sky, so revisiting historic meteorite fall sites with modern technology, such as metal detectors and GPS units, has enabled me to make many important new finds at locations that have been known for centuries.
Twenty years ago, there were precious few private meteorite collections. Most known specimens were in the care of universities and museums, but today, there is a lively international network of enthusiasts. In 2009, I founded a meteorite forum, Club Space Rock (www.meteorites.ning.com) in order to provide information and resources to collectors. Today it boasts nearly 3,000 members from all over the world and that, in itself, clearly demonstrates how rapidly my field has grown in popularity. Meteorites are more widely available and more affordable today than at any time in history. You can find meteorites on eBay, but, buyer beware! There are plenty of fakes out there, so novice collectors should always buy from established dealers who offer a solid guarantee.
RH: With all the great books out there on collecting, I don't think I have ever seen a reference book on collecting meteorites. Is there something out there a new collector to buy to learn more?
NOTKIN: My first book, Meteorite Hunting: How to Find Treasure From Space is a useful tool for new collectors. It is the only comprehensive handbook on the subject and discusses tactics, strategy, equipment, safety, and includes detailed information on meteorite identification. The armchair enthusiast who is interested in building a collection, rather than battling the elements in the hope of finding space rocks, will be delighted by Kevin Kichinka's book, The Art of Collecting Meteorites. And, no meteorite library would be complete without a copy of The Fallen Sky: An Intimate History of Shooting Stars, by Chris Cokinos -- a magnificent work that examines, in captivating lyrical prose, the intriguing lives of some of the pivotal characters in meteorite history. It is one of my favorite books of all time.
RH: Probably a silly question, but are any meteorites dangerous? I mean, Kryptonite would be the death of Superman; are there types of meteorites that are toxic to humans?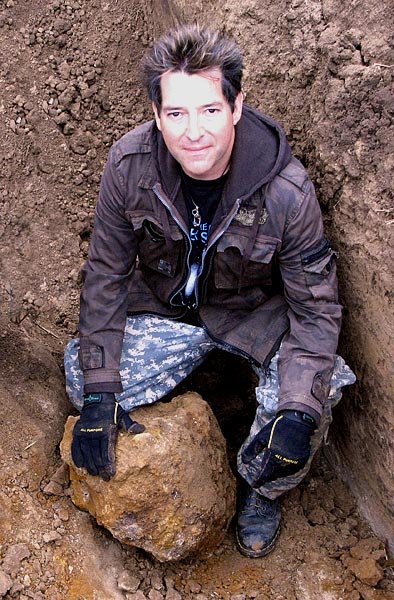 (Photo Credit: Geoff Notkin)
NOTKIN: I spend a large part of my life traveling to and from meteorite hunting expeditions, public appearances, lectures, readings, book signings, and television shoots. Not surprisingly, I am often traveling with meteorites and, as a result, there have been some colorful incidents at airport security. Since most meteorites contain a great deal of iron, there have been some exciting, "What the heck is that?!" moments when my bags went through the X-ray machines. After explaining to TSA officers that I am carrying meteorites, the first question is almost always: "Are they radioactive?" Meteorites are not radioactive, and do not contain any dangerous materials. They do, however, often contain nickel and other elements that can be toxic to humans if ingested, so eating meteorites as a snack is probably not a good idea. They would also make for some very pricey appetizers!
RH: Tell me about your most memorable find...
NOTKIN: In the summer of 2010 we were filming an episode of Meteorite Men at the Henbury Crater Preserve in Australia's Northern Territories. Hunting for meteorites is prohibited there due to the beauty and scientific importance of the site. We were, however, as a result of the educational nature of the television series, given very special official permission to search for specimens for a finite period of time. Meteorites were first discovered at Henbury in 1931 and -- before the site was designated as a preserve -- a great deal of hunting was carried out, so we felt that our chances of finding anything at all were slim. On the fourth day of our expedition, I was hiking over some harsh ground when my metal detector gave out a sharp signal. In the red dirt, just in front of my boots, sat a small, disc-shaped meteorite about the size of a button. I thought to myself, "That's a very strong signal for such a small target," and bent down to test the piece with a powerful magnet. As the magnet connected with the piece, the ground around it gave way, and an eerily beautiful meteorite emerged from the soil. Weighing a little under a pound, and almost the size of my hand, it had been sculpted into the shape of an elephant's head with a long, winding "trunk." Although I have found much larger meteorites during my career, I have never found anything that had been forged into such a captivating zoomorphic shape. Some months later, the Australian government very kindly granted me an export permit for my finds and, in return, I donated some meteorites to their reference collection.
RH: You have such a strong passion for collecting meteorites! Do you collect anything else?
NOTKIN: I definitely have the "collector gene" and have been fascinated by all sorts of things since I was a child. I have collected comic books, movie posters, World War II memorabilia; rock 'n' roll memorabilia, guitars, rare books, vintage camera equipment, and even toy robots! As I have grown older, my focus has settled less on accumulating things and more on accumulating experiences. Meteorite hunting involves a great deal of patience, research and determination, so, in time, I gradually came to the realization that what drives me is not necessarily the find itself, but more likely the journey, the remarkable people I have met in my travels, and the opportunity to bask in extraordinary vistas that most people will never see. Camping on the floor of the 100,000-year-old Monturaqui meteorite crater in Chile's Atacama Desert was, for example, more astonishing to me than finding actual meteorite fragments at the site. That being said, I still enjoy collecting fossils, particularly if I have found them myself. I am also an artist and collect the work of several painters, notably Debra Hill and Liz Vaughn. My office is packed with vibrant original works of fine art, and they make an amusing contrast to the ancient and rusty rocks that I uncover in the course of my own work.
What a fun collector! Thanks Geoff for giving me so much of your time! I have to admit, I will look at rocks a bit differently now. Is it just a rock, or is it something more?
Geoff has also been a guest on 'American Chopper,' 'Dealers,' 'Globe Trekker,' 'Cosmic Collisions,' 'How the Earth Was Made,' 'The Best Places to Find Cash & Treasures etc.'
Geoff is also an avid writer. Make sure to read his recent memoir: 'Rock Star: Adventures of a Meteorite Man.' He has two new eBooks coming out: 'Meteorite Hunting' and 'Rock Star.'