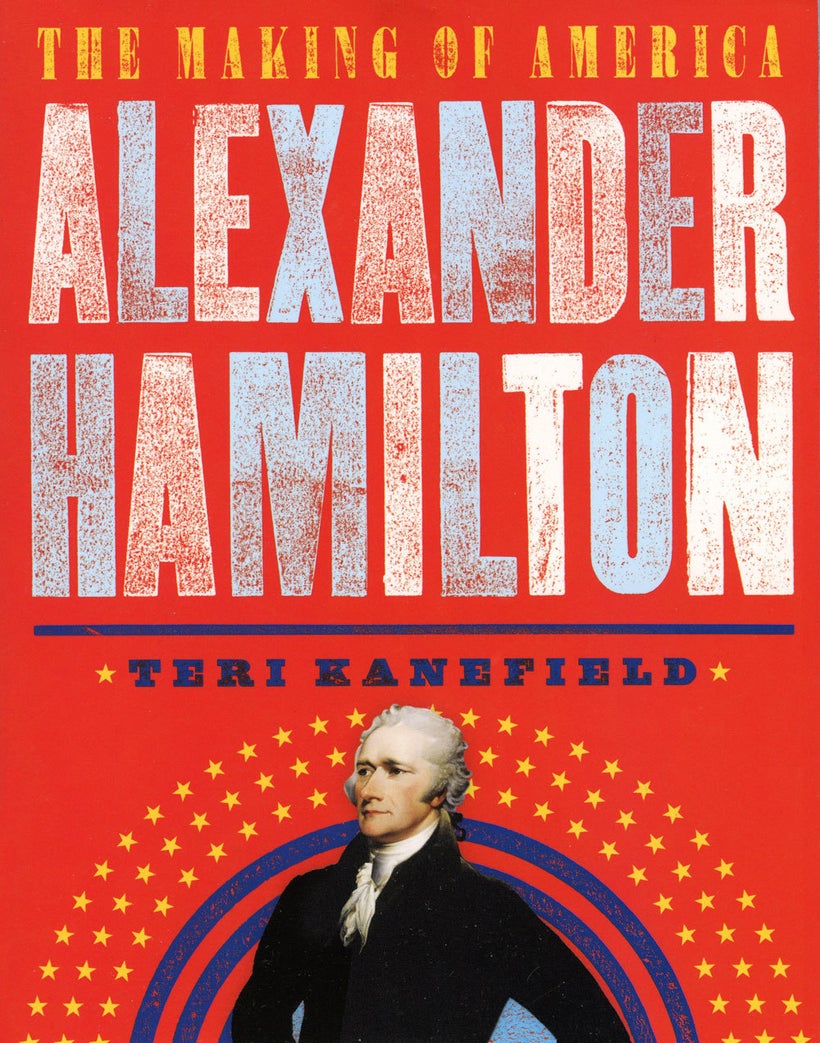 Ever since I started the occasional review of children's nonfiction, publishers have been sending books to my doorstep. I focus on reviewing only high-quality children's nonfiction. Recently I received a biography of Hamilton. Since I am not a history buff I sent the book to my brilliant colleague Cheryl Harness, who not only writes many biographies of presidents (Washington, Jefferson, Lincoln, etc.) but she often illustrates them as well. Here is her review:
How did the penniless son of a dead mother and a father who'd abandoned him, come to be an international shipping expert and published writer in the British West Indies, then an immigrant, college student, and outspoken Patriot in colonial New York, all while in his teens? By using every scrap of the genius, energy, and ambition young Alexander Hamilton was born with, fired by the injustices he was born to. And too, perhaps, he sensed that his life would be relatively short. He'd not live to see fifty, thanks to a mortal gunshot wound fired by then-US vice president, Aaron Burr.
Teri Kanefield, nonfiction author of such fine books as The Girl from the Tar Paper School: Barbara Rose Johns and the Advent of the Civil Rights Movement (2014) and 2016's Free to Be Ruth Bader Ginsburg: The Story of Women and Law, begins her newest work, ALEXANDER HAMILTON: The Making of America, by describing the 1804 duel in Weehawken, NJ, that was Hamilton's undoing. She continues her well-researched book, illustrated with archival images, with a brisk account of the life Hamilton had led, from his 1755 birth and harsh boyhood in the Caribbean island of Nevis and on to his rise to becoming General George Washington's indispensible aide during the Revolutionary War. Throughout, Ms. Kanefield includes samples of Hamilton's writing, including his poetry. There are ample sidebars too, in which, for instance, the Articles of Confederation are explained; tariffs, as well as mercantilism, due process, and demagogues are defined.
Certainly, the author tells about her subject's postwar family life and law practice in New York City, but she does not neglect Hamilton's passionate personality. She tells how he employed his brilliance to reason out a strong central government – and describes the moody, talkative man who helped to champion the new Constitution, in one essay after another: The Federalist Papers. And with his ideas for how the struggling infant nation might get its dreadful financial affairs in order, Alexander Hamilton, the first Secretary of the Treasury, not only kept the United States from crumbling into chaos and bankruptcy just as it was getting started, he set it on the path to wealth and power.
It's a fact that Hamilton, Lin-Manuel Miranda's Tony Award-winning musical, has sparked a hip-hopping explosion of interest in the man who graces our ten dollar bills. Students will find a sparkling counterpoint and treasure of excellent information between the covers of Teri Kanefield's ALEXANDER HAMILTON.
This post was published on the now-closed HuffPost Contributor platform. Contributors control their own work and posted freely to our site. If you need to flag this entry as abusive,
send us an email
.