As temperatures drop, the risk of homeless people freezing to death dramatically rises, a concern one artist has interpreted through his work to convey the severity of the issue.
U.K.-based artist Luke Jerram constructed a glass sculpture that he lay on the ground in various points throughout Bristol. The goal was to show the harsh conditions people on the streets face, yet how often the problem goes unnoticed.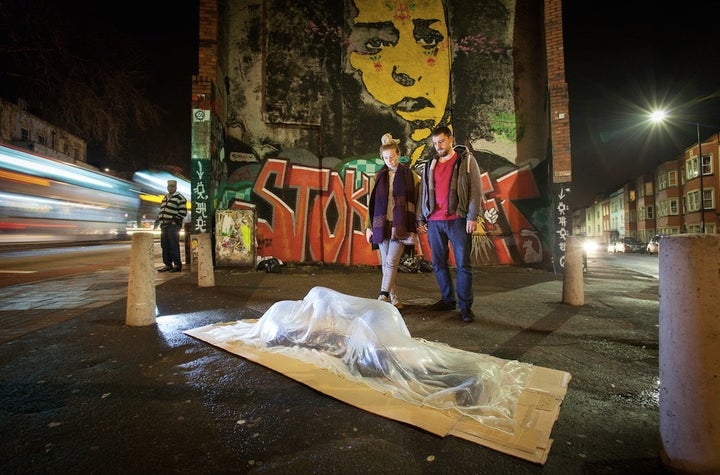 "For every person you see sleeping on the streets, there are many others sleeping in hostels, squats and other forms of unsatisfactory and insecure accommodation," Jerram said in a statement. "I was interested to see whether the sculpture would be ignored and treated like street furniture as homeless people often are in a city."
Homelessness is on the rise in Bristol due to a lack of affordable housing, and more than tripled among homeless families alone last year. The Bristol City Council placed 140 families in emergency accommodations, the BBC reported. 
To help put a stop to the problem even before vulnerable people hit the streets, Jerram partnered with 1625 Independent People, an agency that works with young people in the area who have faced homelessness. 
By working with landlords and providing services, the organization kept 74 young people from ending up on the streets through its Early Doors program, according to the organization. The group hopes that the sculptures will inspire locals to donate to the program, which rescues vulnerable people and helps save the city funds.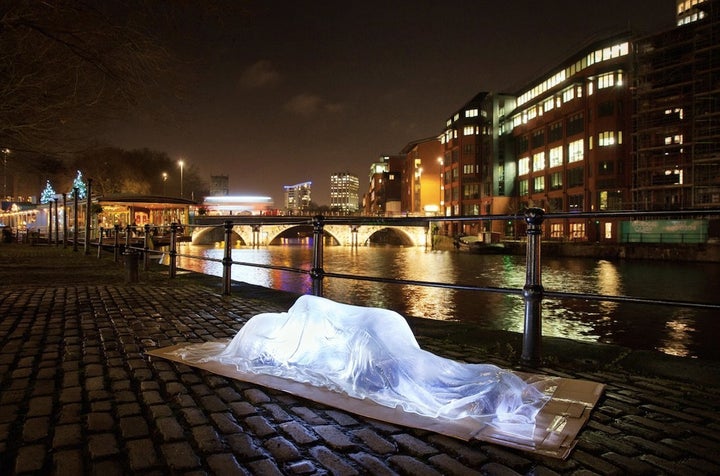 According to the agency, it costs about 15 British pounds ($22) per week to provide prevention services. Providing supportive housing to someone in crisis costs 60 British pounds ($88) per week.
But the issue isn't just isolated to Bristol.
Last year, 150,000 young people in the U.K. turned to local authorities for help in securing housing. Of those individuals, only 83,000 people accessed services because many weren't "deemed a priority," according to 1625 Independent People.
The situation has become such a struggle for the New Horizon Youth Center in London, for example, that the group has resorted to giving out bus tickets to homeless youth. It doesn't have enough housing resources to house its clients, but wants to find ways to keep young people off of the streets. 
CLARIFICATION: An earlier version of this article referred to Jerram's project as an ice sculpture; while it is meant to look like ice, it is in fact made of glass.
PHOTO GALLERY
Artist Redesigns Signs For Homeless People