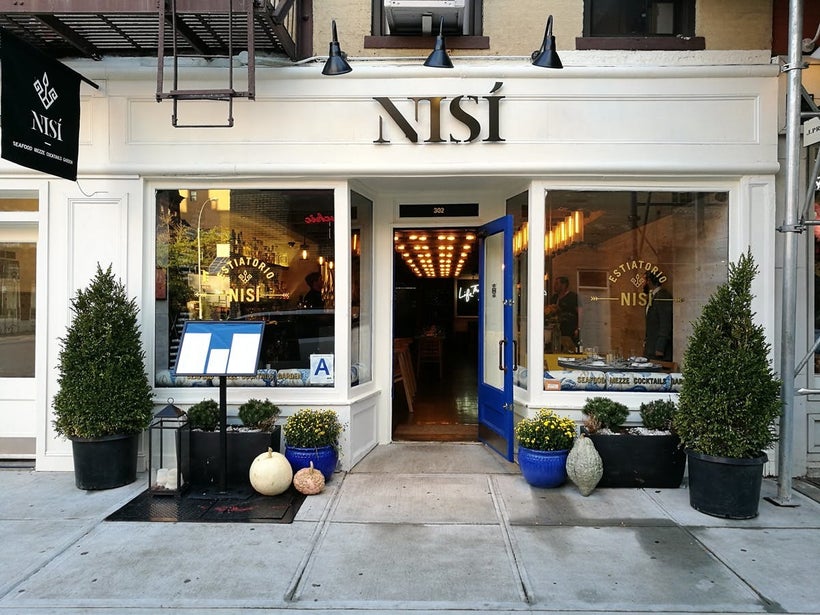 302 Bleecker Street (near Christopher Street)
I'm beginning to think that Greek food is the most underrated cuisine in NYC, almost wholly neglected by the media. Perusing the NY Times listings, I found that none has been covered during the tenure of the paper's main critic and only a handful by neighborhood stringers.
Which is not only too bad but wholly myopic. Greek food is not only some of the most delicious around but also fits in with contemporary health and nutritional recommendations to consume more seafood, vegetables, olive oil, yogurt and much else that falls under the so-called Mediterranean diet.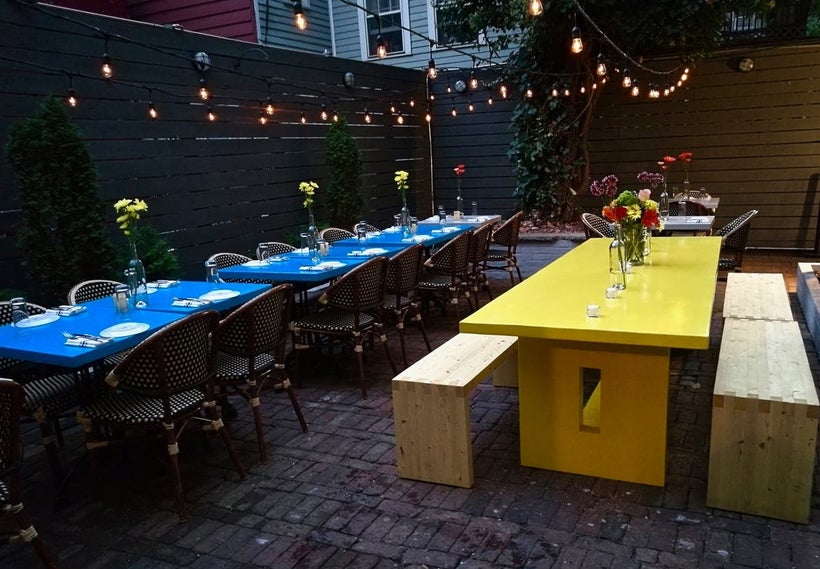 Manhattan has plenty of fine Greek restaurants, as does Astoria, where the Greek community makes up about 18% of the population. The brand new Nisi, in West Greenwich Village, is representative of a style of Greek cooking that evolved after Milos and Molyvos, in Midtown, broadened the seafood aspect of Greek menus and caused a significant upgrade in the quality of all ingredients.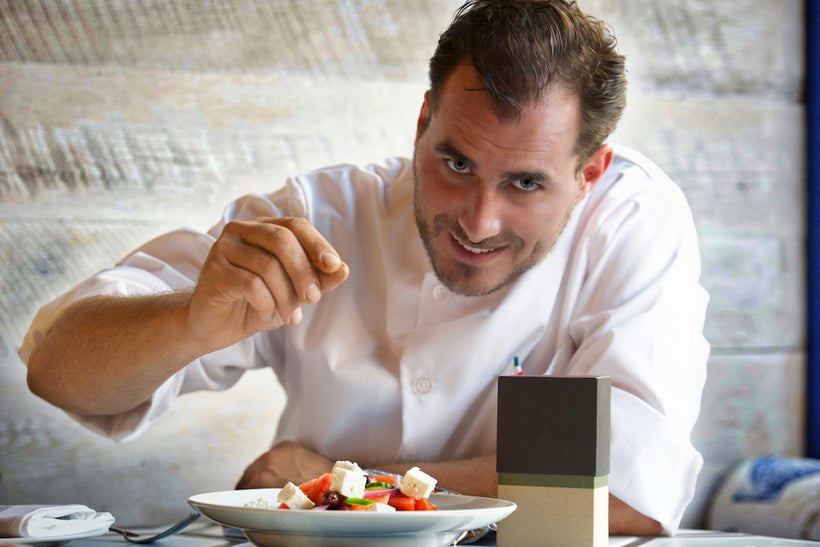 Nisí is the creation of partners Mike Himani and Andreas Kelemidis, along with Chef Nikola Karvelas (below), a handsome fellow who's worked in some of the best restaurants in Athens then Istanbul. Eventually moving to the U.S. to cook at Avra and Anassa Taverna, he is now manning the stoves at Nisí—the Greek word for island—and both inside and out it has a delightful buoyancy of spirit. The façade is done in the white and blue colors of the Greek flag, leading to a raftered bar and front dining room and on to an enchanting outdoor patio ringed with Edison light bulbs. The wait staff shows the same hospitality you'll find in the tavernas of the Greek isles, and the menu is of a size that encourages lots of meze.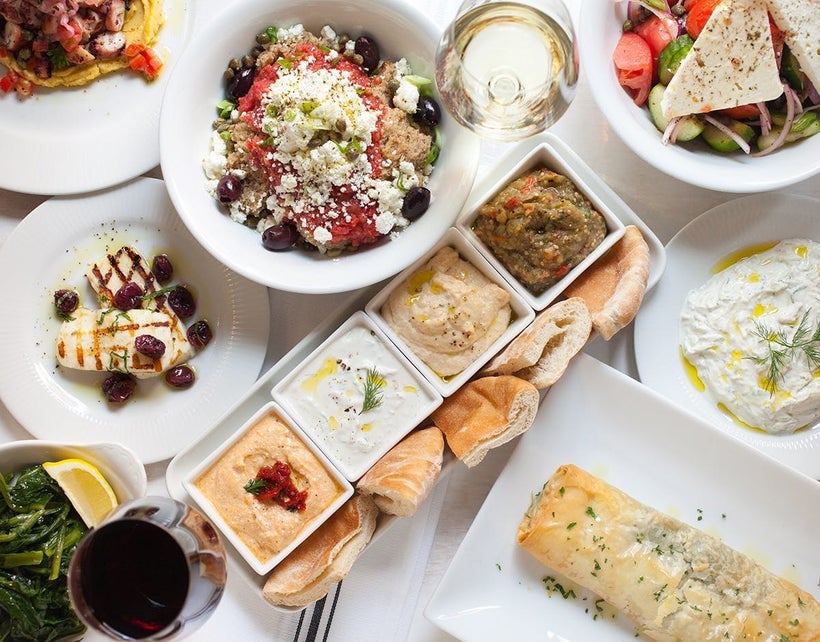 You are first brought toasty country bread and a creamy taramosalata spread, and there are several other spreads available, served with pita bread (somewhat dry on my visit). The spanakopita of spinach, scallions, leaks and dill-flecked feta cheese wrapped in handmade phyllo ($15) is colorful and very good, the Nisí zucchini and eggplant chips served with tzatziki ($17) should be gobbled up by your party of four, and the saganaki is a pan-fried orb of sheep's cheese ($14) that will go fast. Best of all the mezes I tasted was a generous platter of grilled octopus ($21) done in a red wine vinegar with salty capers and a dash of oregano. I've become accustomed to tender octopus in Greek restaurants, but this one was extraordinary in every way.
Every bit as good were fat, heads-on jumbo shrimp ($21) dressed lightly with lemon and olive oil and needing nothing more.
The special that evening was a silky, moist tsipoúra (gilt-head bream) impeccably grilled ($29). The mousakas ($29), done in the style of Astakos in western Greece, comes steaming in a ceramic dish as layers of eggplant, potatoes, zucchini and a lobster ragôut topped with a very rich béchamel sauce ($29).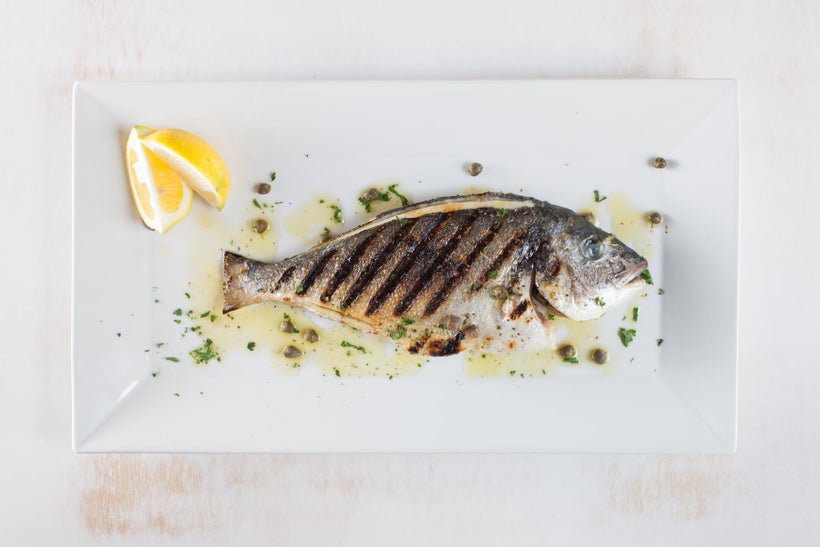 Kopsidia ($56) is a generous assortment of meats, intended for two people and including grilled lamb chops, lamb sliders, lamb kebab, meatballs and chicken, with Greek fries, pita bread and tzatziki. The kebabs came off the best, for while the other meats were good, their amalgam seemed to suffer from all being plated without regard to their individual cooking times.
For dessert there is a fine baklava and a moist chocolate cake with ice cream.
Nisí's wine list is conveniently on the back of the menu and is predominantly and proudly Greek, with plenty of top labels, most offered in a little carafe by the glass. Mark-ups are reasonable on the Greek wines; the international bottlings less so.
Right now, on a spring night, walking along Bleecker Street in Greenwich Village is one of NYC's most delightful pastimes, with a restaurant in every other storefront. But that inviting white-and-blue façade of Nisí is one that will likely make you stop, peek in, and make the idea of dining outside in twilight as alluring as strolling through the winding pathways of Mykonos for the same reasons.
This post was published on the now-closed HuffPost Contributor platform. Contributors control their own work and posted freely to our site. If you need to flag this entry as abusive,
send us an email
.