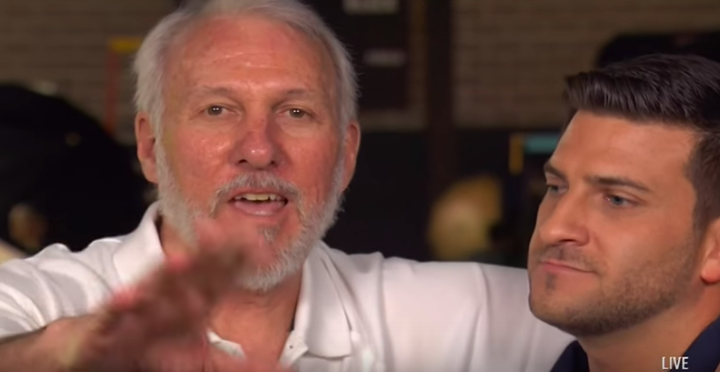 If you didn't know, San Antonio Spurs coach Gregg Popovich hates talking to reporters. In game, postgame, during the offseason -- it doesn't matter where or when Popovich speaks to the media, because more often than not, he'll find himself dissatisfied with the questions being asked of him. 
Lo and behold, on the NBA's pre-training camp media day, Popovich naturally found himself at odds with another basketball reporter. This time, NBA TV's Jared Greenberg was on the receiving end of Popovich's venomous crank, which made for one painfully awkward interview on Monday.
Ladies and gentlemen, this is what it looks like when a reporter totally loses control of his interview.  
"Are there some questions here you're going to ask me?" is probably the meanest answer to an actual question one can imagine. Not stopping there, "I have no idea what you're talking about" and "I think you made that up" were just a few of the burns Popovich had in response to Greenberg's questions. 
The whole segment was "painfully awkward" in the way Larry David made us gawk during episodes of "Curb Your Enthusiasm" or how Steve Carrell forced us to nervously LOL during scenes from "The Office." So much hurt, but so many laughs. 
Popovich's continued trolling of NBA reporters could be classified as comedic genius at this point. He holds the power to make interviewers squirm for our entertainment and he knows it.
If anything though, he's become too self-aware of his pervasive saltiness. While speaking to Greenberg, he eventually cut the act and broke the fourth wall.
"I'm screwing with you, because I'm getting ready for the season. You can cancel all this stuff. Now we can start the interview," said Popovich, looking directly into the camera.
"I just wanted to prepare myself to talk to all those jerks over there too," he continued.
Ah, classic Pop. The NBA is nearly back. Nearly. 
PHOTO GALLERY
Sad Cleveland Cavaliers Fans After Losing 2015 NBA Finals