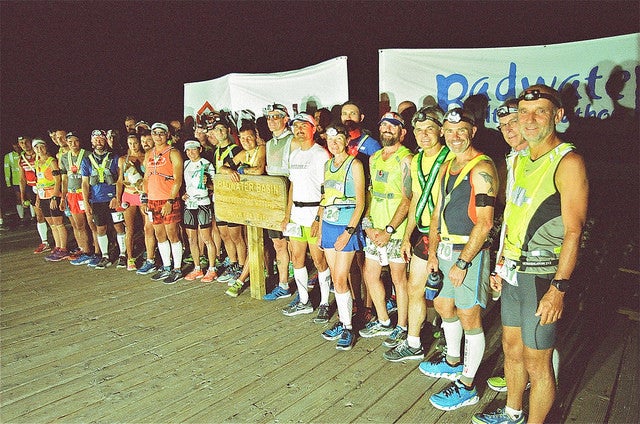 STYR Labs Badwater 135, touted "the world's toughest foot race," commences at Badwater Basin, Death Valley, which marks the lowest elevation in North America, at 282 feet below sea level and covers 135 miles (217 km), finishing at Mount Whitney Portal, at 8,300. Aside from the scorching desert heat, which poses a constant threat, the course is one of ups and downs—literally. It covers three steep mountain ranges, for a total of 14,600 feet of cumulative vertical ascent, and 6,100 feet of cumulative descent. This year the race field consisted of 97 runners from 24 countries, with 25 women contenders. The race once again had a night time start, with three groups starting at 8 pm, 9:30 pm, and 11 pm, with 11 pm designated as the elite-runner start. All athletes, regardless of their start time, had 48 hours to complete the journey.
As a two time mid-pack Badwater 135 finisher, I know all too well the grueling nature of the race and the toll that it takes, both physically and mentally, on runners and crew alike. But what does it take to defy the heat and tackle the course, with its abundant climbs and free-falling downhills, and finish in the top ten, or even win Badwater 135? That's what I got to explore in interviewing some of this year's elite runners, two of whom set pretty substantial course records on the male and female side. And to be clear: to even gain entry to run Badwater 135, you need to be a winner in the world of ultra-running!
The standing men's course record going into this year's race was set in 2007 by Valmir Nunes of Brazil, at 22:51:29. For women, the course record was set in 2010 by Jamie Donaldson of the USA, at 26:16:12. Meet 2016's new  course record holders, Pete Kostelnick of Lincoln, Nebraska, who at 28-years old shattered the men's course record, finishing in 21:56:32; and Alyson Venti, now of Barbados, who at 34-years old crushed the old women's record, finishing in 25:53:07. Pete and Alyson are not new to Badwater 135 fame: Pete also won the overall race in 2015, and Alyson was first female in 2014.
Kostelnick ran his first Badwater 135 in 2014, as he was interested in taking on the challenge of "the world's toughest" foot race. In 2015, he was the overall race winner, and now, three years later, Badwater 135 has become something of a tradition for Kostelnick, who has grown fond of the desert, especially the mountainous Lone Pine, California, where the race concludes. The Badwater family is deep in Pete's blood, and being competitive by nature, he appreciates the opportunity to race against some of the top ultra-runners from around the globe. "I would love to keep running Badwater, even if I'm not in the front someday," Kostelnick noted, although with two back-to-back wins, it's hard to imagine when that day will be! Coming into the race, Pete wasn't fearful. "For a race of this length, you have to go in with a peaceful mindset, and at least relish the fact that you won't be (hopefully) in much pain for at least the first several hours." In terms of setting a new overall course record at Badwater 135, Kostelnick was clear on the significance: "there is no other race in the world I would like to set a record for."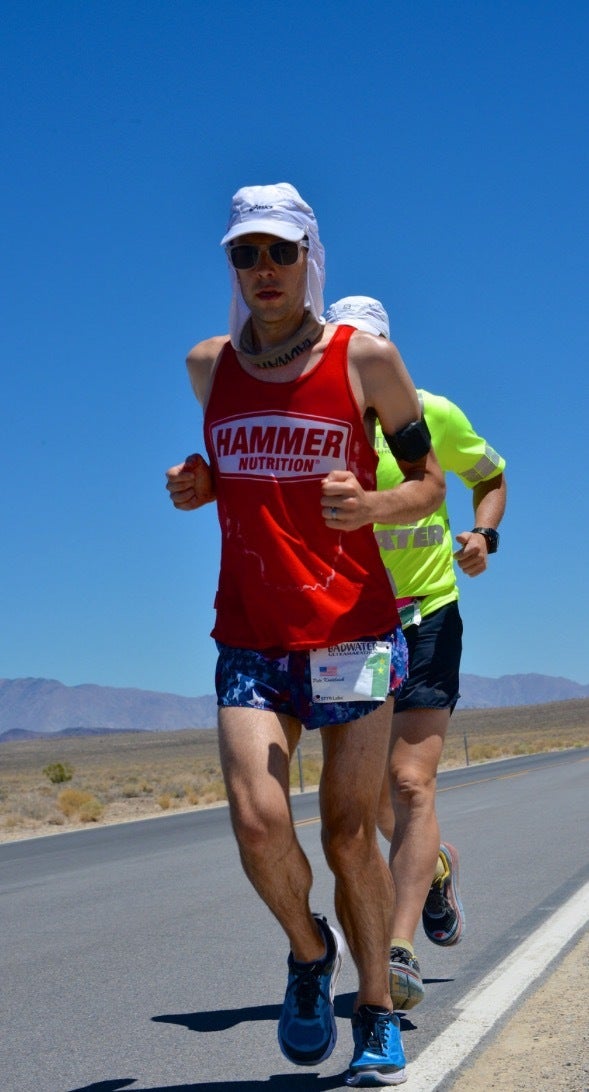 Women's front runner Alyson Venti, who loves being close to the ocean, noted that "Badwater is very far from my comfort zone, but in a strange way, the Badwater desert closely parallels the ocean's beauty." She went on to share that she loves the "infinite colors, textures, sounds, and smells" of the desert, and especially enjoys the night start, under a sky full of stars. Clearly, a love and respect of the course propels all competitors in this race. Although Venti was the female champion in 2014, she had to pull out from the race in 2015 due to physical issues. When it came to racing in 2016, her only fear was that she "wouldn't take advantage of the tremendous opportunity that Badwater 135 offers." Regarding her course record, Venti noted that she felt confident about her training going into this year's race, and trusted in her crew, two of whom had been with her in 2015 when she DNFed or Did Not Finish. Her crew assured her that their job was to remove all obstacles so that she could run. "I felt like a course record was possible if I just relaxed and ran my own race," Alyson said. While she was pleased with her overall performance this year, it's clear that her Badwater racing days are not over: "No performance, not even setting a course record is perfect; there are always areas where I can improve."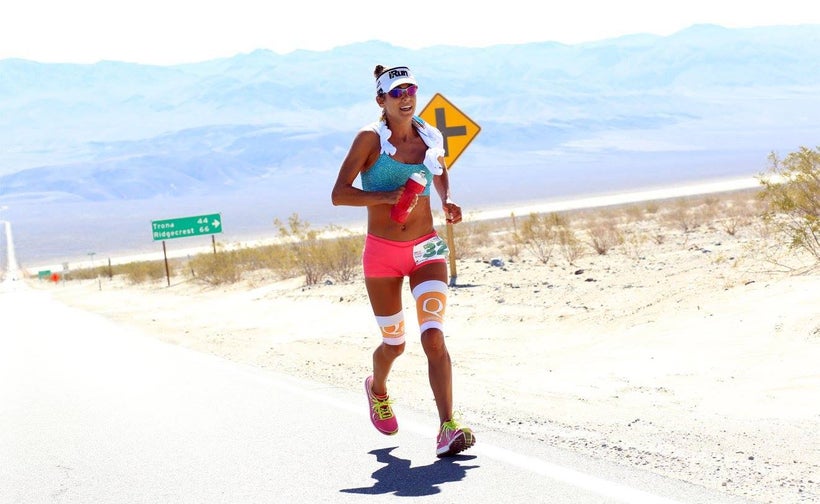 The race's 2014 champion, 40-year old Harvey Lewis from Cincinnati, Ohio, placed second overall this year. "I love the magic of the desert, and the intrepid mix of competitors from varied backgrounds across the globe, and the audacity of the challenge. He noted that the race "still gives me goosebumps, like going up the hill in a roller coaster."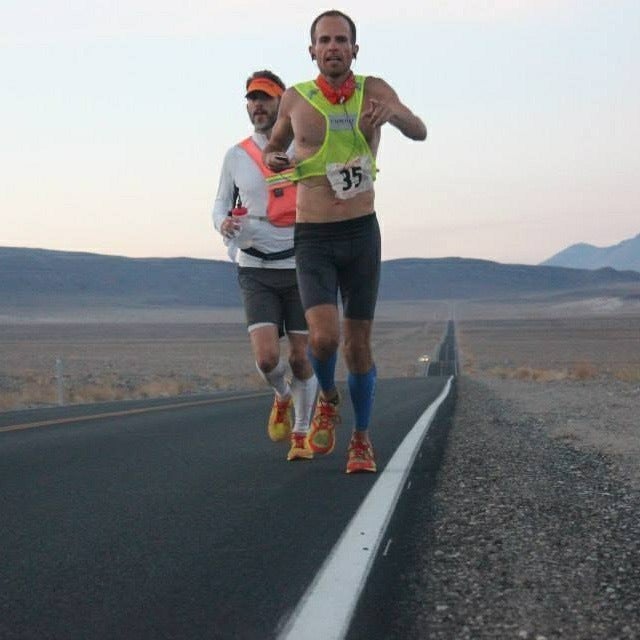 Oswaldo Lopez, another beloved Badwater contender, has a long-standing history with the race: he placed second overall in 2009, 2010, 2012, and 2015, and came in first overall in 2011. He was in third place in 2013, and DNFed in 2014. In 2016, 44-year old Lopez from Madera, California, came in seventh male. Oswaldo noted that it is very motivating for him to be part of the race. He "loves the challenge, the people, and the competition, as it makes him feel alive."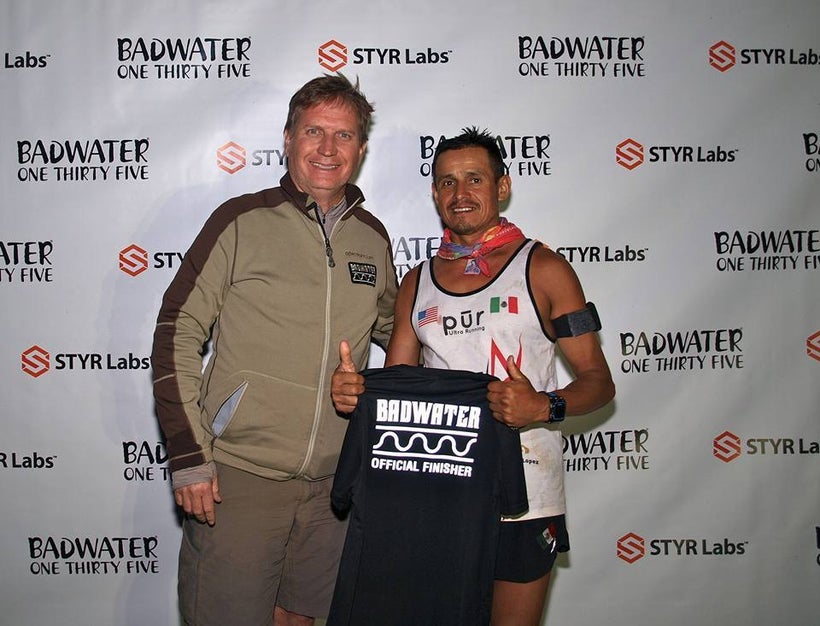 Veteran runner Nikki Wynd from Lysterfield, Australia, placed first female in 2015, and third in both 2014 and 2016. The 44-year old noted that she always has fears going into the race, especially since she is coming to the desert from winter in Australia: "I always wonder if I will withstand the heat and make the distance!"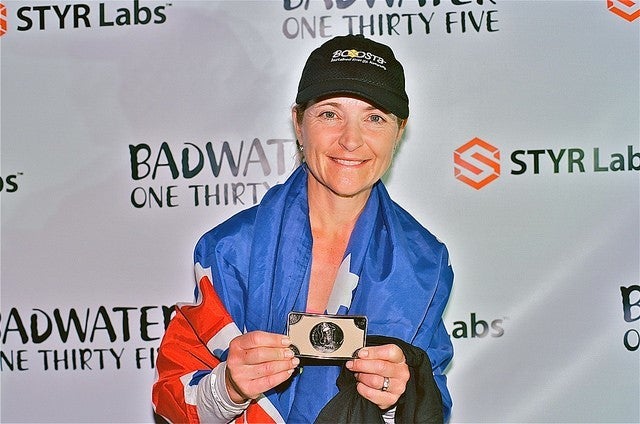 If you're wondering if the elites suffer during the race, the answer is yes. Unless you were the race champ this year. Kostelnick noted that for the first time in an ultra, nothing fell apart for him. He was a bit drained for the final climb, but "overall it was not a big pitfall."
Venti indicated that she struggled as she made her way up the final climb at Mount Whitney Portal Road. "I couldn't tell if I was hot or cold; I felt nauseous, dizzy, tired, and I wanted my flip flops!" She told her crew chief that she wasn't sure if she could set the course record—at that point, she had secured the top women's spot—but he pushed her on, not letting her give up on her goal. "You can still do this!" he said. Together, they shuffled up to the finish line, where she set a course record.
Lewis also struggled up the final mountain. "I felt a lack of energy beyond the norm and a bit sick. I was able to hang on by a thread." He noted that his crew and pacer just kept "working with me and collaborating to keep my mind in the game. We rotated coca cola, Frappuccino, and vegetable broth."
Top runner Wynd endured terrible blisters.  "I had really bad hot spots on the bottom of both feet. I told my crew that I should probably stop to check them out. The look on their faces said it all. I then looked to see blisters on the balls of each foot." Nikki's crew got to work putting on blister patches and taping her feet, but the pain led her to walk on her toes. She feared her race was over, but she managed to tough it out, push the pain to the back of her mind, and run.
So what does it take to be at the top of the Badwater pack? Training – and lots of it! What was clear from the elites, though, was that they are passionate about running, and while discipline, focus, and commitment are key, these folks love to run!  It's worth noting that Kostelnick ran the challenging Western States 100 Mile Endurance Run in late June 2016, finishing 29th overall, with a time of 19:55:44, which is no small feat! Kostelnick's training for Badwater 2016 commenced when he crossed the finish line in 2015. And yes, he's a high mileage junkie as is fellow champion Alyson Venti, who noted that she's always running in some capacity.
In March, after moving from New York City to Barbados, Venti began training for Badwater 135. The tropics provided her with great training grounds, full of monkeys and sheep, versus people and cars. She relied on steep hill climbs in Barbados to ready herself for the Death Valley mountains, and used tide-pools as part of her recovery. As the running community in Barbados is nearly nonexistent, most of her training was solo, which helped her to mentally prepare for Badwate135.
Lewis has been running non-stop since he started running ultras 20 years back. But he did indicate that he put focus on this year's Badwater since his finish in 2015.
Wynd also belongs to the always-training club. Although she only races two to three times a year now, she puts her focus on her next event, and was clear that training is always "fun and social" for her. She believes in "having fun and enjoying the race," and if you see her smiling out on the course, it's clear that it works for her.
By evidence of his success each year at the Badwater 135, and other races throughout the year, it's clear that Lopez also puts in his fair share of mileage!
So what does one think about while trying to survive blistering temperatures of Death Valley, ranging from night-time cools of 100 degrees to daytime temps in the 120 -degree range? Kostelnick noted that he did "all sorts of calculations for smaller sections of the course to determine what pace I needed to run to achieve a certain time at a checkpoint, and how that recalibrated my overall race time projection." His other mental chatter? What he wanted to eat next.
Venti, who doesn't listen to music when she runs because she likes to think, can never really remember what she thinks about. At the pace she goes, no wonder!
Lewis thought about "a million things," but tried to keep his mind on positive thoughts. "If something negative came into my mind, I changed it into a positive." He also noted that he thought about family and friends, as well as life and what he wanted to do moving forward. "I thought about things that made me feel grateful. I thought about previous Badwater races," he said.
Wynd thought about her son while she ran. "He is such a huge supporter of mine, but also keeps my life normal. At the end of the day, I am just a Mum." She also thought about her family, friends, and close work colleagues, and certainly, she thought about her marriage only days prior to the race!  
Lessons Learned: Tips to Live By
What words of advice can this year's superstars offer us for up and coming ultra-challenges? Kostelnick learned to keep moving. "Don't plan to stop if you can help it. And use long climbs as a chance to recover and ease up so you can run the flatter sections."
Venti learned to trust in her crew. "In all previous BW races I have always been the one to buy the supplies and organize the crew vehicle, which is pretty dumb considering I'm the only person who won't be inside it!" This year Venti let her crew manage everything that was not running related. She also learned to trust herself. "I went out pretty fast (I think, I don't wear a watch because I never want to know my pace). We had a crazy tail wind, though, and temperatures didn't seem that bad, so I figured why not just go for it? No point in holding back. My crew had a lot of faith in me and that helped me have faith in myself."
Lewis learned "a bit more about myself and what my body can handle," in addition to learning more about teamwork, nutrition, and how to pace himself through the race. He noted that that most of all, he learned "how the spirit can push the body to do things that don't seem possible prior to the moment." 
Wynd confirmed that she has to learn how to keep her blisters under control! She gets them in every race, and is now determined to prevent them so that she can move forward minus the pain.
Lopez learned that there are races in which you will have great results, and those in which you may fail, too. "I am always learning," he said. "I am always determined to get stronger, and come back and race better."
From my interactions with this group of all-stars, I learned that you can be a champion, but remain humble, passionate, and inspire others every step of the way. For those who have experienced STYR Labs Badwater 135 as runners, crew, volunteers, or onlookers, what's clear is that everyone out there in Death Valley each July is a champion; some just happen to get to the finish line first.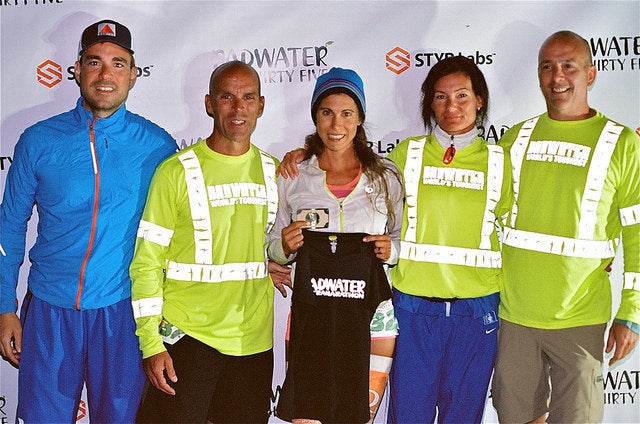 This post was published on the now-closed HuffPost Contributor platform. Contributors control their own work and posted freely to our site. If you need to flag this entry as abusive,
send us an email
.