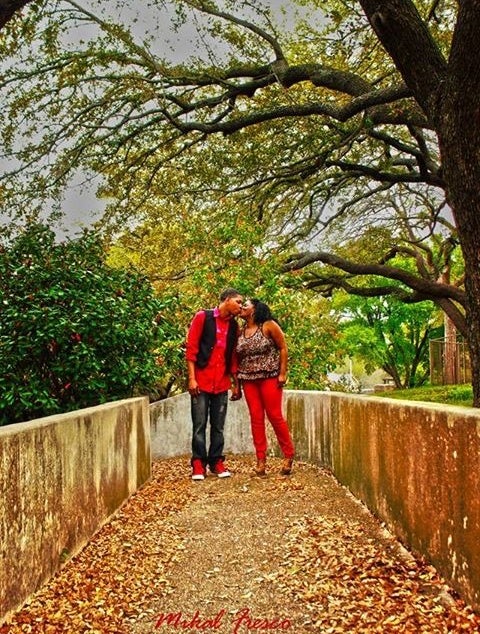 There was a point in my life where I THOUGHT I knew exactly what I wanted, how I was going to get there and who was going with me. So I went to work! I didn't "really" consult God, but he was a good dude, I was a good chick, he loved God, I loved God, so let's do it! #WeGotMarried
Fast forward a whole bunch of mistakes and unnecessary hardships, I found myself lost, confused, hurt, pissed off at God (as if He did something wrong ), detached from friends and family (because I didn't want to hear the "I told you so's"), and trying to figure out how to start over. I am such a creature of habit, and if there is anything in life that frustrates me, it would be starting over!!! There I stood, though. One step, one decision away from a new starting line.
It was hard! My God was it hard!!! I had never been by myself as an adult, and I didn't know a thing about the adult me... Trial and error didn't work out so great, as I was only creating a big mess of my life. So, one day I had a crying fit. Like, literally laying in the center of my bed, balled up as tightly as my core could hold me, gripping my pillow for dear life. I CRIED!!! I prayed, well, begged, actually, demanded that God just show up! Boy did He ever! When I got up from my tantrum and looked around, it's as if my tears had washed my vision. Or maybe it was some type of divine revelation. All i know is that I could clearly see that, even in my pain and distress, confusion and self-made mess, God had been there reconstructing my life all along.
I took a mental note of the new people that I had met, the new possibilites that were staring me right in the face, and I was floored! I asked God rhetorically, Is this what redemption looks like?
I couldn't see it through the tantrums, but I realized that everything that was broken, The Potter was already putting back together! I couldn't see it, because I was only focused on what I'd lost, how i was feeling, what I didn't want to have to go through anymore. There were moments that I even contemplated retreating, but I had a real conversation with myself. The conclusion was that I was only entertaining what was familiar because I was fearful of the unknown. I couldn't live with myself having not explored this whole new world, simply because of fear.
It was in this time that my ministry was born and my purpose became quite clear. My mind was no longer pre-occupied with hurt, fear, regret, low self-esteem, etc. I had finally met RaeShawn, and I thought she was a pretty cool chick!
Fast forward 5 years, God's plan of redemption came full circle! It's not that God never intended me to be married, but it was His desire to build me up first so that I was a suitable helpmeet, not just a present one. It's no Cinderella and Prince Charming story of a lost glass slipper. However, it's a story of two people who took all types of detours, and even tried to deny what was happening, only to finally see that God was working it together. When He says He works ALL things together for our good, He really means ALL things, and God definitely had His work cut out dealing with us!!! Again, fear tried to creep in. I tried to fight what was happening, but I was reminded of a prayer that I prayed at the beginning of my new start. I had asked God, to guard my heart from turning cold, help me to retain my belief in love and marriage, and make me sensitive/open to the one who will care for, love and support the woman that you He had called me to be. I promised that if He did those things for me, I would do my part in helping to restore the beauty of marriage. I can emphatically say that God did that!!!
Because I am confident in who God called me to be, and my husband fully supports me in that, it makes it easy for me to submit to him. I have no doubt that he has mine and our best interest at heart. He gets on my nerves sometimes, :-), but there is nothing more precious, to me, than having a partner who stood before God, family and friends and vowed to be "THAT GUY" forever, and truly mean it. I truly found my Happy Ever After...Again!
Marital hardship, separation and divorce are extremely difficult circumstances to navigate. Many times in difficult marriage situations, we are looking to God to fix our spouse, but He will often start with you. That's not to suggest that you are a bad person. Consider this, if God fixed your spouse according to your liking, and left you broken and/or scarred how long do you think it would last? Not likely very long. So, God will often start with helping you to find completeness and wholeness in Him before He "fixes" your spouse. I will say that I believe your marriage is worth fighting for in most cases. There are some exceptions, but that's an entirely separate subject! On the other hand, If you find yourself already on the divorced end of the spectrum, all is not lost! There is a new freedom even as you experience this loss. No matter how difficult or painful, there is a required discovery! It is time to discover the you that you have always been. When you begin living out your purpose and enjoying the discovery of the person God has called you to be, He will really work ALL things out for your good. If is your desire to find love again or revive the love lost in your marriage, it is possible with a little prayer and a little work. I belive that your Happy Ever After...Again is coming! If He did it for me, He can do it for you.
"And now abide faith, hope, love, these three; but the greatest of these is love." 1 Corinthians 13:13
This post was published on the now-closed HuffPost Contributor platform. Contributors control their own work and posted freely to our site. If you need to flag this entry as abusive,
send us an email
.