An intimate gathering at The Alchemist's Kitchen in the Bowery was undoubtedly the happiest place in New York City Thursday night. The location was the site of celebrated Composer and Chef Ysanne Spevack's inaugural YNTEGRITY event, "Cacao in E Major," an immersive five-course symphony of chocolate synesthesia designed to inspire happiness.
Held for a select gathering of guests, the experiential event was developed to fully experience the music and food created by Spevack via all five senses, and was comprised of clean, plant-based, organic ingredients featuring heirloom single-estate raw cacao, electrolyzed 24 karat gold, and other exceptional, locally sourced foods.
As they dined, Yntegrity's in-house choir, "The Conscious Chorus," interacted with guests and performed Ysanne's compositions and arrangements, including a pre-release song by Street Artist Shepard Fairey's band, NØISE, arranged by Ysanne, on the eve of their debut release. The guests exclusively heard an unreleased Billy Corgan song with her arrangement for choir; Spevack records and tours with The Smashing Pumpkins.
A benefit for the international Foundation for Research and Education on Depression, the evening was a mélange of music, food, neuroscience, fine art, and cutting-edge technology to create a cross-modal experience. Guests' happiness levels were elevated by stimulating all five senses in tandem, and assessed via groundbreaking technology. The event also featured a silent auction of optimistic art works by conceptual artist G. Riley Johndonnel (a.k.a. "Uncle Riley") featuring INT-O Yellow (International Optimism Yellow), a signature color he created with Pantone and UMEWE Inc.
While happiness was being generated inside the room, it was equally crucial to the experience to create happiness outside of the event. Thus, ecological sustainability was a priority for Spevack, a dedicated environmentalist, throughout her creative process and, as such, YNTEGRITY was created with no animal products, with one exception – sustainable honeybee products.
Spevack explained: "Bees are the lifeline of our species, and of all life on the planet, and they are in trouble. By carefully selecting organic, local, sustainable bee products from trusted sources, my aim is to support community beekeepers."
Furthermore, as each of the five courses included single-estate raw cacao from Ecuador, it's only natural that Spevack served the dinner to the sounds of a very primal, happy place: the rainforest. By immersing each guest in the sonic environment of our home planet in its most natural state, alive with animal sounds, the cacao flavor notes become more pronounced, and the brain produces more happy neurochemicals as a result of this synesthesia.
Meanwhile, playing the sound of the rainforest while inviting guests to eat raw cacao is a subtle yet powerful way of conveying the message of ecology on a subconscious level. The dots are connected; the link is made between what you eat and where it comes from, and establishes deep within all five of our senses that we are connected to our awesome planet.
A delicious message, indeed.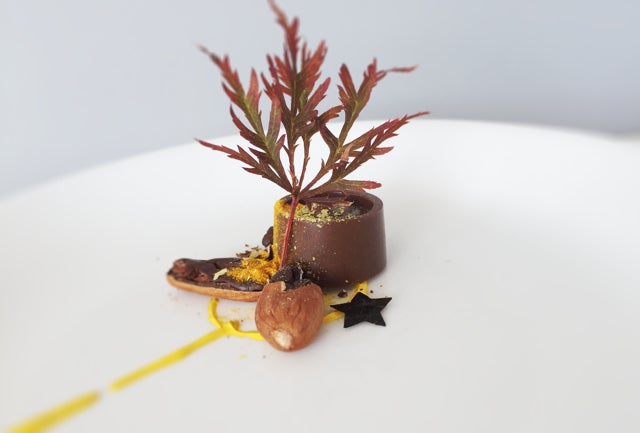 Earth Doctor Reese Halter's upcoming book is "The Anthropocene: Age of Climate Instability."
This post was published on the now-closed HuffPost Contributor platform. Contributors control their own work and posted freely to our site. If you need to flag this entry as abusive,
send us an email
.