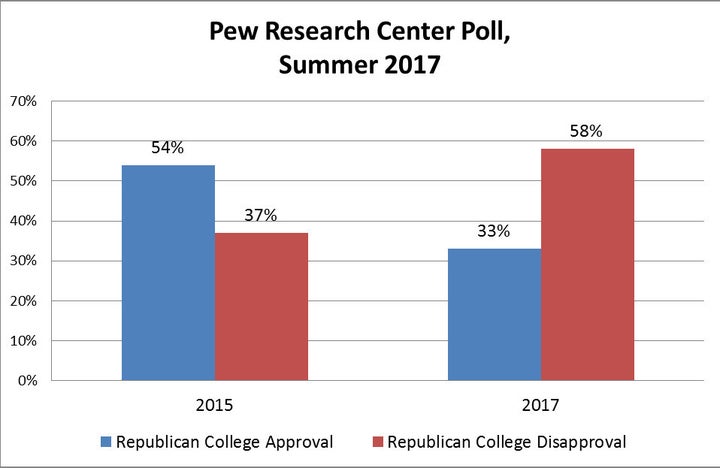 Polls indicate that while a majority of Americans feel colleges play a vital role, that sentiment isn't shared by all. The problem is not caused by colleges themselves, or the opinions of low-income Americans, but by "professional provocateurs," whose actions are actually hurt the conservatives they claim to support.
For those who think this is just some "trailer-park Republican" phenomenon, or other put-down of low income conservatives, think again. First of all, having been a registered Republican who lived in a trailer park, I know that insult pretty well. Second, low income Republicans actually support higher education at higher levels than those of higher incomes on the GOP side.
So what changed between 2015 and 2017 to make Republicans mistrust colleges? Numerous articles offered a single issue: controversies over "conservative" campus speakers.
So here's a little truth about these speakers. Colleges weren't the only group to disinvite Yiannopoulos. In fact, the Conservative Political Action Committee (CPAC) blocked him from speaking at their event, and Breitbart News forced him to resign. It turns out there are limits to free speech for conservatives, especially when he issued his support for pedophilia. As for white supremacist Richard Spencer, who forced Auburn to let him speak, he was booted by CPAC too.
In fact, that's the problem. These speakers aren't really all about the conservative ideology, unless that ideology leads with racism, sexism, homophobia, and insults. They demand very high speaking fees. A student asked me if I would invite one such speaker. When I called about his availability, I was told I had to pay a fee that was twice my budget for the entire year. For them, it's about selling books, making fees, and making more controversy to make more money.
Meanwhile, I've had conservatives ranging from politicians to business leaders to those in the military speak. They are all too happy to be invited to a college, and never request a fee (though I spend a little from my budget on a gift and spring for a campus lunch with them and the students). They focus on issues of economics, policy, budgets, national security… you know, stuff conservatives actually stand for. But you've never heard of most of them, because they aren't hucksters.
Believe it or not, America has the greatest higher education system in the world. Georgia alone, if it was a country, would be tied or ahead of most European countries with its university system, in terms of rank and quality. Americans and people from around the globe come to our colleges. And what drives the system is, ironically, our freedom.
I'm talking about our freedom to study, cover a variety of topics, test hypotheses, and push the boundaries in science, math and engineering, business, education, medicine and professional programs, and even the humanities and social sciences.
Yet a small cadre of professional provocateurs, with a career of complaining, quick to play the victim card in all situations, seeks to undermine what Americans have built to become the envy of the world. And all they have done for conservatives is take their money, distort their ideology, crowd out the true believers, and undermine the U.S. university. By all means, bring true conservatives to campus, but not these attention-seeking agitators.
John A. Tures is a professor of political science at LaGrange College in LaGrange, Ga. He can be reached at jtures@lagrange.edu. His Twitter account is JohnTures2.