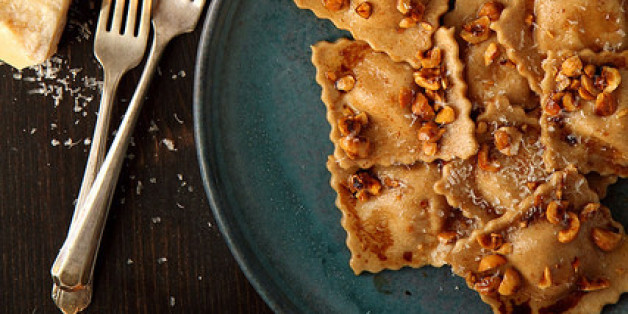 Despite what Nutella freaks may tell you, hazelnuts are not just for dessert. Yes, hazelnuts and chocolate are a match made in heaven and yes, their rich, nutty flavor can turn a tired torte into a masterpiece. We love hazelnut gelato and think hazelnut tiramisu is pretty genius. We know, however, that there is so much more to this little nut than its confectionary confines would have you believe. Roasted hazelnuts can impart a buttery savoriness to everything from soups to meat dishes. Whole or chopped up, they can transform an otherwise simple salad into a satisfying, hearty plate. If you aren't yet familiar the savory side of this rich nut, it's time broaden your hazelnut horizons.
This fall we've been decorating kale salads and garnishing pastas with hazelnuts, and we're only getting started. We'll be roasting them with Brussels sprouts and bacon, and making wintery pestos with them too. The one trick you have to master when cooking with hazelnuts is removing the skins. The most common way to peel hazelnuts is to roast them, put them in a towel and then vigorously rub them together. The loosened skin will shake right off. Inevitably, some skin will stay on and you'll either have to pick it off one by one or be satisfied with a few skins. They add texture! Another method for removing the skin is to boil hazelnuts in water and baking soda, and then plunge them into cold water before peeling the skins off. Either way, it's worth the effort. Here are 23 savory hazelnut recipes to prove it:
PHOTO GALLERY
Hazelnut Recipes
Want to read more from HuffPost Taste? Follow us on Twitter, Facebook, Pinterest and Tumblr.
BEFORE YOU GO
PHOTO GALLERY
Hazelnut Recipes